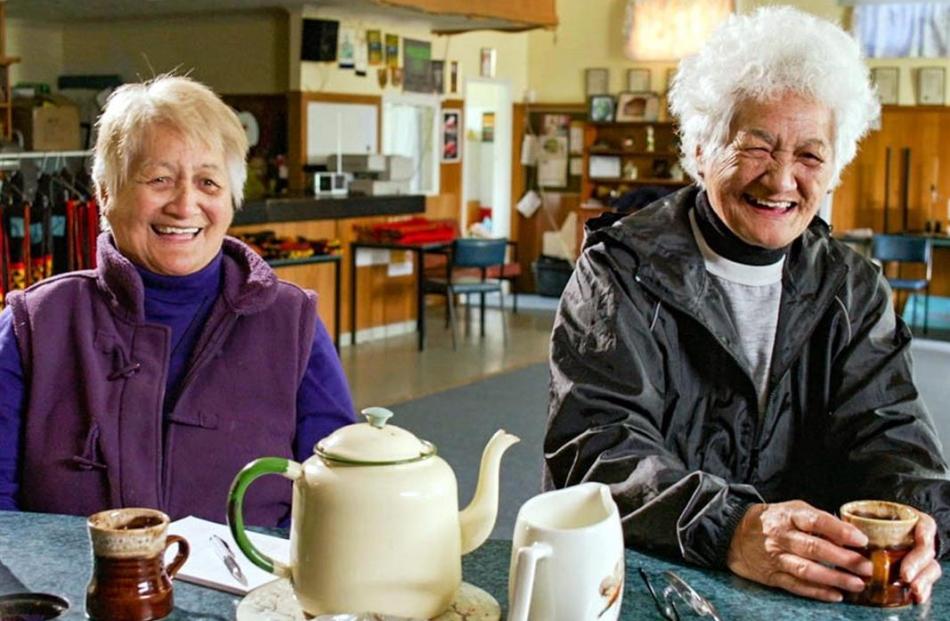 Tearepa Kahi's film, Poi E: The Story Behind Our Song, is about more than the 1984 hit single. It's about community spirit, the writer-director tells Shane Gilchrist.
A quick quiz: what do Michael Jackson's mega-hit Thriller and Paul McCartney and Stevie Wonder's ballad I Just Called to Say I Love You have in common?
Answer: both singles were outsold in New Zealand by Poi E, the Maori language song which, 18 months after its release and helped by a video that screened weekly on television pop show Ready to Roll, entered the singles chart at No3 in mid-February 1984.
A few weeks later, Dalvanius Prime and the Patea Maori Club enjoyed seeing their joyous track knock Foster & Allen's Maggie out of the top spot, where Poi E remained for another month, becoming the biggest-selling single of the year.
Yes, even the late King of Pop couldn't beat it (sorry).
All this is explained in detail in writer-director Tearepa Kahi's Poi E: The Story Behind Our Song, which opens the Dunedin programme of the New Zealand International Film Festival on Thursday night (the film also goes on general release at cinemas nationwide the same day).
Kahi, speaking via phone earlier this week, recalls the exact moment when he first heard the track.
"I was 7 years old and living in Christchurch. I was deeply affected. I'd never had that feeling before. It was both the song and the video ... there was this incredible break dancer on top of a monument. Even thinking about it now, it felt like this huge cultural explosion.
"Nothing like this song existed. It was the first and only time that a Maori-language waiata has reached No1 one in the pop charts. It also used synthesisers and electronic beats, so you saw modern and traditional elements come together. It also captured a community in full voice.
"When that fusion happened a huge feeling just leaped across the country. That song represents a really important time marker.
"We all know the tune, even if we don't know the words. It is part of us.''
The catchy nature of Poi E notwithstanding, it serves as a conduit to a bigger tale, including the story of the Taranaki town of Patea.
"I've always been able to relate to that underdog spirit,'' says Kahi, whose previous feature-length film, 2013's Mt Zion, presented a Maori take on the reggae music of Bob Marley.
"Here was this community that had been beaten down. But it responded to its trials through art and culture. There is so much to be proud of, for all New Zealanders. That's what I'm excited about bringing to the audience.''
Through lively archival footage, home movies as well as humorous interviews with members of the Patea Maori Club, Kahi documents an unexpected roller-coaster ride.
As the song rocked the charts, they performed it around the world, including at a Royal Gala performance for the Queen in 1985.
Today, the group includes three generations of performers, who continue to practise every Monday night in their Patea clubrooms.
Poi E is sometimes credited with saving the Taranaki town by lifting morale after the 1982 closure of the meatworks, Patea's main industry and employer of the majority of Maori in the area.
The film places the creation of the song against this backdrop, including the dislocation of Maori youth growing up in cities.
Often centre stage, looming as large as his powerful, dexterous voice, is the late Dalvanius Prime, the Patea boy who went on to enjoy an international music career that included touring with the Pointer Sisters, Tina Turner, Dionne Warwick, Eartha Kitt and others.
Mainly based in Sydney through the 1970s, separated from his Maori identity, he returned home in 1979 to nurse his mother, whose dying words in Maori were a reminder (and perhaps challenge) to a son who couldn't speak or understand the language.
Thus it ignited a new passion in Dalvanius; to bring Te Reo to a younger generation through pop music possessing a uniquely Maori flavour.
A man on a mission, sometimes with his chihuahuas under each arm, he pulled together a diverse and talented bunch of collaborators.
Enter Ngoi Pewhairangi, a champion of Te Reo and composer of traditional waiata who also wrote the lyrics to the 1982 Prince Tui Teka ballad E Ipo, which Dalvanius produced.
In one scene, Kahi treats the audience to an early run-through of Poi E; it was provided by one of Dalvanius' cousins who, having made a cassette recording at Pewhairangi's Tokomaru Bay home, found the tape in a sock drawer and presented it to the director late last year.
Pewhairangi, who died in 1985 just as the club was performing in Britain, apparently didn't like the final version, even if she did get Dalvanius' point: that the song exposed a younger generation to Te Reo in a fun way.
"This story is about a person who is going through a huge identity shift, dealing with the passing of his mother and adjusting to returning home from the bright lights overseas,'' Kahi reflects.
"And it's these people who are suffering economically and wondering what's the next step because the job that their families have done for the last 40 years is over.
"If these people had been any different, if Dalvanius had gone with another kapa haka group, this song wouldn't be the same. If these lyrics didn't come from Ngoi Pewhairangi from Tokomaru Bay, this song wouldn't be the same.
"So for me, it's been getting to understand each of these places and all of the people involved that gives this song its place.
"It's not just a story about a chart-topper, the first Te Reo Maori song that hit number one. It's actually a story about what happened when all those people came together to create some magic.''
• Kahi had actually put the finishing touches to Poi E: The Story Behind Our Song late last year. Yet, in an example of tenacity that mirrors the subject matter of his feature-length documentary, he pulled it to bits and started again.
Having filmed dozens of interviews with those involved in Poi E and its video, including an extensive search for material that ranged from boxes in Patea garages to the BBC's archives ("we had spent more than a year digging before the cameras even rolled ...), he received an unexpected gift.
Just before Christmas, he was contacted by New Zealand music writer and radio producer Chris Bourke, who had interviewed Dalvanius for a Radio New Zealand series in 2000, two years before the entertainer died of cancer at the age of 54.
"When this arrived I thought Santa had shown up. But it changed everything,'' Kahi says, adding he also benefited from another set of radio interviews by veteran broadcaster Henare Te Ua.
"One of the difficult things about archival material is feeling in the moment of the interview. But Chris' interview captured Dalvanius in full colour, so to speak. He was so in the moment, his memory was so vivid and he had such a way with words that I changed the structure of the film.
"I didn't have to, but I chose to. It was difficult. It didn't affect the budget, thankfully, but it did push out the time.
"The New Zealand Film Commission were great supporters, as were Sony Pictures. Both wanted the best story. It was more a case of me letting go of what I had done and working out how to make it much better than what I had originally envisaged.
"One of my friends had initially thought it would make a television feature, but I believed it was a film.
"I thought that because Dalvanius was so big and had a sound that was so big, it just needed to be on a screen that was 50ft wide, rather than 30 inches. I also thought we didn't need to do the A-B-C, intro-101 approach to Dalvanius. He was a cinematic character.
"So to see him on the big screen, commanding the Civic, was very apt,'' Kahi says of the recent premiere of Poi E at the Auckland edition of the New Zealand International Film Festival.
"It was like he had pulled a lot of strings that night.''
The Patea Maori Club was in attendance that night, following the screening with the well-known waiata and poi actions (there was also a workshop in Auckland to teach Poi E's poi actions and lyrics to all-comers).
"As a film-maker, you have in mind a destination or pathway. So to have Poi E as the opening film at the festival and the Patea Maori Club perform after it screened, and the Pewhairangi whanau to be there at the Civic...
"It was a dream come true.''
---
The film
Poi E: The Story Behind Our Song opens the Dunedin programme of the New Zealand International Film Festival on Thursday night. It also goes on general release at cinemas nationwide the same day.
ABOUT THE SONG
In 1984, Poi E reached No.1 on the New Zealand singles charts.
It topped the charts for four weeks and remained in the charts for 34 weeks, outselling every other hit of 1984.
It has been in the Top 10 in New Zealand every decade for the past 30 years.
It also remains the only No1 song written and released entirely in Te Reo Maori.
After featuring in the jubilant finale of Taika Waititi's blockbuster film Boy, the song reached No3 in 2010.
---