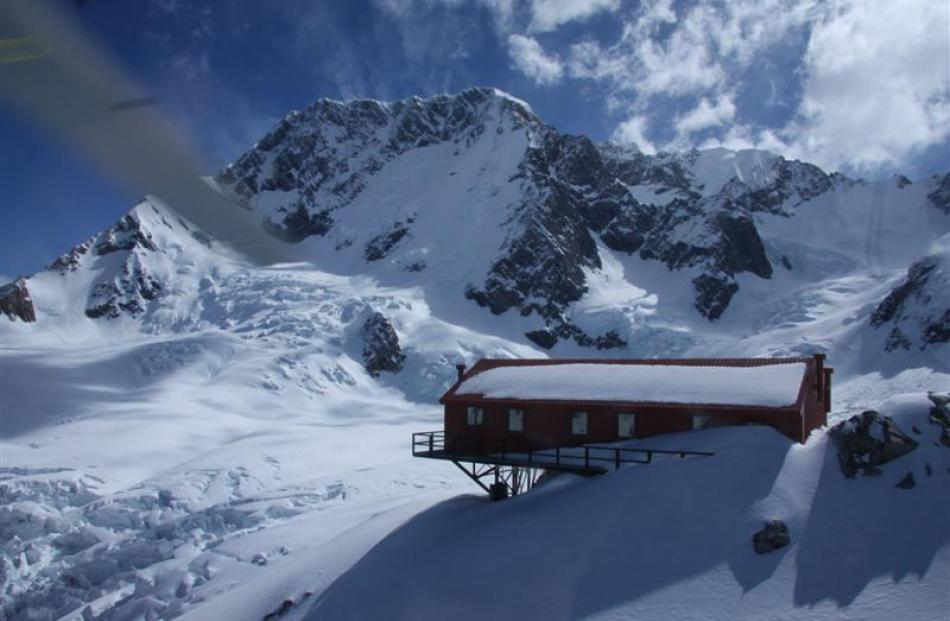 Philip Somerville tested his physical, mental and vertical limits when he attempted to climb Aoraki Mt Cook.
Mountain guides are not touchy-feely types, because theirs is an exacting job in unforgiving circumstances.
There is no place for soppiness or phoney sentiments as they help their clients achieve goals and secure their safety.
Geoff Wayatt's comments, 10 hours into our attempt on Aoraki Mt Cook, therefore came as a surprise.
''You're doing well,'' he said as I joined his belay stance after a pitifully slow slog up a steep snow slope, still 100m from the 3754m summit.
''Oh dear,'' I thought between gasps for air. He recognises just how hard I am doing it. Rather than the just-getting-it-done approach, he thinks I'm desperate enough to need encouragement.
Of course, I knew Cook would be horrendously hard, especially because of my advancing years (57) and because I'm an enthusiastic alpine tramper rather than a ''climber''. But, as with so much in life, the gulf between ''knowing'' in your mind and actual experience is vast.
So it proved. Cook was right out and up there for me, testing my limits. It was tougher than I could have imagined.
It left my comfort zones far below, success was in doubt and tribulations unknown. These are the conditions for real adventure and challenge, and that is what awaited me.
While climbing Aspiring had long been a goal - achieved with the help of two friends five years ago - Cook always seemed beyond the horizon, just too high and too difficult.
But I listened to and read about climbing exploits, and when I gaze on the wonder of the mountain tops I fantasise about what might just about be within my powers.
Perhaps, I'm struggling to pretend age is not wearying me. Perhaps, I'm seeking a middle-aged substitute for a Harley. Perhaps ... Whatever. If I can climb Mt Cook, albeit with the assistance of a professional guide, my sense of accomplishment will be colossal. What began as a seemingly impossible dream will be fulfilled.
First, though, down-to-earth realism is required. I can only climb New Zealand's tallest peak, at least safely, tied physically and metaphorically to an expert. And who better than the doyen of the New Zealand mountains, Geoff Wayatt (66), of Wanaka.
He, thankfully, agrees to take me on even though he is in such demand that he declines several such requests every year. A date is set for the first two weeks of November and we await the approach of a high-pressure ''weather window''.
Meanwhile, my efforts to gain ''mountain fitness'' are thwarted by our appalling spring weekend weather. Two trips are cancelled while, fortunately, a third is squeezed between showers.
Meanwhile, too, my workmates subject me - as expected - to regular doses of juvenile male humour.
''Your photograph is updated isn't it,'' they quip ad nauseam.
Much smarter was the comment of a colleague when I informed him a nearly ancient client would be led by an ancient guide.
''Let's hope the creaking of your bones doesn't set off an avalanche,'' he said.
The word arrives and we're off. On Aspiring I walked and climbed road end to road end and, after three long exhausting days, I was a wreck.
On this occasion, we fly by helicopter to the standard Cook launching pad, Plateau Hut, which sits at 2200m. For me walking in was never an option.
After a 2am departure, and with the help of snowshoes, we make good progress up the Linda Glacier. Most crevasses are filled in early November and smaller cracks are no trouble to step over. By dawn, and with a vivid yellow rim glowing across the jagged horizon, we are cramponing under the ''Gun Barrels'' and angling up the Linda Shelf.
This is one place not to dawdle because falling ice could crash down these gullies. We have two graduate student brothers from the Massachusetts Institute of Technology, Eric and Matthew Gilbertson, for company some of the way.
Keen marathon runners, their help ''breaking the trail'' in soft snow is appreciated, even essential, while Geoff provides them with indispensable advice and guidance.
So far so good, though care and concentration are constant requirements.
We kick a small snow platform high on the shelf to stop for drink and food. I secure my pack strap through my ice axe and take off my double gloves, their loops swinging on my wrists.
I fiddle for food and then notice one set of gloves has disappeared. The loops must have been too loose and the gloves have slipped off, slithering down the slope into the abyss below. On with a spare.
It's somewhere along here that four Latvian climbers, including one who had climbed the highest peaks on seven continents, fell to their deaths when roped together in 2003.
We ''pitch'' a steep ice gully to the dreaded Summit Rocks. It is little wonder this will be the crux for me because this is what I had read on one of the guide company sites: ''This 150m high rock buttress holds 4 pitches [rope lengths] of mixed rock, snow and ice climbing that provide a real thrill and require the use of two ice tools. This buttress is the technical crux of the route with short, near vertical steps and a sustained grade of 60 degrees.''
Baldwin St, Dunedin, the world's steepest street, is 19 degrees at its maximum slope.
Testing, cold southerly conditions with the summit rocks covered in powder snow. A late afternoon snowstorm slowed the descent into a 20hr test of endurance for the veterans.
It was here in 2008 that Wanaka guide Anton Wopereis died when ice under him gave way and he fell 60m before his rope stopped him. His client remained safe, anchored to the mountain.
Geoff is leading with caution, not entirely happy with the conditions. It's been so cold that fresh snow still lies on the rocks; just what you don't want when trying to secure good footing on rocks in unwieldy crampons.
At one point, Geoff swings an ice axe into ice above his head, only to doubt whether the ice is sufficiently solid to hold his weight.
I am thankful for a firm ''top rope''. I jam one knee between rocks, and then the other as well. I hang off the outstretched ice axe to my left and haul myself up via a rock above and to my right.
It is strenuous and I am gasping for breath - a combination of strain and apprehension about my ability to get this job done.
Surprisingly, though, I am not scared of the 1000m drop. I have faith in Geoff and the security of rope, although I have no intention of testing that, and I am far too focused on the tasks at hand and foot.
We reach the final ice cap, the angles recline and the snow is now favourable. My speed, nevertheless, is slow.
The air is thinning, I am tiring and Geoff warns me I sound as though I could be hyperventilating. It is just I can't seem to get enough oxygen.
In his client newsletter Geoff later described the climb: ''Testing, cold southerly conditions with the summit rocks covered in powder snow. A late afternoon snowstorm slowed the descent into a 20hr test of endurance for the veterans''. He then added an apt quote:''By and large, the whole thing is a mind game. It's a reduction to the most basic actions of breathing and moving ... and knowing, not believing, that you can and will continue'' - Cory ''Cold'' Richards - 1st ascent, Gasherbrun II (8035m) Feb 2011.
Time flies during such all-consuming activity, and by 1.20pm we are at the top. Relief is mixed with a deep and quiet elation.
A corniced ice ridge runs along this, the ''high peak'' of Cook, and the rock and snow drops away.
I am high in the sky, on top of the world and, yet, I can't quite believe it's real.
But, while I am warm from the steep uphill exertion, the weather is deteriorating. Already, the lesser peaks have been swallowed by cloud.
It is not as if I really care, because we have made it. All this agony was for the achievement not the views.
Several people later ask me if I ''enjoyed'' the climb. That, I tell them, is the wrong word.
''I have the rest of my life to enjoy the experience, to savour it,'' becomes my standard response.
I also find I lack the will or mental space to take photos, apart from one of Geoff at the top. I leave the rest to Geoff. My single focus is the climb.
We are early in the progress of the building high pressure, and a final southwest front is flicking through. We cannot muck around, and begin a careful and eventful descent.
The first incident, close to castastrophic, seems to occur in slow motion. We're just above the Summit Rocks refuelling, knowing we must force down food even though we don't feel like eating. One of the Boston boys, Eric, is approaching us when, suddenly, he is called on to ''hold''.
His brother, further up the mountain, has fallen, slipping into one of the Gun Barrel gullies. He pivots off a prudently placed ice screw ''runner'' and his slide is halted. After climbing back up, he joins us, shaken and minus a crampon.
All it took, probably, was a little complacency on a relatively easy section and a little concentration lapse. Because Matthew had flown straight from Boston to join Eric, sleep deprivation might have played a part.
It is starting to snow as we abseil through the rocks, down jackets on now. With four people and various ropes, the positioning and manoeuvres strike me as complex.
My primary task, though, is basic; just do what I am told and let those with the skills and experience do as much as possible. The other three are, attentively and intently, doing the business in exacting circumstances.
By comparison, climbing down and across the shelf seems undemanding, although we can barely make out our upward tracks. It is gratifying, therefore, to locate our snowshoes. I am pleased, too, to find the ice forming in my spare water bottle has not thickened further.
Dusk falls as we waddle the long distance down the Linda Glacier in a disorienting ''peasoup'' whiteout. At one stage, I trip twice, tumbling over my snowshoes. I force myself to refocus, and the stumbling stops.
We are following the others' tracks, walking on to find ourselves surrounded by larger crevasses, with blocks of misshapen ice looming around us.
We are well off course, and Geoff takes stock, retraces and soon has us back on route.
It is snowing more thickly again as we plod the last hour back up to the hut.
I remember acute disappointment in myself when I struggled high on the mountain - there is nowhere to hide when the body won't respond as you want. Now, however, exhaustion is suppressed by exhilaration, and my stamina is satisfying.
I know from past tramping that you can actually keep trucking long, long after you first think you're too tired and must stop. And I am thrilled at where I am at, considering that four years ago I spent five weeks in hospital cast on my back after breaking my pelvis in a boat accident.
Finally, the hut appears and we're back. It is 9.40pm - 19 hours and 40 minutes since we roped up and left. The dream has been realised.
Philip Somerville is ODT editorial manager.