This week, Liz Breslin on the joys of spending time in the great outdoors.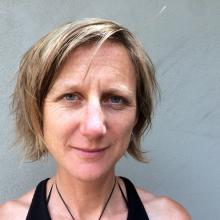 Ah, camping. The feeling of getting away from it all. The simplicity. Keeping it real in the great outdoors.
Of course, you're going to need a tent. Maybe not just one of those crawl-in-and-sleep jobs though, because of the four seasons-in-one-day factor. It's nice to be able to stand up against the elements. Maybe just a simple just-above-head-height tent with those different zip up sections so you can have the illusion of separate rooms in the same way traditional Japanese houses do with their artful shoji screens. Or perhaps something with actual Shoji screens and tatami flooring. Very durable. Or an inflatable number perhaps? An igloo with disco lights for the night time? Or a yurt? If in doubt, the answer is almost always a yurt.
Once you've got your basic shelter sorted, you can easily hunker down with folded up blankets under your sleeping bags or fight over the family's single yoga mat as a sleeping roll. Or perhaps get properly prepared and purchase those blow up mattresses that cost less than lunch. Not to forget a pump to go with them. But don't get suckered in to getting a pump that you plug into the car lighter or put batteries in, because this is camping, remember, and you're getting away from all that convenience of living. And after all, people sleep better away from devices so let's miniminiminimise. If you're not into the plastic and the will-it-last-the-night question, you can always go for a camp ``cot'' to infantilise, militarise and accessorise your time away from it all, although the single ones are useless for snuggling and the bigger they get the more likely they are to enhance the fact that the ground beneath you is definitely not perfectly flat. But you're camping, right. What's a little angularity between you and a good night's sleep? On that note, don't even think about just tucking a sweater into your sleeping bag bag in order to make a pillow. You're going to want something proper and inflatable for sweet, sweet dreams.
When you think about it, it's probably a good idea to also get a deluxe kitchen organiser to take away on your trip. Yes, even if it's just an overnight stay. Do you know how annoying it is when you can't find the oat crackers and that brie you've kept out of the chilly bin to ripen to perfection? Organised kitchen drawers are going to save you so much time that you'll be able to spend sitting on the grass appreciating the tranquillity of your surroundings. (Earplugs, though. Did you remember the earplugs? Not only for the night time but also for when the kids in the tent next door are stuck on repeat having good and loud fun and you need just a tiny piece of quiet in order to make it to the end of one page of your book. You did remember to bring a book?)
Most deluxe organisers have quite a bit of drawer space so you might as well upgrade your cache of spoony forky things with pretendly serrated handles and get yourself some real camping cutlery. And of course you'll need bowls, plates (two sizes), mugs and glasses. And about that sitting on the grass thing. What if it's damp? Maybe invest in a camping table and some chairs. And an extra awning thing to sit them under. It'll come in handy to shelter the deluxe kitchen and portable barbecue and the two-ring-mega-fast-heating gas cooker and the hand-held one-minute espresso maker. Top tip: bring a stovetop coffee maker too and stow away a plunger in the deluxe kitchen drawers. Just in case. Camping requires optimum caffeine levels to be maintained and, like with the damp grass scenario, you just don't want to take any chances.
Nearly ready for the peace and freedom. But wait. Do you have your solar-powered high-pressure shower? Your cassette toilet with extra-compostable paper? You're probably going somewhere with facilities, right. But just in case.
OK. Go forth. Relax in the wilderness of being ... as soon as you've checked off the head torch, the lantern, the solar phone charger, the Bluetooth speakers, the homegrown herbs for the hoops in the deluxe kitchen, the GoPro, the boat, the skis, the biscuit, paddleboard, life jackets, wet suits, the kites, the binoculars, the water purifying tablets, the bikes, the horses. And the matches. Why do you always have to go and forget the matches?