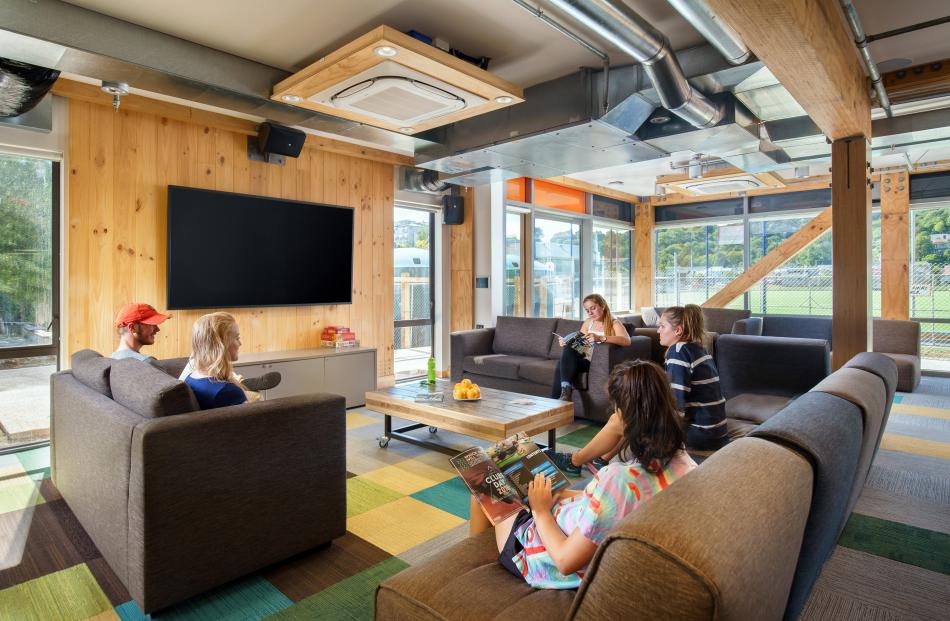 A colourful, vibrant home to 231 young people, Te Pa Tauira-Otago Polytechnic Student Village is an innovative example of sustainability principles, writes Shane Gilchrist. 
Walk into the ground-floor common room of Te Pa Tauira-Otago Polytechnic Student Village and first impressions are of massive laminated wood beams and warm, light-filled spaces, augmented by the laughter and chatter of the young people who call it home.
A mahogany pool table, a relic from a former staffroom, might seem a rustic contrast to the complex's cutting-edge design and engineering, yet it also serves as an old-school embodiment of the sustainability principles that underpin the design of Te Pa Tauira.
Some residents are regularly drawn to that pool table, others to the main common room's comfy sofas and television area as they settle into their new lives at Te Pa Tauira, which has a capacity of 231 beds, a mix of dorm rooms, studios and apartments.
Since Te Pa Tauira opened in February, many residents (and visitors) have commented on its character, much of which has to do with its extensive use of exposed timber internally.
However, to focus solely on this aspect of the building would be to ignore a broad range of innovative design, engineering and construction features.
At 6000sq m, the $22million student village is the largest timber-framed and structured building by height and volume in New Zealand. Significantly, it has a wooden lift shaft, differentiating it from other large wood-framed structures.
It is also the first student accommodation complex of its size to use pre-fabricated cross-laminated timber (CLT) panels, which are up to 80% lighter than concrete - and 100% sustainable.
Otago Polytechnic chief executive Phil Ker says they wanted to design a contemporary student village to rival the best student accommodation in Australasia.
"Sustainability was key for the client," Naylor Love Dunedin director Ian McKie says.
"The building was completed following the principles of the Living Building Challenge. CLT went a long way to meeting the materials requirement, with the pre-fabricated panels using Forest Stewardship Council (FSC) certified timber."
There was also very low waste, McKie notes, adding the CLT structure had to satisfy sustainability criteria without adding extra costs.
Designed by Mason & Wales Architects, the project was managed by Logic Group, with Naylor Love the main contractor.
Because of its CLT elements, the facility went up quickly. Sections were prefabricated by XLam in Nelson and assembled like a giant jigsaw in Dunedin.
The timber structure also meant the installation of services was easier. For example, a fit-out would traditionally have to wait until cumbersome floor props are removed. The CLT system ensured there were no props, leaving areas open for various trades.
The pre-formed openings in the timber walls and floor allowed all services to be co-ordinated prior to contractors starting on site and their routes were pre-determined, making site installation efficient.
Logic Group's Sam Cadden points out the choice of site for Te Pa Tauira was not without its challenges.
Logan Park, previously known as Pelichet Bay, then Lake Logan, was a salt marsh until reclamation work began in 1913.
Given the geology of the area, a heavy rig was used to stabilise the site, creating 700 columns by ramming aggregate chipping rocks into the ground.
Beginning with initial groundwork in late 2016, construction took just 15 months to complete.
"The driving philosophy was to create a sustainable student accommodation block. This vision was a major contributor for the material choices made, from foundations and structure to carpet and paint finishes," Cadden explains.
"Otago Polytechnic, as a teaching organisation, has insisted that all the information attained during design and construction is provided on an open-source basis to ensure industry learning can be achieved from this prototype building."
Extensive heat loss and moisture analysis were undertaken to ensure the most efficient building envelope, while ensuring there would be no long-term cavity mould or moisture issues.
"It is a highly energy efficient building. As an example, bedrooms and apartments only require a 300W heater as a heat source."
Te Pa Tauira has two accommodation wings. The West Wing has five levels of single, dormitory-style bedrooms (some of which have en suites), while the four-storey East Wing has a mixture of studios and four-bedroom apartments. Each bedroom type can be configured as a fully accessible unit.
Connected by a central, glazed vertical link, the result is a variety of indoor and outdoor social and meeting spaces adjacent to the primary circulation spaces at ground level. In addition, shared lounge areas enjoy a northwest aspect on all levels.
A particular challenge was the site's location in an "Urban Landscape Conservation Area" at the edge of Logan Park Recreation Reserve.
Architect Hamish Muir of Mason & Wales and his team took care to ensure the building would integrate with the surrounding environment.
Through careful positioning of the buildings and car parking, Otago Polytechnic was able to maintain the mature trees that line the boundary of Logan Park.
The overall bulk of the building was mitigated by the use of a staggered building plan and patterned colour scheme.
Apartment buildings of all types inherently generate a repetition of the windows required to provide lighting and ventilation to those rooms. The design of Te Pa Tauira aims to mitigate such repetitive, visual characteristics, Muir says.
"The length of the buildings has a staggered plan, where possible, to generate a form that is offset between different accommodation units, to modulate scale along the length of the buildings and provide depth and shape to the forms," Muir explains.
"In addition, a variety of textures, finishes and colour tones help manage the visual scale of the building."
Artist Simon Kaan worked closely with Muir and the polytechnic to develop an external palette that is sympathetic to the trees and green spaces of the area, yet also offers a fresh, intriguing visual appearance.
"I liken the cladding of Te Pa Tauira to a cloak of leaves that is always shifting," Kaan says.
"The idea was to reduce the scale of what is, effectively, a large-scale student village. So creating a sense of movement, a visual shift, was important."
Kaan has a long history with the polytechnic, as a student at the Dunedin School of Art and as a Maori academic mentor within the DSA. In recent years, his role has broadened to include working to ensure Kai Tahu knowledge is embedded within the polytechnic's campus redevelopment plan.
Te Pa Tauira is the latest incarnation of that redevelopment plan. Yet it shouldn't be seen as a standalone building.
Originating from discussions with Otakou Runaka representative Tahu Potiki, and in consultation with Professor Emeritus Khyla Russell, the concept of "ara honohono", or multiple connecting pathways, is central to an overarching theme that binds Otago Polytechnic's ongoing redevelopment.
"And the notion of a cloak of leaves expanding and contracting ties into the notion of what came before," Kaan says.
Kaan is alluding to the fact that the area around what is now the polytechnic campus was a point of intersection for previous generations of Kai Tahu.
"There were trekking paths here, journeys both on foot and by waka, and bird migrations, too," Kaan explains.
"The idea of ara honohono fits intrinsically with the notion that education is a journey, and also reflects the way in which students pass through Otago Polytechnic."
This sense of fusing the past with the present and future is enshrined in a range of names given to Otago Polytechnic by Otakou Runaka in 2017.
The title "Te Pa Tauira" was gifted, along with each of the names for the five floors - Hawea, Rapuwai, Waitaha, Mamoe and Tahu (the names of the southern tribes who have migrated to the South Island at different times over several centuries).
The names for each level were inspired by a diary extract written by Hori Kerei ("H.K.") Taiaroa.
Born in the 1830s, H.K. was the son of Te Matenga Taiaroa, an important Otakou chief whose name has been enshrined in the Otago Peninsula place name, Taiaroa Head.
In one of his more personal diary extracts, written in Maori, H.K detailed looking at a midden as he was walking along the beach at Taumutu.
He described each layer of the midden, and concluded the midden was from the two tribes that preceded Kai Tahu - namely Waitaha and Kati Mamoe - based on the depth of the layered materials.
Reflecting H.K.'s thoughts, each level of Te Pa Tauira has been named as if the building were a midden.
Kaan rejoices in the fact all those involved in Otago Polytechnic's redevelopment plans have embraced the concept of ara honohono.
"In fact, there's a real national momentum towards embedding Maori concepts within architecture and urban development.
"It's exciting that Otago Polytechnic is part of this movement, and it's a great opportunity to produce something of real significance."