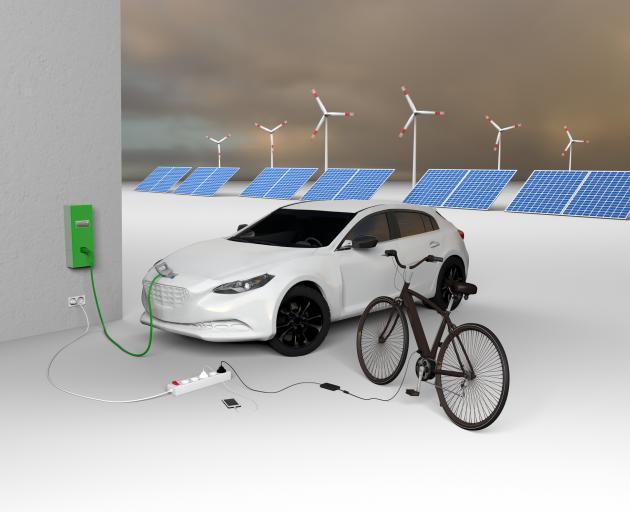 The electric revolution has begun, moving silently through the city's streets, writes Tom McKinlay.
Having ghosted through the early morning Christchurch streets on the imperceptible energy of lithium ions, Bronwyn Cook walks the final short distance to work.
Her car has cost next to nothing in fuel, nothing to park, and will not now spend the next eight hours contributing to inner-city clutter.
No, that's not speculative fiction describing some near-future utopia, it is a day in a life from the recent past.
Bronwyn's chariot on the morning in question was a lithium-ion battery-electric vehicle from Christchurch's Yoogo Share 100% electric car-sharing scheme. She and her husband are members of the scheme, so have open-ended access to electric vehicles (EVs) from 4.30pm to 9am weekdays and all weekend. The rest of the time, other people, mainly businesses, use them.
For Bronwyn, the opportunity to reduce greenhouse gas emissions was the attraction. For her husband, an accountant, it was the savings on parking, fuel, insurance, depreciation and the other costs associated with car ownership.
"I love the idea of a car share scheme. It is such a positive initiative,'' Bronwyn says.
"Especially if you are not in a position to buy an electric car or it doesn't quite meet all your needs.''
The Cooks are in the process of selling their second car, backing up international experience that for each car added to a car-share scheme, between five and 10 cars are taken off the road.
But Bronwyn doesn't pick up a share car every day. She's a cyclist and sometimes uses the 7km or 8km commute from her home on Christchurch's outskirts to keep fit. There's a cycle lane 60% or 70% of the way now. And the bus route was recently changed to make it more direct. So she's been doing that more, too. Anything to stay out of the petrol car, whittling down her carbon footprint one trip at a time.
That's a common approach to car sharing, Yoogo Share's general manager Kirsten Corson says.
"We talk about the mobility jigsaw puzzle. Yoogo Share is just one piece of that jigsaw puzzle. What we find with our customers, they are more likely to use Lime scooters and buses and walk. And depending on your life, a piece of the jigsaw puzzle could be small or big for any mobility option that you choose.''
The scheme was just one of the reasons Christchurch took the award for most electric vehicle friendly town of the year at last month's EVworld Conferenz in Auckland. That alongside the city's investment in electric-vehicle charging infrastructure and the introduction of electric buses on the airport route, among other things.
The Christchurch City Council was a foundation partner in the Yoogo Share scheme, selling 55 of its own pool cars as part of the switch to the lower-carbon transport option.
Council resource efficiency manager Kevin Crutchley says about 40% of Christchurch's greenhouse gases come from land-based transport, and with the council having declared a climate change and ecological emergency it is an obvious place to look for savings.
Since it began in February 2018, Yoogo Share has saved 200 tonnes of CO2.
Christchurch is far from alone in its efforts. Towns and cities around the country are taking steps to promote EVs, improving cycling infrastructure and boosting public transport. Different places are employing different pieces of the mobility puzzle to address the twin concerns of carbon and congestion.
Beyond its large share of emissions - almost 20% on a national basis - transport is the lowest-hanging fruit in terms of CO2 reductions in this country; our electricity system is already largely renewable and our other big greenhouse gas footprint, farming, will provide no easy wins. Road transport produces 14 billion tonnes of carbon per year.
So central government is on board and recently adopted all of the Productivity Commission's recommended steps to hasten the uptake of electric vehicles here - at least for consideration - including a "feebate scheme'' to make EVs cheaper.
The transition has begun, if tentatively. Three-quarters of New Zealanders are considering buying one, according to one survey.
Wellington-based EV advocate Sigurd Magnusson runs the online New Zealand Electric Car Guide and has watched as monthly registrations of EVs have increased since 2015, when they struggled to stay in double figures. In July this year, there were 410 used-import EVs registered, and another 148 new vehicles. The trend-line is steep, even if the EV share of registrations was still only 2.19%.
As the uptake has quickened, the sorts of questions Magnusson fields have changed. People no longer approach the topic as a curiosity.
"People are hungry to buy one and truly want to understand the capability, the costs. I guess that shows now the market, or consumer base, is a lot more educated than it was four years ago.''
Magnusson says New Zealand should set a 2030 target for EVs to make up 100% of new registrations, as the way we hang on to our cars means we'd still be burning fossil fuels long after that date. Norway is targeting 2025.
Liz Yeaman says it might be hard to sell anyone a petrol or diesel car after about that date.
The EV consultant and former general manager transport at the Energy Efficiency and Conservation Authority (EECA), says new EVs will probably be more cost competitive, just on purchase price, than diesel and petrol vehicles by before 2025. At that point, the lower running costs of EVs will make a compelling case; particularly so considering our renewable energy. And the "amazing'' advances in battery technology mean electrification won't stop at cars, Yeaman, managing director at consultancy Retyna, says.
Trucks, too, will increasingly be electric, she says.
"You tend to think of trucks as driving from Christchurch to the ferry, or from Wellington to Auckland, but actually the majority of truck movements are within regions; just taking things from the warehouse to the supermarket, or the port to the warehouse.''
Existing battery technology will do that work, she says.
It all means electric transport can begin to make a significant contribution to carbon reductions in the decade from 2030, she says.
Yeaman is also a fan of car-sharing as a catalyst for change, as it exposes people to electric cars without them having to worry about where to park.
But if you choose to own your own, both EECA and EV research project Flip the Fleet say you can finance yourself into an EV in New Zealand now and still save, such are the reductions in running costs.
Those economics also look like being in play for big operators in transport.
In New Zealand, Waste Management has been an early adopter of EV technology, has electric trucks on the road and its own conversion facility.
Managing director Tom Nickels says converting to electric is an important way the company can participate in the transition to a low-carbon economy.
"So far we have saved approximately 76 tonnes of CO2. And that's with just nine electric trucks currently on the road. Our fleet is made up of around 900 trucks, so the future potential is huge,'' Nickels says.
Waste Management sees the upfront cost of EVs declining, which when combined with reductions in energy and maintenance costs, will shift the whole of life economics.
"Based on data gathered over nearly three years of operating electric trucks, we are seeing maintenance costs halve and energy costs substantially lower than that of an equivalent diesel truck.''
Waste Management is also introducing e-trikes for public bin pick-ups in Queenstown and Wanaka.
Such initiatives will be vital for the success of the Government's Zero Carbon Bill. Once it is up and running, overseeing the nation's drive to cut emissions will fall to a "Climate Change Commission''. But in the meantime, an interim climate change committee has been doing some groundwork, so the commission can hit the ground running.
It has put changes to the light vehicle fleet at the top of the agenda.
In its report "Accelerated electrification'', the interim committee says speeding the electrification of the fleet could contribute towards cutting 6.4 Mt CO2e from transport's 16 Mt CO2e of greenhouse gas emissions.
On that basis, the committee recommends the Government do more to incentivise uptake, but says one-to-one replacement is unlikely to be the solution.
Its report discusses a Californian scheme, the "Enhanced Fleet Modernisation Program Plus-up'', which pays people to scrap their old cars. That money can then be used to buy a low-emissions vehicle, buy into a car-sharing scheme or be paid as public transport vouchers; all helping low-income households make the switch.
It recommends proactively enabling "low-emissions mobility for low-income and rural households''.
By bringing public transport vouchers into the mix, they are, in part, addressing the contentious question of whether the private motor car has really been such a positive for our urban environments.
Some say replacing fossil-fuel-burning private cars with an equal number of zero-emission facsimiles might prove a boondoggle; whereby we reduce emissions but keep the traffic congestion.
And if we managed to shift, say, a third of New Zealand's vehicle fleet to EVs by 2030 that could be cancelled out by the population increase forecast for the period, according to University of Otago study Turning the Tide - from Cars to Active Transport.
It recommends national targets across different transport modes - for walking, cycling and public transport - to reduce cars' share of all trips from 84% in 2018 to 45% by 2050.
So, there are at least a couple of moving parts to this challenge, one is to cut emissions, which is where "electrify everything'' makes good sense, but the other is to clear the streets so other mobility options can get a look in and contribute to the zero-emissions goal.
EV advocate Magnusson has a lot of sympathy with that sort of approach.
"Walking and cycling have a considerably lower carbon footprint than even an electric vehicle,'' he concedes.
But he says EV ownership can help the shift, because as people engage with the technology they have to engage with why it's important, and consider the benefits of decarbonisation.
"It was me biking from Petone to Wellington, which is about a 20km segment along State Highway 2, that was one of the motivating factors for me moving into electric vehicles,'' he says. "Because I thought if I get into an electric vehicle, while I am driving I am not making life so difficult for cyclists in terms of the gases they are having to breathe in.''
At a personal level, replacing your fossil fuel travel with other forms of transport is really key, he says.
"So for some people that's going electric, for some people that's walking and cycling more, for some people that's taking the bus and train.''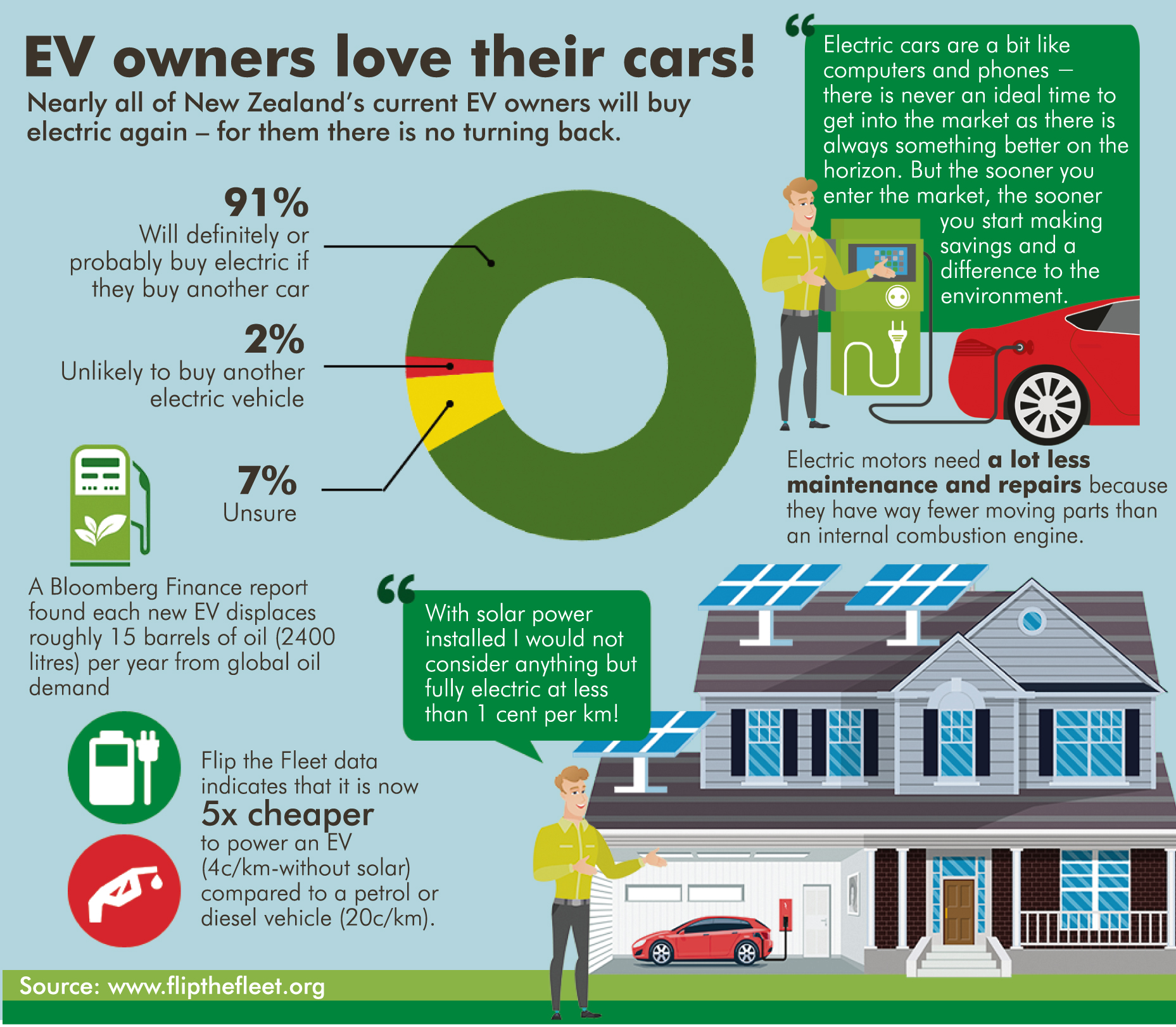 Everyone can make a start.
There's further incentive in a recent report, "Wells, Wires and Wheels'', that demonstrates the capital efficiency of renewable energy and EVs over the fossil fuel industry. The report, from French-based global banking group BNP Paribas, found it would cost up to seven times more to use fossil fuels to power mobility over the next 25 years, than it would to go with renewables.
That is not least because fossil-fuel powered internal combustion engines waste a large proportion of their energy on heat and noise.
Bronwyn Cook has been noticing the noise lately. As she walks that last short distance to work from the car-share car park, she watches the workday parade of rush-hour traffic.
"You become more aware of how many cars are driving past with one person in them. Particularly at rush hour, they are all driving into town and they all drive home from town.''
Bronwyn wonders what it would be like without the racket.
"It would actually be quite lovely,'' she decides.
Push-start for bikes 
E-biking to work has been given a push by a new guide with advice for employers.
The guide, launched by the NZ Transport Agency and the Sustainable Business Network, promotes discounted bulk purchases to reduce upfront costs. Employers negotiate a discount from e-bike suppliers then help to finance employees on to one.
Annual savings for a single e-bike commuter, based on replacing a 12km each-way car commute, are estimated at $900 and nearly one tonne of carbon dioxide emissions.
When the Tauranga City Council put a scheme in place, 52 council staff purchased e-bikes. Collectively, they are saving about $34,000 a year and 40 tonnes of CO2.
They are trying a different approach at Fisher and Paykel Healthcare in East Tamaki, Auckland, where they have installed 46 EV car chargers.
"Employees' commuting to work is about 10% of the total carbon footprint of the company,'' sustainability manager Nic Bishop says.
As a result of the chargers going in, the EV-driving portion of the workforce has grown from four to 47.