To move from "throwaway" to "no away" will require a system-wide change in how we use resources. Maureen Howard finds out why we are at a pivotal point.
March 28, 2030: Thursday morning. Outside, the dog barks. Your postal worker has just delivered a parcel in its reusable pod. Meanwhile, Matai, your eldest, shoves his Kiwi-made all day kit into his backpack before he rushes out the door to school. Even though he hasn't packed a lunch, the kit means he can eat and drink out without needing disposable plastic. All of his friends have one too. In fact, single-use plastics have almost become a thing of the past. And you can't remember the dog's favourite beach looking quite so clean.
It is the sort of future imagined by the Rethinking Plastics in Aotearoa panel for 10 years from now. Their vision is part of a project initiated by the Prime Minster's chief science adviser Prof Juliet Gerrard. In the panel's recent report, New Zealanders are presented with a future 2030 in which we have completely changed how we use plastics, where plastic is no longer seen as cheap and disposable by producers or consumers but is viewed as a precious resource to be manufactured and used carefully, reused and repurposed, and finally recycled when all other options are exhausted.
We're not there yet. New Zealand has one of the highest rates of waste to landfill per person of any country in the developed world, and the greatest part of that waste is single-use plastic packaging.
Prof Gerrard says we need a system-wide rethink about plastics, and materials in general, in New Zealand.
"A systems approach for rethinking plastics means looking at all aspects of plastic use and making changes across the board," she says.
We need to think about the various industries that use plastic and how they use it, how to change the culture around single-use, in which innovations and new materials might play a role, and how to establish new business models or technologies to mitigate the negative environmental, social or health impacts of plastic while retaining its many benefits.
One of the report's "overarching frameworks" is te ao Maori, that embodies "an intricate, holistic and relational understanding of our world, and our role in it," says Dr Diane Ruwhiu, a Rethinking Plastics panel member and senior lecturer in the University of Otago Department of Management.
One solution the Government is rolling out is the introduction of product stewardship for some products with a high environmental impact.
The first products to be included are plastic packaging; tyres; electrical and electronic products (e-waste); agrichemicals and their containers; refrigerants; and farm plastics.
Under this regime, producers will be responsible for ensuring what they produce is managed in an environmentally sensitive way.
In announcing the product stewardship schemes, Associate Environment Minister Eugenie Sage said those products can be used to make something new, especially if they are designed better for reuse and recycling.
This week, Sage released a consultation document "Reducing the impact of plastic on our environment", which discusses the phase-out of hard-to-recycle PVC and polystyrene packaging and oxo-degradable plastic products. It follows the successful phase-out of single-use plastic shopping bags.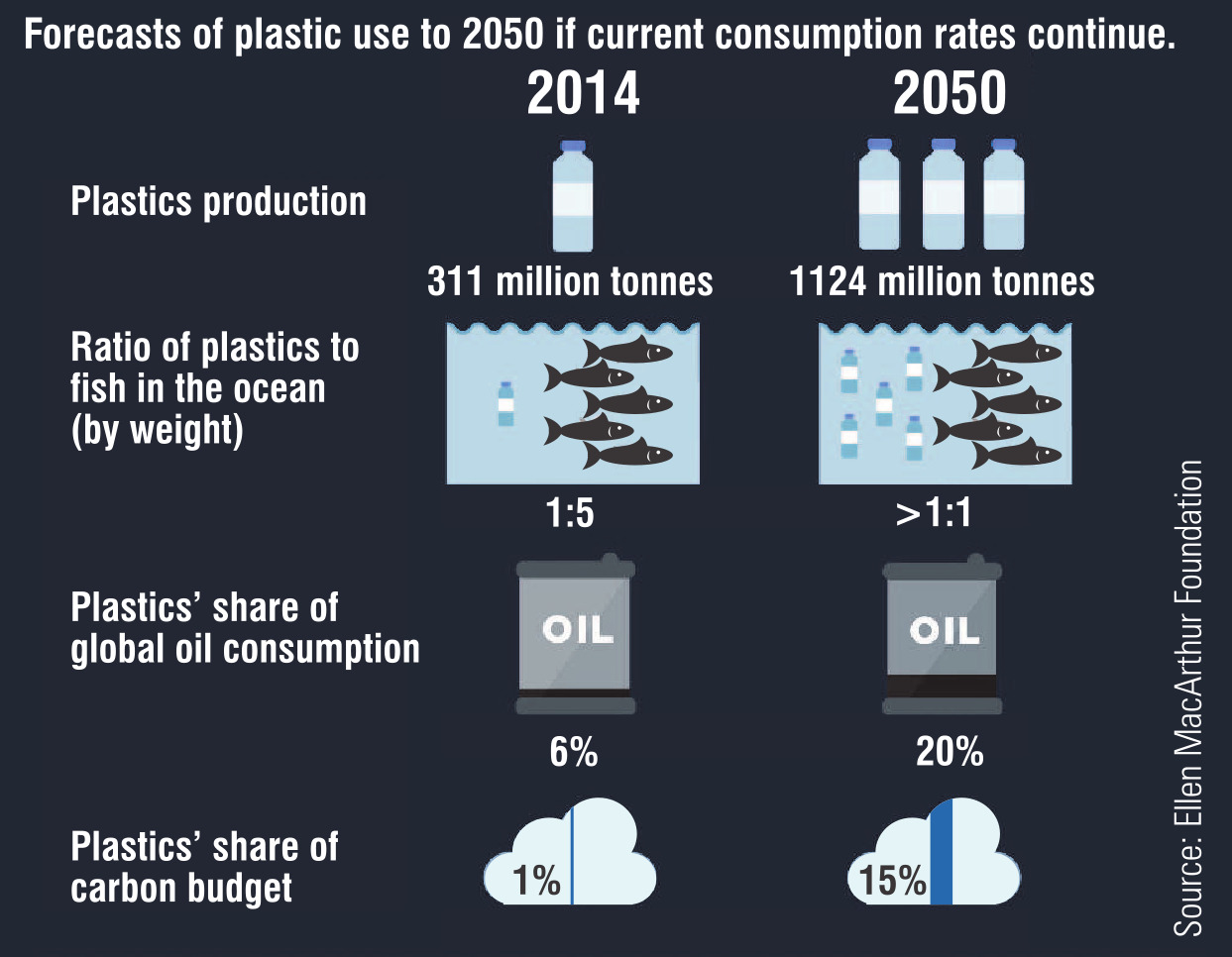 The new targets for removal include plastic straws, drink stirrers, produce bags, tableware (e.g., plastic plates, bowls, cutlery) and non-compostable fruit stickers.
The consultation is open until November 4.
Responding to Prof Gerrard's report, Sage said the big-picture goal was to transition to a future with on-shore resource recovery infrastructure and high performing kerbside recycling systems.
While not producing waste remains the priority, recycling will need to increase.
The Government has announced a $124 million investment in new materials recovery and recycling infrastructure. Initiatives to be funded could include plastic recycling plants.
The Government's Waste Levy Fund offers an avenue for system change, where half the levy is returned to councils to fund waste minimisation initiatives, and the rest goes into the Government's contestable Waste Minimisation Fund.
Picking up speed, the Government is increasing and broadening the scope of the Waste Levy Fund. To do so, the levy on household waste sent to landfill will gradually increase from $10 per tonne to $60 — still a relatively small figure by international standards.
Prof Gerrard believes we've arrived at a pivotal point to rethink how we use plastics.
"New Zealanders are really concerned about plastic pollution in our environment. ... People are ready to make changes in how they use plastic," she says.