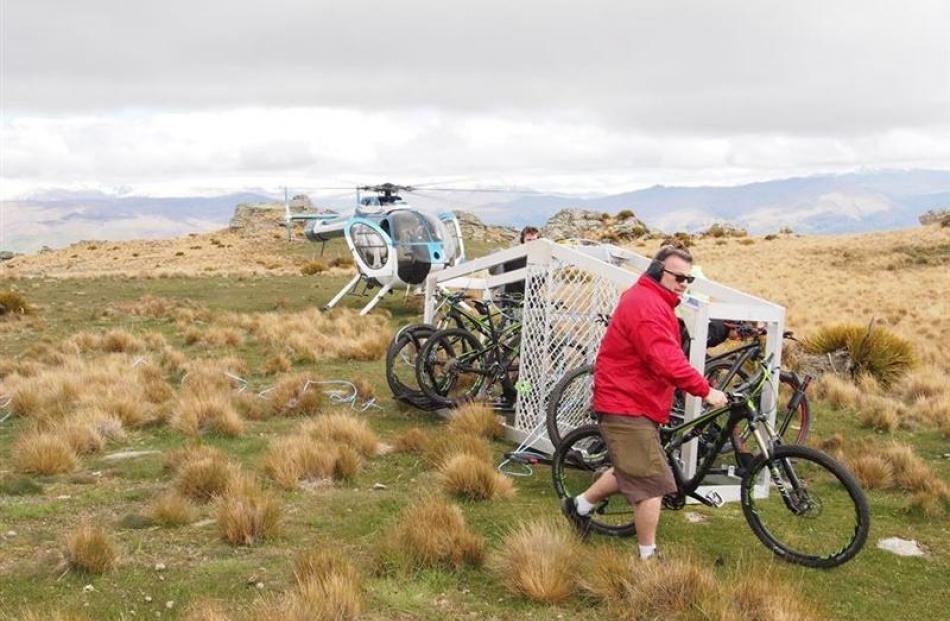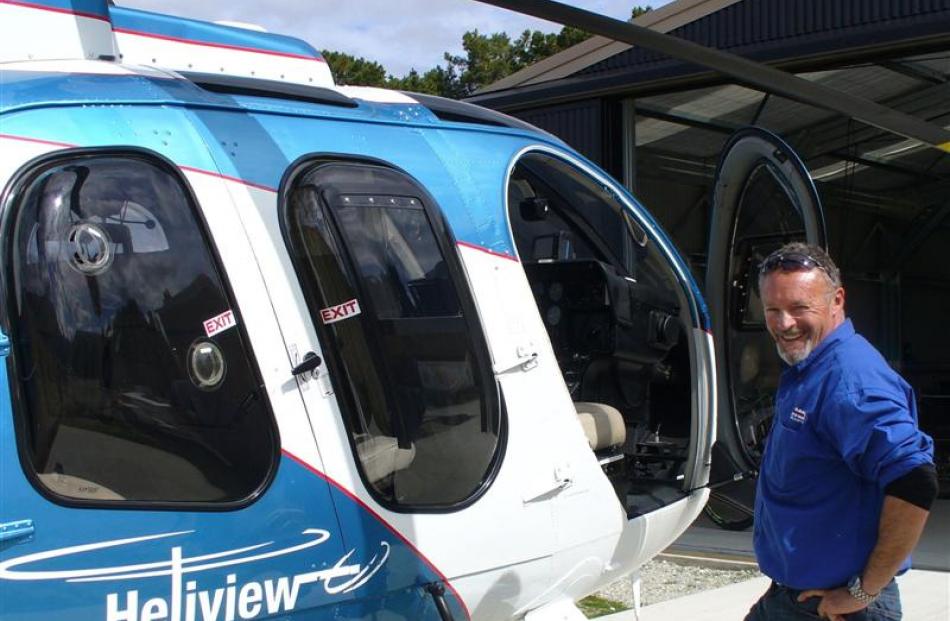 Central Otago is opening up to two-wheelers of all types, writes Peter Donaldson.
The cherry nets were up around Cromwell, a sure sign summer was on its way.
There were also a couple of other activities taking place under the warming skies, confirming the area's new-found claim as Otago's ''two-wheel adventure hub''.
Whether your preference is power or pedals, road or off-road, Cromwell serves up a couple of tasty choices.
Richard and Jolanda Foale are recent arrivals from Taranaki.
And they've brought with them a nice shiny blue MD600N helicopter - possibly the quietest in the region - and half a dozen top-of-the-range mountain bikes.
In setting up in Cromwell, they identified a region rich in helibiking potential.
And they have wasted little time in securing access to some truly wonderful downhill runs, taking in such areas as Pisa Range, Mt Rosa, Dunstan Ranges and the Nevis Range.
I joined guide Jolanda and three UK backpackers - Ella Hughes, Bethany Orritt and Calum Davidson - on what has become known as the ''Thyme for wine'' run; mainly downhill, finishing with a short road ride to Carrick Winery for wine tasting.
As the Foales say, they are targeting those who want to have a fun day out.
While the $6500 full suspension Scott Genius 720s - each set up to suit our weight - were loaded into the specially built cage and whisked by Richard to the top of Mt Jackson, on Cairnmuir Station, Jolanda presented a full safety briefing, right down to where she carried the company radio transmitter and first aid kit.
Just in case ... After take-off, Richard provided a commentary on the landmarks as we swept in an arc over Lake Dunstan and Cromwell towards the 1130m-high drop-off point on the Cairnmuir Mountains.
Once unloaded, we soon found the trail and a pace.
It quickly became evident why the carbon-framed Scotts carry such a big price tag.
The suspension soaked up gnarly bits and tracked true across loose schist, pumping up a rider's confidence to attack sections at speeds never dared on that old clunker at home.
Riders get to set the adrenaline dial to their own level, but Jolanda ensured that while the fast riders had their fun, slower riders were never left lagging.
As we descended, often through lilac-tinged avenues of sweet-smelling thyme, we took regular rest stops; at an old musterer's hut, at the top of each of the four uphill sections, and on an outcrop of rock for lunch.
The views, near and far, just kept coming; the remnants of an old water race, a sweep of the Cromwell basin, Lake Dunstan and distant snow-capped mountains.
The ride seemed to be over far too quickly, but by the time we reached out for the first of the wine-tasting glasses at Carrick Winery, we'd been on the go for nearly three hours.
Without doubt, it was the best three hours I've spent on two wheels - powered or pedal - for many years.
ON another day, I joined Dave Moreton on a pre-season four-wheel-drive recce over one of several trails he uses in the off-road side of the Central Otago Motorcycle Hire business he runs with his wife Janeen.
The business has three strands - motorcycle hire, guided road tours and guided trail tours.
We headed south from their Bannockburn headquarters, passing through the township and its neatly tended vineyards until the seal gave way to gravel.
There was the obligatory pause for a flock of sheep being moved to new grazing. And the sight of rabbits scuttling across the road.
We even saw signs of the new face of Central Otago farming, cows, but the flock of wild turkeys threw me.
Now we're past Christmas, I wonder if they're still roaming the hills ... The smooth, gently winding gravel road began to climb, and irrigated green paddocks gave way to steep hills clad in various tinges of green and brown.
The first of several closed gates indicated we were entering serious off-road country.
It's called Hawksburn Rd, also locally known as the pylon road.
The historic trail, dating back to the 19th century gold rush, wends its tortuous way to Clyde, through Bannockburn and Fraser River.
While some sections could pose challenges for novice riders, the trail overall would be an enjoyable test for more experienced riders, with Dave a ready source of historical and more modern details.
The Moretons service a niche market and boast a strong foreign database.
Not only are they the only motorcycle hire firm in the South, their personalised road and off-road tours are hugely popular with those who want to rack up some serious kilometres on the region's world-renowned roads and trails.
Their hire range includes big Harley-Davidson cruisers, Suzuki and BMW adventure bikes and easy to ride road-legal Honda trail bikes.
And they also have a well-appointed self-contained four-bed accommodation unit on site for those planning an early start or late finish, or just as a convenient base for a wine-tasting weekend.
Dave is also the organiser of Bike Week New Zealand, which is based at the Bannockburn Hotel from January 31 to February 6.
Along with rides and social activities, among the guest dinner speakers this time is successful expatriate Kiwi businessman Barrie Neilson, who will be recounting an earlier life in Invercargill racing and socialising with Burt Munro.
Another speaker is Dan Ornsby, the only South Island-based ACC-accredited motorcycle trainer as part of the ACC Ride Forever Programme, and also a motorcycle racer.
Entertainment on Sunday evening (February 1) will be provided by the Gator Boys (aka Middle Earth) and on closing night the following Thursday by Hair of the Dog.
---
If you go
HELIVIEW
2 Ord Rd, Cromwell Racecourse Airfield.
Freephone 0800 HELICOPTER (0800 435-426)
Phone (03) 445-0444
Helibiking flights from $449
CENTRAL OTAGO MOTORCYCLE HIRE
271 Bannockburn Rd, RD2, Cromwell.
Phone (03) 445-4487
Cell 027 445-4488
$165 per day for a 7-plus day hire on a CRF230, tours from $195 for a three-hour tour on a CRF 230 into the Nevis.
NEW ZEALAND BIKE WEEK
January 31-February 6
---