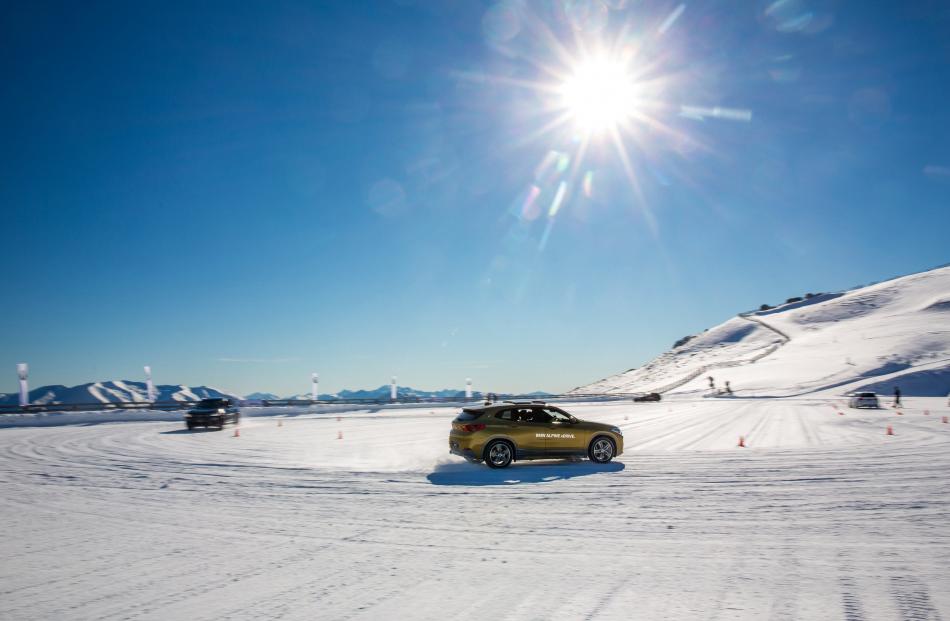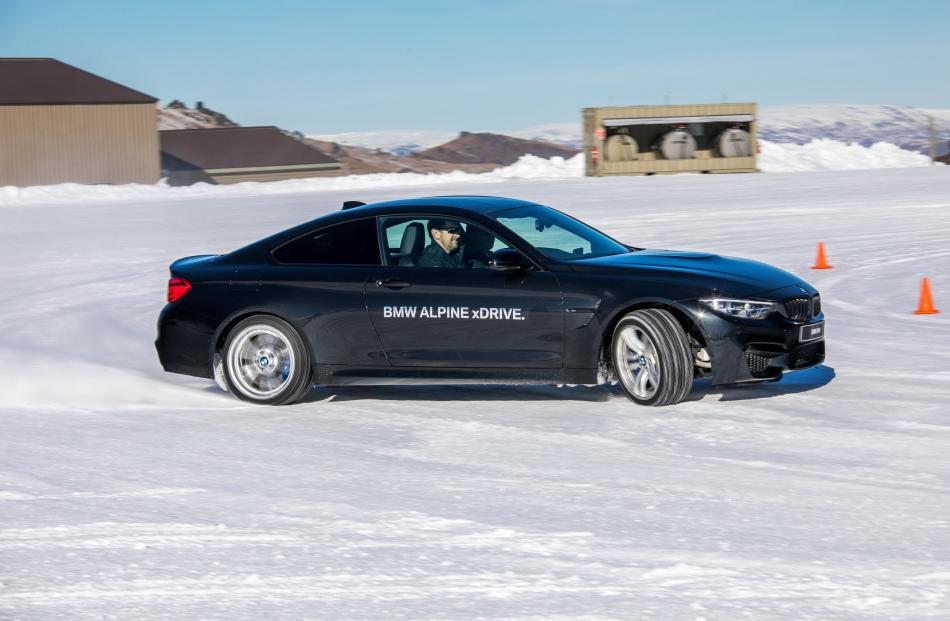 Driving slow can be just as much fun as flooring it, writes David Thomson.
''I'm not outdoorsy or a sporty person, let alone a skier or alpine type, so if it wasn't for this, I can't imagine I would ever have visited such an amazing place.''
This frank admission comes from an older woman who, 12 hours earlier, was very obviously the least enthusiastic of the two dozen participants at a BMW Alpine xDrive day at the Southern Hemisphere Proving Grounds (SHPG) on Central Otago's Pisa Range. Now that it's over, she can't stop smiling as she chats about a day she describes as ''one of the most fantastic of my life''.
She's the kind of customer who the professional team that run this event make a particular point of working with, to ensure they have the time of their lives.  The type of person who is along, most often, to keep a driving-minded partner company, and who is nervous.
Nervous about venturing into unfamiliar territory, nervous about the core mission of the day, which is to drive — often very sideways — on snow and ice and, most of all, nervous about looking foolish in front of friends and strangers whose confident early swagger marks them out as keener and more accomplished drivers.
But snow and ice are great levellers for those with little experience of driving on the stuff.
No matter how good you think you are beforehand, on the Alpine xDrive you will end up sliding utterly out of control on sheet ice at well under 20kmh. And no matter how inexperienced you are, so long as you listen and learn, a bevy of patient instructors will have you power-sliding like a pro in no time.
Joining a group for one of this year's Alpine xDrive days, I had less reason to feel apprehension than most: as a skiing regular for 40 years, Central Otago's spectacular alpine environments are nothing new; in recent years I've also notched up a few days driving on snow and ice at the SHPG so know, to an extent, what to expect.
Yet, when assembling pre-dawn at the Millbrook Resort reception area with my fellow drivers, even I am not 100% relaxed.
Having shown our driver licences and signed our lives away on the inevitable indemnity forms, we board Glacier Southern Lakes Helicopters at Queenstown airport. From there it's a quick and spectacular flight, gaining height over a frost-coated Wakatipu Basin, before cresting the Crown Range into the rising sun, just south of the Cardrona Skifield, and crossing the Cardrona Valley to the Pisa Range.
Landing at the proving ground, it is obvious we have struck it super-lucky with the weather: the previous day's storms have abated, providing what — in skiing lingo — is  called a bluebird day: clear skies, a low humidity chill, and not even a hint of breeze.
From our landing spot, which will soon be marked out with cones for one of our driving exercises, we  cross a bridge to the lodge that is our base for the day. As we stroll over, a pair of BMW M-cars are drifting in unison around a giant BMW badge laid out on the snow.
Indoors, we are briefed by senior BMW driving instructor and former international driver Mike Eady. Safety is a key focus and Eady even mentions driver training a couple of times. Of course, no-one is here primarily for driver training, at least, no more than people ski for physical fitness.
Our party is split into three to rotate through the different drive components, each lasting around 90 minutes, with two participants to a car throughout.
One component is a guided self-drive tour in BMW SUVs on snow-covered tracks around the SHPG facility, with a scenic photo stop, an ice-rink slalom course, and a hot lap in a BMW M3 thrown in for good measure. Another comprises drag racing on snow, followed by timed runs around a tricky slalom course. And finally, the component the majority of us would do forever if allowed, drifting a rear-wheel-drive performance car on snow.
My group starts with the scenic drive, swapping from the passenger's to driver's seat and from vehicle to vehicle every few minutes. Communicating by radio from the lead vehicle, Eady coaches us on driving to the conditions, while pointing out key features of what is now a massive and internationally important vehicle development and winter testing facility. He reminds us that — with future new models potentially on test from any number of car makers — taking photos is not permitted along the way.
Cameras are out though during a short stroll to the proving ground's northwestern boundary to take in the stunning panorama of snow-clad peaks amongst which Mt Aspiring stands tall.
The special snow tyres fitted to our vehicles deliver a surprising amount of grip on the groomed snow roads that wind through the landscape but, as it turns out, very little on the expanse of sheet ice set aside for some slow-speed slalom tuition.
There's an almost comical freeze-frame element to the inevitable out-of-control sliding that comes with this test but, with practice we become more polished.
Smoothness with the steering and a gentle touch on the accelerator enable graduation from a gingerly executed and precarious there-and-back loop around a couple of cones to completing the full length of the slalom course without hitting a cone, missing a turn, or losing control.
There's no gentle touch to the next experience, a high-speed run as passenger to Eady in a BMW M3 fitted with high-grip, metal-studded ice tyres. Reaching speeds close to 160kmh, and sliding sideways between snowbanks and through the twists and turns of a miniature rallycross track, this is thrill-a-second stuff.
Marking the end of our first drive module, it is also a primer for our group's post-morning tea challenge: drifting.
The ultimate objective is to drive a selection of BMW's M-performance cars in a controlled power slide for a full lap — or more — around a circular course. Two of the cars, the M2 and M4 models, are full-time rear-drive machines while the third, the awesome new-generation M5 saloon, has been taken out of its usual four-wheel-drive mode to run with its 441kW twin-turbo V8 driving the rear wheels only. Like the M2 and M4, the M5 has its stability and traction control systems deactivated, and is fitted with studded ice tyres.
This year's Alpine xDrive is the first time anybody, other than professional BMW testers, have been let loose in the new M5 on the snow. So, in a car worth just under $200,000, it's hardly surprisingly that we build up to the full drift attempt with tuition on how to use the accelerator (and a little steering) to flick a car into a drift, and then how to balance it sideways for a second or two.
For those prepared to be bold with their right foot (as eventually everyone is), getting the cars sideways on snow is a doddle; holding that sideways slide is far harder.  Too much accelerator and the car spins out, too little and it noses to an ignominious halt, perhaps having collected an orange cone or two along the way.
After about half an hour, we are judged ready to try full-on drifting, with two cars at a time on the circular course. I'm thrilled to complete several fully sideways laps — each of a little over 15 seconds — in both the M2 and M5, but quietly frustrated at my inability to manage one fully sideways rotation in the mercurial M4.
But pressure to perform at Alpine xDrive is entirely self-regulated, with each participant judging success and failure according to their own expectations. At the same time, the bevy of expert instructors will raise those expectations as high as possible or, as is occasionally required, to reign in those whose self-confidence far exceeds their ability.
Joining the other groups for lunch, it is clear that everyone has been having tremendous fun: the nervous conversations before the morning briefing have been replaced by excited chatter, with several participants grasping an imaginary steering wheel and tweaking it left and right while recounting their efforts.
Post-lunch envy for those drifting as their final activity is quickly overcome by a determination to achieve at our next session, which involves drag and then slalom racing on snow in a range of four-wheel-drive BMW models.
I win both my straight drag races, but lose against my opponent 2-1 in a more complicated best-of-three races which also requires us to come to a stop within a coned off area.
And so, finally, to the one component of the day where we are measured against our peers and the stopwatch, battling members of our group for fastest time around a course that comprises two sets of slaloms with 180-degree turns at either end.
Each of us gets just one timed lap, and a benchmark of just under 40 seconds is set early on. I decide to run as close to last as possible, as you can always learn about where to go fast and where to go slow on a tricky course by watching those before you.
Seventh from eight to run, I've a fair idea of the approach needed to set a quick time, but must put theory into practice with 38.6 seconds now the time to beat. I'm two-tenths quicker, and when the final runner slides wide early on, victory is mine.
For a moment I feel as happy as Lewis Hamilton snatching an Formula One Grand Prix win — then one of the instructors heads out to show what can really be done, and is a full two seconds faster without seeming to try.
Back inside to wrap up for the day, there's a trophy for everyone and fair enough too, because if success is measured by smiles and satisfaction, there have been no losers. Our most reluctant participant from the start of the day is judged the most improved, and her smile is the biggest of the lot.
There's no exciting helicopter ride off the mountain; instead, we go by bus. No-one cares though because we are delighted with our day's efforts and far too tired to absorb the stunning scenery. It might be a lot less physical than skiing but, like skiing, this driving on snow and ice is a total blast and absolutely exhausting.
BMW event gaining traction
BMW Alpine xDrive is one of several car manufacturer-run events of its type held on the 40ha  Southern Hemisphere Proving Grounds (SHPG) each year. It runs over 10 days, catering for  about two dozen participants per day. People come in increasing numbers from Asia and Australia, occasionally from Europe, as well as from throughout New Zealand.
This slow-burn in top-end Otago tourism also attracts locals. When invited along by BMW to join the fun, I found myself in the company of participants from Dunedin and Invercargill as well as those from Auckland and Western Australia. The ratio was one-third female to two-thirds male, and alongside the expected captains of industry and business, I met a nurse, a school teacher and a builder. Most, but by no means all, were BMW owners.
With a price tag of $2850 per person, Alpine xDrive seems at first glance eye-wateringly expensive. But there can't be much of a margin in it for BMW.
Two nights at the Millbrook Resort. That crack-of-dawn helicopter transfer to the proving ground. A day of fun  involving a dozen cars —  more than a million dollars worth all-up — and all fitted with special snow or ice tyres. Eight or nine driving instructors, all with significant motorsport experience, and a technical support team to keep the cars in tip-top shape. Back-up cars, a hospitality team, professional photographer and  hire costs for exclusive use of a portion of the proving ground's  tracks and test facilities. Meals, including  a final celebration dinner at a top Arrowtown restaurant, at which the bubbles flow  freely. It all adds up.
Like skiing, the success of Alpine xDrive is reliant on the conditions. 2018 has been a lucky year, though, with every day proceeding as planned. It was also the ninth year of New Zealand's Alpine xDrive. Rest assured, year 10 will be going ahead in 2019; as word of the experience spreads, international interest grows. And while the experience is all the more exotic for those who come from tropical countries such as Thailand, Singapore and Malaysia, it's something locals can savour, too.
- David Thomson