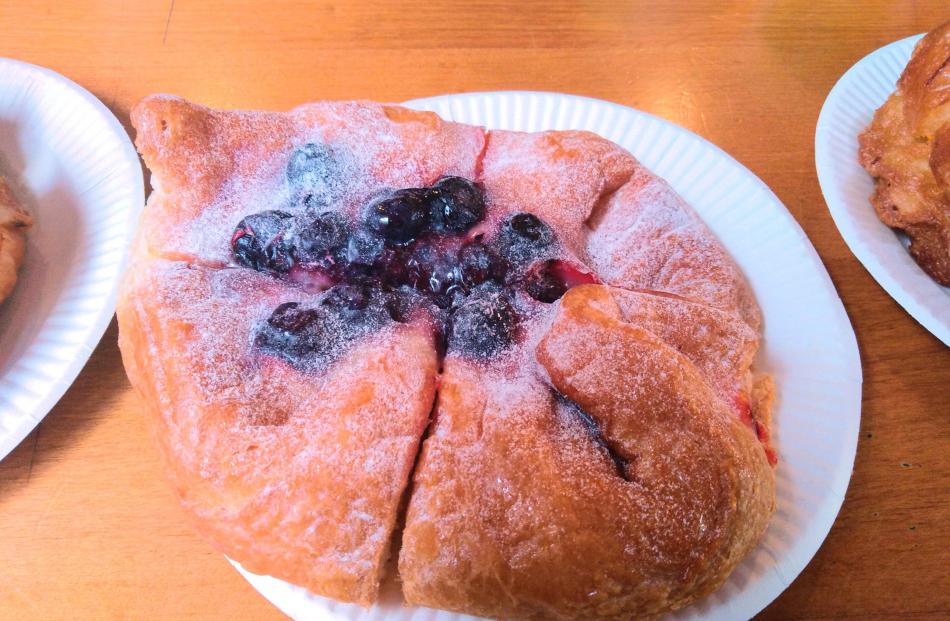 If an overseas holiday is not possible this winter, a short break in our biggest city can offer a relaxing and, if you are lucky, sunny time away. Rebecca Fox discovers Auckland's less well-known foodie spots.
Waking up to pure blue sky and the sun glinting off the water, you could be anywhere in the world.
But it is Auckland in winter, so there is a nip in the air, which means I won't be taking advantage of the loungers on the deck of my hotel, but can still enjoy the view of Auckland Harbour from my room, warmed by the sun.
It is a perfect day for a walk around the central city in search of some of its foodie gems.
We meet up with Elle Armon-Jones from Big Foodie, an Auckland-based food tour company, on the corner of Queen St and K Road.
Armon-Jones came to New Zealand from the United Kingdom as a 23-year-old and worked in IT before discovering a passion for food. Her company now does a variety of tours in Auckland, Portland in the United States and in North Canterbury.
A woman after our own hearts, she makes the first stop a coffee one.
We're taken to an unmarked building down a side street, and can smell the coffee from outside.
Inside is long-time coffee roastery Miller's. Owner Craig Miller has been in the coffee-roasting business since its beginnings in New Zealand and has a passion for roasting the perfect blend from beans from three countries: Papua New Guinea, Columbia and Kenya.
He is a strong proponent of roasting as an art, so no computers are used in the process. Instead, he relies on the roaster's skill.
He also believes only one shot of coffee should be needed, if the coffee is blended right.
Each morning they fire up the roaster in the back of the cafe and go to work providing suppliers with their coffee fix, and close at noon.
Dunedinites will be familiar with Miller's coffee if they frequent The Daily Coffee Co in Princes St. Its owner Jay Dixon used to work for Miller's in Auckland.
We leave with a pep in our steps and make our way to St Kevins Arcade on K Road.
The great old arcade has been rejuvenated in recent years, with cafes, book stores and restaurants making it home.
We stop off at Tart, a 100% plant-based, family-owned store which was the New Zealand Herald's top bakery of 2017.
Armon-Jones tests our taste buds with pastries - a cronut and danish - not as we know it but very delicious.
We then wander out the other side of the arcade into the sunshine of Myers Park, a surprising green oasis that runs down the hill behind Queen St with a great children's playground.
She then takes us through a few of the area's laneways, pointing out some of the street art as we go and keeping up a rolling commentary, highlighting the sights and stories of the CBD.
We stop at Auckland institution Smith & Caughey's for a sweet-treat tasting from the Bennetts of Mangawhai chocolate stand. There we discover a surprising new flavour treat - 42deg Below vodka, fejoas and caramel filled white chocolate.
Our next stop is cafe and urban farmers market flower shop, Scarecrow, in Victoria St, where we are introduced to owner Alison Dyson. She explains that the shop came out of a desire to replicate her experience when living in Paris of having great breads and local produce easily available in her neighbourhood.
So she stocks artisan products - Dunedin's Ocho chocolates are on the shelf - and foods, freshly baked bread and pastries, as well as a menu based on many of the things she sells.
We get to taste some of the great condiments, breads and crackers she stocks alongside some amazing smoked duck and smoked almonds.
At this stage we wonder how our stomachs are going to hold up to the temptations at every stop - the next one does not help.
Kapiti Cheese's Auckland shop is a cheese-lovers paradise and we are treated to tastes of some of their range, including melted in a sourdough toasted sandwich - bliss.
The last stop on the tour is a little ''dining room'' and bar in Wyndham St that says it is a ''haven for secondary cuts and the unloved'' as well as local produce.
As well as larger plates, it specialises in smaller tasting plates served from trolleys and trays.
We watched as our waiter shaved truffle on to our market fish sashimi at our table before serving from the trolley.
From the purple kumara soup to the chicken liver pate with mini donuts, we all sighed in appreciation.
By this time we were ready for our walk back to the Hilton, our stomachs full of appreciation of what we had discovered and ready for a cup of tea and rest.
Luckily, our afternoon plans were food free. We were heading out of town to Matakana, just an hour or so up the road from Auckland.
An easy escape from the city, Matakana offers plenty to see and do. We decided to check out one of its newer attractions, the Sculptureum.
An added bonus was that its restaurant, Rothko, was holding one of its mid-winter feasts that night with guest chef James Pask from Whitebait in Wellington joining regular chef Jarrod McGregor.
It was the perfect day to wander around the slightly bizarre sculpture gardens at the Sculptureum. Owned by lawyers Anthony and Sandra Grant, the aim is to inspire visitors to add more art to their gardens.
You start your wander in the more traditional garden art area, featuring classical stone pieces, before moving through a series of gardens with wood and metal sculptures; the standout is a bright yellow flower made from plastic buckets.
For the children there is Rabbiton, an enclosure for giant rabbits to roam, as well as a series of aviaries featuring a variety of colourful birds.
Inside, you move through a series of galleries featuring the owners' finds over the years - pieces from New Zealand artists and those from abroad. Many are 3-D and the standout is the blown glass chandelier by well-known American artist Dale Chihuly.
You can then head outside to the ''palm garden'' and ''pink snail garden'', enclosed by hedges, which feature animals made from every conceivable material; a polar bear from whiteware, a large green plastic frog, metal birds and insects, and a red ceramic pig.
By this time we were suffering from image overload and headed back into town to investigate, finally stopping for a drink and some great fries at the picturesque Matakana Village Pub.
Not wanting to spoil our dinner, we headed back to Rothko, a great indoor-outdoor space, with a roaring fire going to keep us warm.
The two chefs had collaborated on a four-course menu - raws, cured and cultured, cephalopods and fish on the bone - showcasing seafood in all its varieties from chargrilled octopus with XO sauce and smoked eel, to trevally tartare and salt-baked Leigh line-caught snapper.
Served farmhouse-style down the centre of the table, it was a great way for the 60 guests to get to know others sitting at their long table.
We were lucky enough to sit next to one of the fishermen responsible for the line-caught snapper we had for dinner and who provides many of Auckland's top restaurants and those overseas with their sustainably caught fish.
The weekend had turned into quite a seafood dining experience, as we had eaten the night before at the Hilton's restaurant fish, enjoying oysters, clams, whole snapper and even crayfish mac and cheese.
It was all finished off with a great piece of crack pie with a lovely rhubarb sorbet to cut through the sweetness.
While it was only a short break, it did its job showcasing that our biggest city has plenty to offer in the cooler months.
-The writer was hosted by Hilton Auckland.