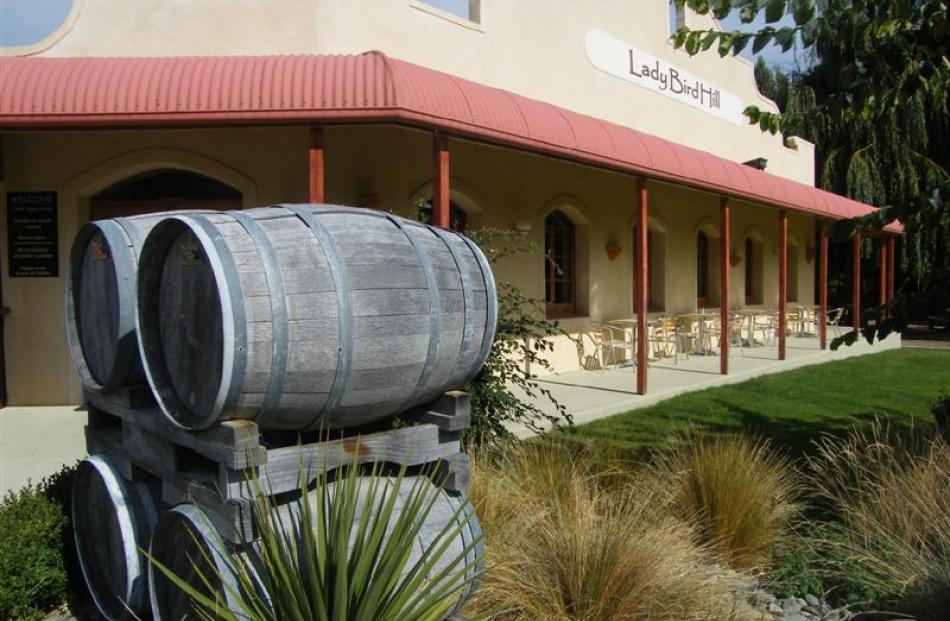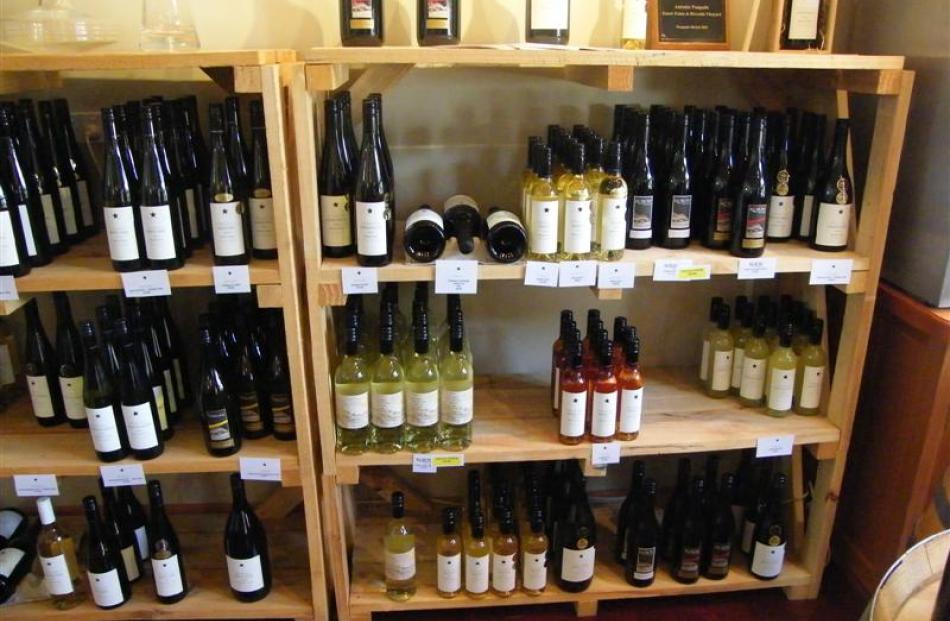 Pam Jones travels a create-your-own wine and food trail in Waitaki Valley and gives the region top marks.
There is no formal wine and food trail in Waitaki Valley but it is not hard to create your own.
Take a trip from Omarama to Kurow and back to Oamaru and you will discover pinot noirs and aromatics that knock your socks off with their flavours and minerality.
Then add some gourmet treats or rustic farmers' fare on the side.
It is a recipe for a wonderful day of wining and dining, or stay the night at places along the way to turn it into a multiday sojourn.
We start our loop at the Ladybird Hill Cafe, Restaurant and Winery in Omarama, tucked to the side at the southern entrance of the busy crossroads town.
It's almost a one-stop shop and would be a great place to spend several hours, boasting the variety of attractions it does.
The Ladybird grounds feature a spacious restaurant where you can dine and/or taste Ladybird and some other Waitaki Valley wines, a children's playground and giant chessboard area, a hillside walk overlooking Ladybird's small vineyard (New Zealand's highest-altitude vineyard) and ponds stocked with hundreds of fish.
Visitors can catch their own salmon (no licence required, pay for what you catch) and have it smoked on site.
We saw one girl reel in what looked like a 1kg-plus fish.
It is a great start to a trip through a region whose wine is lesser known than the flashier, fruit-driven Central Otago pinot noirs, but it is certainly not a case of always the bridesmaid, never the bride.
When we arrive at The Vintner's Drop, the jewel in the Waitaki wine industry's crown and the Kurow cellar door and tasting room for Ostler wines, we find a range of sophisticated wines that have won a multitude of medals and immediately feel we have stumbled upon a well-kept secret.
Following the ''best bits first'' adage, Ostler owner Jim Jerram (also the president of the Waitaki Winegrowers Association) indulges in a confident, one-off break with tradition and takes us through a ''back-to-front'' wine tasting, beginning with powerful pinot noirs and moving on to impressive aromatics.
We love it, and spend a fun session sampling Ostler's pinots, rieslings, pinot gris and late-harvest wines, all beautifully balanced and showing distinctive minerality.
Jim's passion and knowledge, and possibly the family connection with his wine - Wanaka-based brother-in-law Jeff Sinnott is Ostler's wine-maker - show in his product, in the same way that food made with love cannot be compared with that made without the same care and attention.
We even get to try Oster's multi-award-winning 2010 Caroline's Pinot Noir, and upon slurping we are convinced all those judges got it right.
The wine is a triumph, a big, complex, elegant wine perfect in structure, texture, flavour and depth.
The cool climate of Waitaki Valley is thought to be one reason for the region's distinctive style of wines and the lime in the Waitaki soil is another.
Some of Ostler's vines now have their roots right into the limestone.
Several kilometres past Kurow on the road to Duntroon, another tasting room showcases Waitaki Valley wines.
Kurow Winery produces both the Pasquale and Kurow Village labels, and wines following organic practices are made on site in the winery attached to the large, state highway-side complex.
Relaxing in a beautifully designed interior, visitors can choose from an almost bewildering array of wines, as well as a range of liqeurs that hint at the winery's international flavour.
Owner Antonio Pasquale is from northern Italy but lives in Russell, and manager Renzo Mino is from Argentina.
He takes us through a tasting of some of their award-winning wines, which we preface with platters of breads and cheeses.
With a partly filled belly and increasingly tantalised palate - look out for Kurow Winery's limoncello and less common grape varieties such as arneis and viognier, as well as their pinot noirs and aromatics - we carry on past Duntroon and groups of cyclists travelling the Alps 2 Ocean cycling trail.
• We arrive in Oamaru and are quick to head to its striking historic precinct.
We first call in to Birdlands Bar, where co-owner Matt Haywood provides us with a friendly tasting of their boutique wines in very hip surroundings.
The bar is a hidden treasure on Harbour St, with an original vibe that would not be out of place in a Portobello (London) street or a South American beach.
Matt and his winemaker business partner Craig Lory (who is that night living it up at the Rattling Rocks Dance Party in Duntroon) make their pinot noir, pinot gris and riesling wines in modest quantities in a small winery behind their bar, as well as working full-time in other jobs.
It seems like a labour of love on their part but we enjoy some good company and sample some more distinctive Waitaki wines; other labels are also sold at Birdlands, which is open on Friday and Saturday evenings only.
Ready for more food we move on, with a plan in place.
Several eateries in the district garner national if not international attention for their success and quality fare, but we have decided to forgo those in favour of lesser known delights this time, while pledging to call in to the superlative Riverstone Kitchen north of Oamaru, Fleur's Place at Moeraki and the Whitestone Cheese shop next trip.
We'd also like to visit the intriguingly named and hot-pink coloured Flying Pig Cafe in Duntroon, which is getting more press since the opening of the Alps 2 Ocean trail, and features on the cover of its promotional brochure.
Our evening wander around Oamaru reveals good smells and full tables at good-looking restaurants and we end up choosing the cute Star and Garter Restaurant Cafe.
Inside, a wall of photos is a gorgeous tribute to couples who have had their wedding receptions at the historic Star and Garter - black-and-white images of '50s frocks and '20s true love coo over our table.
We enjoy a generous home-style cooked meal, only just recovering from the big portions in time for breakfast the following day.
The morning brings rain, and a test of the Oamaru Farmers Market's mantra that it is held every Sunday ''rain or shine''.
A hardy bunch of stallholders has turned up; they thank customers for making the effort to visit the market when we think they are the brave ones.
We buy a week's worth of fresh vegetables from hard-working gardeners, and some tasty biersticks, black pudding and smoked pork hock from the Campbell's Butchery stall.
Later we invest in more Waitaki wonders from shops in the historic precinct: a hot mutton and plum pie from the Harbour Street Bakery, chunky Oamaru-made marmalade and creamy, dreamy fudge from Real Good Fudge.
But of course any stroll around eateries in the historic precinct turns into an arts and heritage trail as well.
We are completely dizzied by history as we wander among the cool limestone of smooth-faced Victorian-era buildings, which host a variety of galleries and shops.
(You could also extend your wine and food trail to include whisky from The New Zealand Whisky Company and beer from Scotts Brewing Company, which both offer tastings in the historic precinct.)
So how would we rate our made-up wine and food trail?Top marks.
Waitaki Valley is a region with ambition and more attention should be paid to its wines.
If you enjoy the technical side of it, you can spend hours analysing sugar contents, palates and bouquets of many outstanding wines.
If you prefer to imbibe in a more light-hearted manner, you can simply sit back and enjoy some fantastic tipples in some interesting settings.
Waitaki wines, and the foods that come from the same region, are made with love and it shows in the product.
• Pam Jones is an Allied Press journalist.