Julie Orr-Wilson discovers "a touch of fancy" in the French village of Bonnieux. 
I can still feel the heat of early summer. The intense heat of summer sun upon ancient cobbled stone. I feel emotional thinking back to that day, the time I spent in Provence.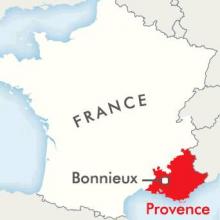 Bonnieux, one of the "hill" villages I visited, dates back to Roman times. The earth-toned houses gently stacked on the terraced hillside, below and beyond the vast plain of the Cotes du Luberon, an array of neatly clipped lollipop lavenders, vines and fruit trees. Best sampled when young, Luberon wines, 70% red, 20% rose, the rest white, are known for their delicate bouquet.
There's the notable Pont Julien, the Roman stone-arch bridge with its clever supporting columns allowing floodwater to pass through, crossing the Le Calavon river. Covering the Luberon mountains is an exceptional stand of Moroccan Atlas cedars, established in 1861 during Napoleon's reign, interspersed with pines and green oaks. Foret des Cedres is a lovely place to find trails and tracks.
I hadn't come to view the Bakery Museum, interesting as it might be, centring around an old 17th-century bread oven and tracing agrarian civilisation, tools, trade and boulangerie marketing techniques. I did see the Old Church, 86 stone worn steps up on Bonnieux's summit, dwarfed by more sun-dappled, ancient cedars with their dramatic, eagle-wing sprawl.
From here in the distance I could see the place I had longingly anticipated visiting, booking tickets months ago.
It is said that for years gardeners made pilgrimages to La Louve in Bonnieux. Someone described the experience, "like a thunderbolt, wanting to return home to rip out perennials, replacing them with box". Issey Miyake described feeling "the strength of her spirit" when he visited Nicole Vesian's garden. She was still there.
For years, Vesian's house and, more often, garden featured in magazines and books."It was the war that made me creative. When you have nothing, you have to use your wits," she explained. Known as "the career-girl countess", a colleague described her as belonging to "the first wave of women stylists who totally changed our everyday lives". Vesian preferred to be known as a creator and it was these skills she took with her on retirement, age 70, from Hermes, where she had a hand in everything from ready-wear, lifestyle products to the interiors of Renault cars. Her mandate was "adapting classic chic to contemporary life".
Vesian's signature globes of box and lavender had begun on her Hermes office rooftop in Paris. It was the discovery of a property in Bonnieux that led her to indulge in her passion for gardening.
La Louve, named after the last she-wolf, supposedly killed there in 1957, was where Vesian planted modestly, on a limited budget, nursing mostly reject plants back to life. Her signature: frost-burnt cypresses, which she clipped square to encourage lateral growth.
Vesian's magic, her innate sense of style and place, led to the creation of many gardens other than her own. Christian Lacroix viewed Vesian's garden talent "as sophisticated as her other apparitions ... a very civilised sense of the natural, with a je-ne-sais-quoi all her own".
Her mastery, the seamless transition from garden, a palimpsest of the Luberon landscape.
Flowers were few, plantings chosen for their ability to be clipped and chopped. She liked subtle, natural colours and the texture of stone.
The garden is all about volume and shape and in no way could be described as topiary.
Only since I moved house, inheriting outstandingly shaped pyramids of pittosporums, had I come to appreciate fully the structure and beauty of the clipped form. More sculptural than architectural, plant shapes follow natural forms being encouraged along with what Vesian described as "a touch of fancy". This uncontrived "random" look is carefully considered and imitators quickly learn how complex and refined her artistry is.
There's a shock of pink verbascum, the odd late purple bearded iris, multiple bobs of lavender yet to flower. The storybook wayward trunks of the ancient quince. A row of flowering yuccas like some white wedding entourage. The long list of heat-loving Mediterranean plants, they're all here. There are umbrella pines, figs and olives. Atlas cedars too. A tapestry of greens, stone and metal, where foliage is greatly valued over flowers.
It is truly remarkable that Vesian would create a world renowned garden in just 10 years.
There's much to admire in a life well lived, so creatively, until the end. Thirty years on, current, third owner Sylvie Verger-Lanel aims to preserve Vesian's original work but, as she would state, "A garden is always alive and moving." It feels unrealistic to find her spirit still.
I sat in that summer scene, "relaxation without soul", someone had said, on a rustic wooden bench of Vesian's design. It was true, she had gone. One could expect no less of her than this restraint.
My companions felt stung by the entry fee and small size of La Louve, meaningless to them. I took heart in the gnarled fig and Vesian's crew-cut cypresses. To touch the stones she carefully carried to construct the walls. I thought of her life, the influences of Paris, wondering if she was a regular visitor to the Palais du Louvre and was she struck, like me, by Delacroix's Liberty Leading the People, which hangs so potently?
As she aged, her garden and self parallelled, moving towards greater simplicity: "the older I get, I move towards sobriety, restraint". She wrote letters in lavender ink and at her funeral sprigs of lavender were her final farewell.
In a world lost in increasing complexity, perhaps pilgrims will still find succour in La Louve's surrounds. The garden matters not so much to me but that I could "be" in a place, someone's place that had captured the essence of things so meaningful to me. These "things" she wrote of in her 1994 notebook: "I love liberty, space, light, harmony, balance, sobriety, creative activity, having the time to make, the time to read."
You do not have to be a garden lover to take this trip. Despite the 10 entry fee and mixed reviews, it is a lovely punctuation in a day of wonderful hilltop villages to visit in the Luberon.
Provence in Dunedin
If you cannot make it to Provence, the Dunedin Botanical Garden offers some lovely connections instead.
Wander alongside the northern end of the rock garden to view the 40-year-old Atlas cedar, then continue up to the Mediterranean Garden, which contains many of Nicole's chosen plants.
This is a wonderful place to stop on the terrace and enjoy a different Dunedin view.
For further information on Nicole Vesian's garden, Louisa Jones' book Modern Design In Provence is outstanding.