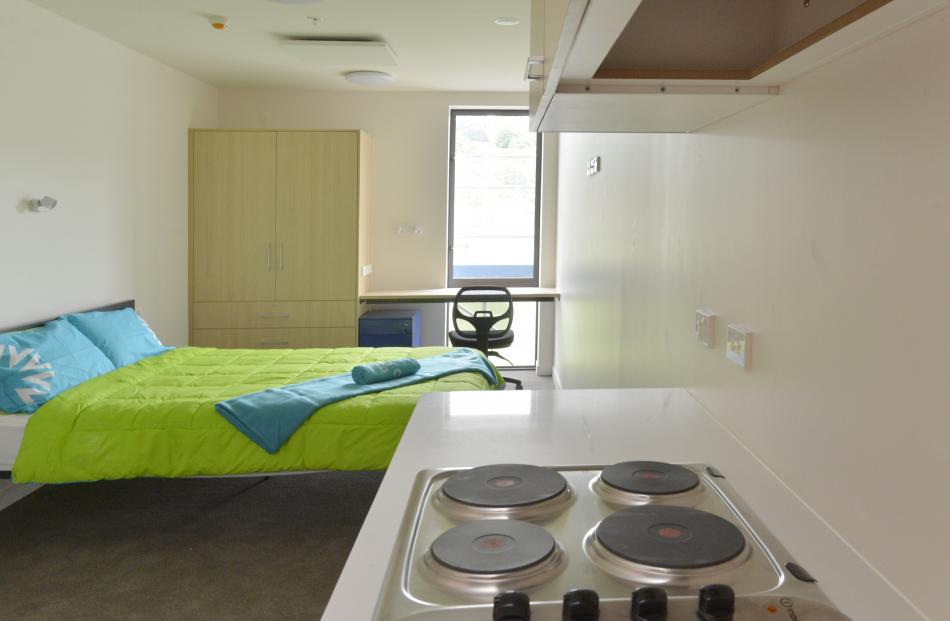 Otago Polytechnic staff were yesterday treated to a sneak peak of what student life might be like when they had a  tour of its $20million student accommodation village development.
The five-level building being constructed in Harbour Tce and Union St is on track to being completed in time for next year's influx of students.
Project manager Sam Cadden took polytechnic council staff through the construction site before an open day for prospective students and their parents tomorrow.
Although parts of the interior still needed walls and ceilings installed, Mr Cadden said the development would "absolutely" be completed on time.
"We definitely still have confidence it will be opened ... There's no question about it."
The group explored completed parts of the build including the single dormitory bedrooms and communal bathroom and common areas as well as some of its four-bedroom and studio apartments.
Construction was being completed by Naylor Love Construction.
It is expected to take less time than traditional builds as it was made from a "relatively new" prefabricated material — cross-laminated timber.
It was a generic name given to building panels made from wood elements glued together in many layers.It was the first time the timber was being used in Dunedin and will be the tallest and largest building in New Zealand to use it.
The council was impressed by the quality of the studio and four-bedroom apartments which overlooked the hockey turf and nearby University Oval. From the fifth floor, students would be able to "just" see the scoreboards, Mr Cadden said.
Otago Polytechnic council chairwoman Kathy Grant had visited the site about four times since construction began last year.
"You can't help but be impressed. It's amazing, really."
Otago Polytechnic chief executive Phil Ker said he got a "sense of pride" visiting the site.
The accommodation village will have 231 beds and is the first student residential complex fully owned by Otago Polytechnic.
Otago Polytechnic media liaison Shane Gilchrist said tomorrow's open day would give students and parents a "feel" for what the students  were getting into.
It would be the first time prospective students could get a walk-through of the accommodation building.
He expected about 80 students and parents to attend.