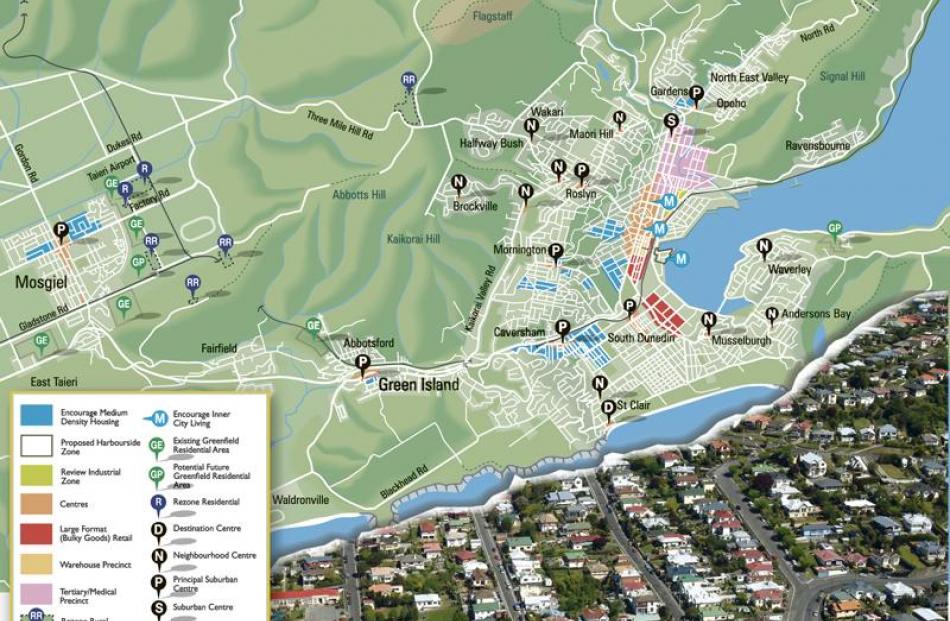 A new planning document for Dunedin could bring about major changes to the face of the city, as planners look at ways to deal with an expected extra 7600 residential units needed by 2031.
The city's "spatial" plan, which Dunedin City Council staff have been working on for the past year, is expected to help deal with everything from an ageing population, rising oil prices, global warming and new medical and engineering business clusters.
It could have direct effects on householders in areas targeted for "medium density" housing, where the council wants to encourage intensification, and redevelopment or renovation of run-down housing stock in areas close to public transport and facilities.
That could mean reconsidering density rules in blocks around Maitland St in central Dunedin, and around Russell St on City Rise.
The zoning of two industrial areas could be reviewed to make them available for apartment living: one near the Dunedin Railway Station, and another further along Anzac Ave.
The proliferation of big box "large format" retail around the Crawford St one-way system and around Andersons Bay Rd was "explicitly" provided for in the plan.
Before any such decisions, though, the council will run a series of public information sessions between November 10 and 17, before a submission period as part of consultation between November 2 and December 14.
Mayor Dave Cull yesterday released the 114-page document, which will go before the council on Monday for approval.
The plan's development follows the Your City Our Future consultation process, which received 4000 responses, and is intended to provide "strategic directions" for the city's growth and development for the next 30 years.
It will also provide direction for the city's next district plan.
Council chief executive Paul Orders said city planning around the world had gone through major changes in the past 20 years.
"It has shifted from land use planning to an approach that looks at joining the dots as far as development occurs." Spatial plans asked "fundamental questions about what sort of city we want to become", and balanced the needs of developers with those of the community, Mr Orders said.
The spatial plan recommended a "distributed development" model for the city, with the majority of development occurring on land "already urban in nature".
As well as urban consolidation, "some careful expansion of out-lying townships is provided for".
Mr Cull said the plan was "not prescriptive, not regulatory".
Asked how it would be enforced, Mr Orders said it gave the private sector "a clearer understanding of the development aspirations of the council".
City development manager Anna Johnson said once the plan was approved, it "can be" considered in resource consent hearings panels.
But some aspects of the plan could result in rezoning, and changes to district plan rules.
The plan suggested the city "tightly control rezoning any further land until more of the current capacity is used".
---
Key issues
• Future housing: 7600 residential units needed by 2031, ageing population needing smaller homes, more students.
• Infrastructure: Ensure efficient, cost-effective water and waste systems, community facilities and services.
• Natural hazards: Avoid development in areas subject to flooding or instability.
• Natural environment: Protect productive rural land and biodiversity.
• Global challenges: Future-proof against rising fuel prices, avoid developing in low-lying areas.
• Economy: Support successful business clusters in tertiary-medical precinct, and harbourside, and "creative" cluster south of Octagon.
• Heritage and character: Underused heritage buildings, need to be maintained.
• Centres: Support central city as attractive place to work, live and play, protect current hierarchy of centres.
---