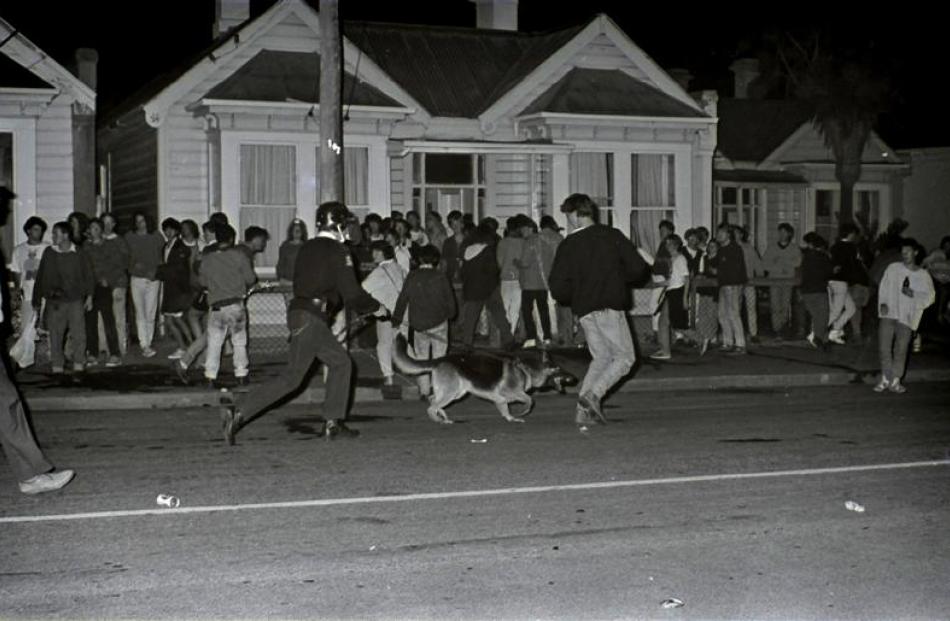 New Zealand's longest-serving police dog handler certainly has a tale or two.
Peter Hanlin (52) reflected this week on his 30-year police career, of which 28 years - or 196 dog years - was spent as a dog handler.
During his career he worked 10 dogs, including Renko, ''a real crook catcher'', two bitches Dante and Brook, and Vice, who, sadly, cut an artery in training.
Two years after he joined the police, on June 25, 1984, he became one of the youngest dog trainees in the country and only the second handler who was single.
''At the time, dog handlers were normally very experienced members of the police, married with children and owning their own home.''
An early highlight with his first dog, Sergeant, was after the burglary of a Taieri Rd pharmacy at 3.30am.
An offender had been disturbed trying to drill a hole in the wooden floor of the premises and was last seen running across the road.
Sergeant quickly picked up a track, which he followed through several properties, and a holly hedge that left Mr Hanlin's face scratched.
The dog continued up a hill when Mr Hanlin heard a door slam and noticed the lights of a house being switched off. Other officers were called to the address, and after police knocked on the door, a nervous looking woman dressed in pyjamas opened the door and reluctantly let them search the house.
''... we found two males in bed together. One looked like he had not long woken up - the other looked like he had been for a run.''
The two men claimed they had been in bed together all night, but Mr Hanlin noted one had scratches across his face, just like the ones he had received himself.
The man, asked to get out of bed, was found to be wearing his underwear and socks. Inside the washing machine, which had just been turned on, the officers found floating woodchips from the pharmacy floor.
The man was found guilty in court and convicted.
When growing up, Mr Hanlin always had dogs and he considered himself a dog person. And part of the attraction of being a police dog handler was working ''with a partner you know and can depend on''.
Many of his callouts were to jobs that had just happened, and tracking offenders through streets and properties during the night was ''very exciting''.
''Working predominantly at night brought the best out of you and your dog; the thrill of the chase and the hunt ... and, at times, the catch.''
The most frustrating moments were the narrow misses, including one instance when his dog tracked an offender from a pharmacy in Highcliff Rd, following a burglary, to near the Vauxhall Yacht Club, only to lose the track.
However, Mr Hanlin had earlier noticed the burglar's vehicle and the offender was later arrested. He admitted hiding up a tree, watching Mr Hanlin and his dog, just where the trail went cold.
Mr Hanlin also spent 15 years as a dog handler with the armed offenders squad and ''attended many jobs that were exciting and frightening at the same time''.
One of this involved the arrest of Gareth Smither, who killed his former girlfriend Karen Jacobs, in her Dunedin home in 1997.
Mr Hanlin and his dog were sent to Central Otago where Smither was believed to be hiding.
It was a cold night at Butchers Dam, near Alexandra, with a 12deg hoar frost, and the dog nabbed the offender as he came down some stairs following the offer of hot food.
After some incidents, he would go home at night and ''retrace your track in your head and think of places you may have missed ... I found a firearm used in a post office robbery that way'', Mr Hanlin said.
In one unusual incident, one man tried to swim underwater down the Kaikorai Stream at night to evade the police dog, only for the dog to swim after him and pick up his scent on top of the water.
When police dogs helped defuse student disturbances in the early 1990s, ''we became targets of the mob''.
One dog handler ended up with a dart in his neck, and another was hit in the head by a brick.
Other downsides included outside work during winter, particularly ''tracking at night in the wet, while the other staff are on cordons and in their cars, keeping warm with the heater on''.
All dogs had different traits and his two best performing ones were both used in an armed offenders squad role.
''The best dogs I have had were two with different strengths.
''One was totally committed when performing criminal work - biting; the other loved tracking people.''
The last dog he worked with before his retirement was Zero, who since been reallocated, and one of his highlights involved the successful resolution of an early morning burglary of a legal-high shop in Princes St.
Shown the last place where the offender had been spotted, Zero started tracking and found the offender's discarded clothing in Hope St, before following the trail along some High St properties.
After an hour, the offender was located hiding on the top floor balcony of a nearby motel.
''He was smoking as much herbal high as he could.''
Mr Hanlin said the role had changed enormously over the years. Offenders were now more mobile, often using cellphones to ring colleagues to be picked up.
He also noted more people were out in the early hours of the morning, and that added more pedestrian traffic to the mix.
Despite leaving the police, he has not left his love of dogs behind and is now working as a senior animal service control officer with the Dunedin City Council.