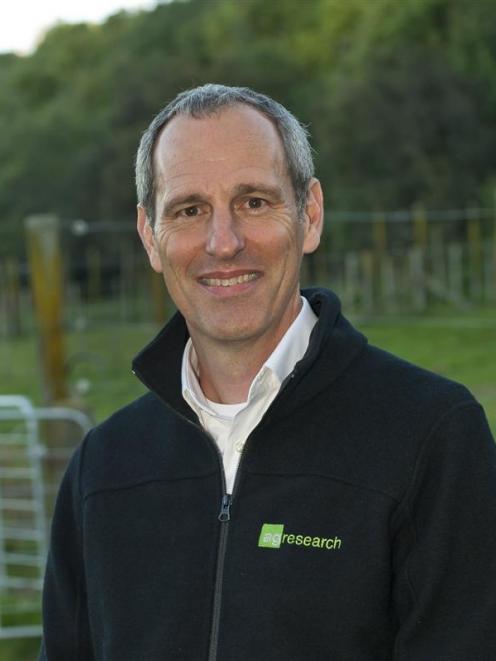 AgResearch dropped a bombshell last week by announcing it proposes to centralise its operations on Lincoln and Palmerston North, while cutting staff at Invermay and Ruakura. Business editor Dene Mackenzie talks to AgResearch chief executive Tom Richardson about the effect.
AgResearch chief executive Tom Richardson is keen to emphasise no final decision has been made about the future structure of the crown research institute.
Dr Richardson, head of the country's largest CRI, is planning to reinvest $100 million into its campus facilities and resources, centralising on Lincoln and Palmerston North.
Some of the relocation money is coming from sales of surplus farms and other holdings.
Jobs at Invermay will drop by three-quarters to 30 from 115, and 180 jobs will go from Ruakura, near Hamilton.
During the next three or four years, about 280 roles - which include both science and support functions - are proposed to be relocated to Grasslands and Lincoln as facilities become available.
While 280 role shifts were proposed, Dr Richardson expected 240 were more likely, given changes would occur in three to four years, during which there would be turnover.
In a wide-ranging interview, Dr Richardson said the final decision on the structure of AgResearch would be made on September 26 and would come after extensive consultation with all 850 staff.
It had not been an easy time, he said.
When he joined the CRI in 2010, he spent the first few months meeting staff and asking them what big things they believed needed tackling.
By 2011, it became apparent the CRI's research facilities needed reviewing.
''Like most CRIs, we had an ageing building stock. CRIs used available funds to upgrade them. We not only had old stock, we had dilapidated buildings. We faced very big numbers to get them up to standard.''
When Dr Richardson started reviewing the current structure, he found many staff had remained where they were when various departments joined up to become AgResearch in 1992.
There had been some movement from Ruakura to Palmerston for food teams, but by in large, teams had stayed put.
Among the questions he asked staff were: in what areas was it best to have scientists working together? - next door to both others in their field and close to their clients.
Other questions were: where were the key ''collaborators'' located and where were the people who would benefit the most from the research?The last question, he said, was whether the plan was viable.
During 2011 and 2012, AgResearch met its stakeholders to discuss its proposals. Those stakeholders included Dunedin-based Silver Fern Farms, Invercargill-based Alliance Group and DairyNZ, Meat and Wool, government agencies and the Ministry of Primary Industries.
Reminded that Silver Fern Farms and Alliance were in Otago and Southland, Dr Richardson said AgResearch felt the work it did for those two meat processing groups would not be harmed by being more remote when it was carried out.
DairyNZ and Invermay worked closely together on dairy-farming issues, and that would continue.
''There is no perfect answer. Individuals can be in one spot and work across New Zealand. Invermay can have clients in Auckland or Invercargill.''
During the interview, it became clear Dr Richardson placed value on having scientists of like skills and minds working together in close proximity.
He told the Otago Daily Times that after the executive team had made the overall strategy decisions, there was a need to consult every staff member about what was happening and share their thoughts.
''We wanted staff members who could be asked to move to have the longest time to consider and share with them on Tuesday what the proposal would mean for them.''
For Invermay, the Otago Regional Council and Environment Southland were the major users of the science produced on site.
As the balance between productivity and the environment became more important, the team needed to be physically close to the regional councils. The work was not something that could be done on fibre, he said.
Physical proximity made a huge difference in that situation and that was why the team of 30 left at Invermay and those at Ruakura would focus on specific environmental and farm systems' regional needs.
Environmental and farm systems was AgResearch's ''hottest area of growth'' and Dr Richardson forecast that area of work would continue to grow.
The ODT put it to him that once the critical mass of Invermay got to 30, it was just as easy for another administration to reduce it further, or close the facility completely.
While he ruled out looking into a crystal ball, Dr Richardson said it could be just as easy to increase staff numbers from 30 to 50 or 80 if future growth met expectations as it was to reduce them from 30 to 10.