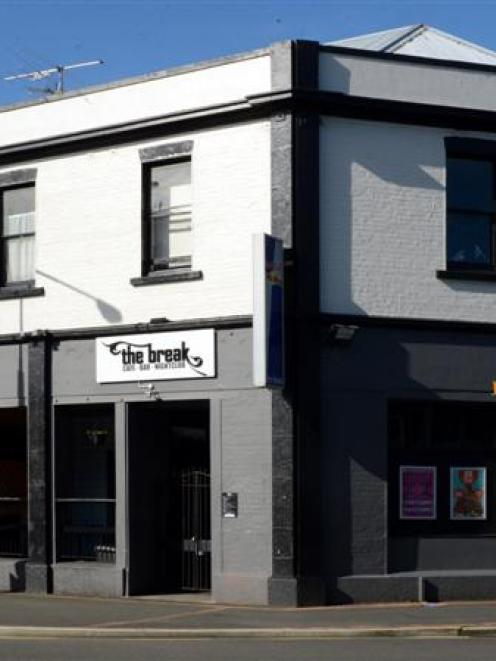 Dunedin bar The Break will close tomorrow following a litany of issues including Mongrel Mob connections, high staff turnover and a continuing inability to stick to licensing rules.
The bar's owner, Diogo D'Souza, of Dash Away Ltd, had been in a long-running liquor licence fight but surprised the Dunedin District Licensing Committee on Tuesday by announcing he planned to sell the business.
His lawyer, he said, suggested his chances of gaining a licence were slim.
He instead requested a 90-day temporary authority to continue trading at the inner city venue while it was on the market.
But at the same meeting, his recent arrest was revealed by police, who said he had acted threateningly at a staff member's home while using a Mongrel Mob member as backup.
Ongoing turnover of qualified duty managers was also discussed, and police, public health and liquor licensing representatives all suggested the temporary authority request be declined.
The committee's decision, announced yesterday, was that no temporary authority would be given and the bar was to lose its licence tomorrow.
It was due to expire on September 23.
That meant Mr D'Souza could not trade at the venue after that day. In yesterday's decision, the committee noted Mr D'Souza's legal advice, confirming his on licence application ''would have been declined because of the lack of suitability of the applicant''.
The decision called the police report of Mr D'Souza's behaviour ''concerning'' and agreed ''there is no place for someone who resorts to intimidation to try and achieve his goals''.
Mr D'Souza and his wife, Shibina, told the committee on Tuesday the high staff turnover was not their fault, but yesterday's decision confronted that claim, too.
''We find that disturbing; if the duty managers were being treated fairly, we do not believe there would be such a high turnover of staff.''
The committee concluded they were ''not convinced'' the applicant was suited to operating licensed premises.
''It has not been able to do so in the last 10 months and we have not heard anything that would give us cause to change our minds.''
Committee chairman Colin Weatherall told the Otago Daily Times yesterday it was ''always tough'' making decisions which led to businesses closing, but the community's safety was the committee's first priority.
In the committee's 15 months of operating, the case had proven to be ''one of the more challenging ones'', Mr Weatherall said, but that was not indicative of most of the city's licensed premises.
The ''large majority'' of Dunedin bars operated ''in a safe and well managed environment, and we applaud them for doing so''.