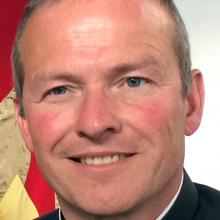 A London vicar and qualified medical doctor, the Rev Dr Steven Benford, has been elected as the next Anglican bishop of Dunedin.
He will succeed the Right Rev Dr Kelvin Wright, who retired in April after seven years in the role.
Dr Benford (56) at present serves as vicar of St Joseph the Worker, Northolt, in the Diocese of London, where he is also a bishop's adviser for ministry, a new incumbents' ministry mentor and spiritual director.
His Dunedin-born wife, Lorraine, grew up in Gore.
For 29 years he has served as a medical doctor, specialising in anaesthetics since 1990. He earlier worked as a doctor in Leicester, Leeds and Gibraltar. Then, in the early 1990s, he and his wife brought their young family to live in Otago. He worked as a GP in Oamaru (1991-95), establishing a free clinic, and also worked one day a week at Dunedin Hospital.