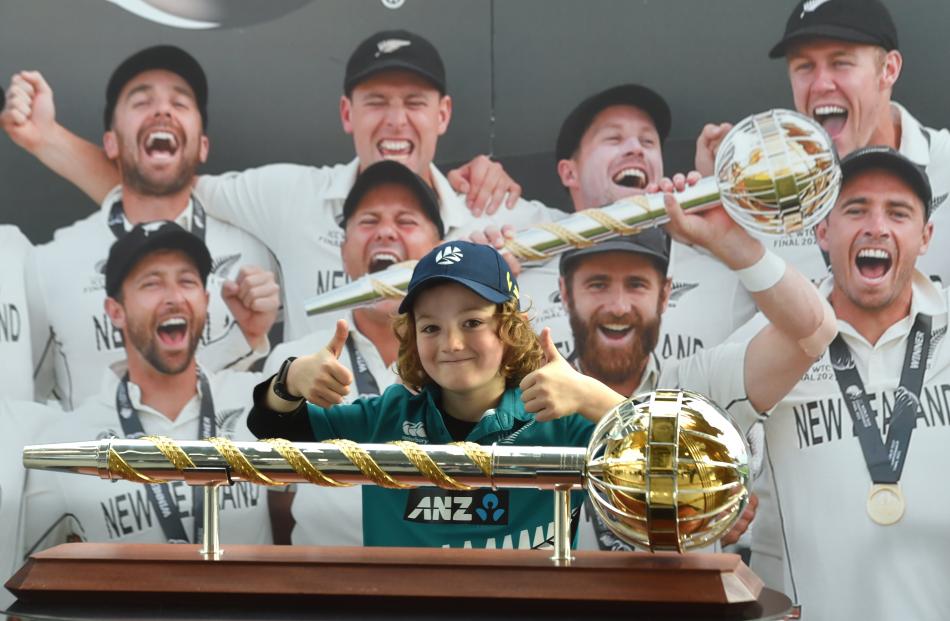 They have batted down their foes, secured the golden Mace and now the Black Caps are sharing their victory with the country.
Members of the Black Caps travelled the country for The Amazing Maze tour this week, celebrating their victory at the ICC World Test Championship in June.
About 500 people lined up to meet Black Caps Jacob Duffy, Matt Henry and Henry Nicholls at Forsyth Barr Stadium in Dunedin yesterday for a photograph and a signature.
People were also invited to pose for a photo in front of the gold and silver Mace, but were under strict instruction not to touch it.
Duffy said it was amazing to see how many people came out to show their support weeks after the championship had ended.
The team knew there were fans back home cheering them on during the final match, which took place in England, but he did not realise how widespread the support was until he was able to speak to fans face to face.
He had no idea how many autographs he had signed throughout the day, but he was "pretty efficient at it".
The best part of the tour was seeing the children's smiles, he said.
Oliver MacKenzie (14), of Dunedin, said he loved seeing the Black Caps and took every opportunity to see them when they came to Dunedin.
He was grateful the players took the time to meet their fans.
Charlie Kean (11), of Dunedin, was thrilled to meet the players.
He wanted to play cricket professionally when he was older and believed he had what it took to reach the top.
The championship final was broadcast too late at night for him to watch, but he enjoyed catching up on the match in the morning.
In Invercargill, staunch cricket fans waited in drizzly rain to get a glimpse of the Mace and to meet the Black Caps.
Among them were Duffy's grandmother Valerie Affleck and mother Wendy Affleck.
Wendy felt a sense of pride that both the trophy and her son were there.
"Southland is very proud, we're very proud. We spent a lot of time on cricket fields around Southland and Otago watching."
For 12-year-old Kalai Carran it was a dedicated trip from Te Anau to meet the players.
The cricket player and fan had watched the final with his grandfather.
"It was exciting, it was really good to watch," he said.
The tour started at Whangarei last Monday and concluded in Invercargill yesterday.