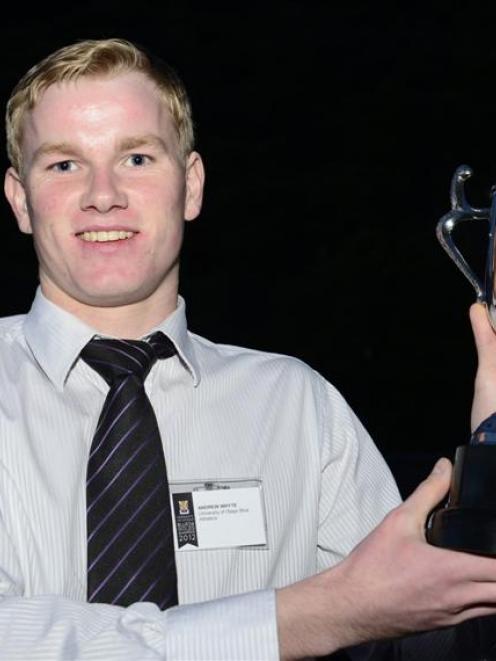 The University of Otago honoured its cultural and sporting top achievers at the presentation of its blues and gold awards at the Otago University Students Association aquatic centre this week.
Basketball and cricket dual international Suzie Bates, who graduated with a degree in physical education, is sportswoman of the year and Maori sportsperson of the year, and 400m and 200m runner Andrew Whyte is sportsman of the year.
Bates, from the Ngai Tahu iwi, is captain of the White Ferns and a star with both bat and ball, averaging 28.20 with the bat and 27.08 with the ball in one-day internationals.
As a guard in basketball, she is noted for the maturity of her play. She was unable to pick up her award in person as she is playing in the Women's World Twenty/20 in Sri Lanka.
Whyte, a first-year commerce student, ranks first in the New Zealand men's 400m and picked up the 11th best time in the 400m at the world junior championships in Barcelona in July.
In March, he won the men's under-20 400m and 200m at the national championships and later broke the Otago record for the 400m, with a time of 46.42sec.
Cultural achievements were also recognised at the awards, with tenor and Dunedin Performing Arts Competitions Society's Otago Daily Times Aria winner Alexander Wilson among those to pick up golds.
Leader of the Student Volunteer Army - an 18,000-strong volunteer army which helped with the clean-up after the Christchurch's earthquake last February - Louis Brown received a gold for his public relations work, which included setting up his own communications agency Social Innovation.
The awards were. - Sportswoman of year and Maori sportsperson of the year: Suzie Bates (basketball, cricket).
Sportsman of year: Andrew Whyte (athletics). Blues: Andrew Whyte (athletics); Reta Trotman (cycling); Eben Joubert (rugby); Monique Francois (surf life saving); Suzie Bates (basketball); Rebekah Greene (athletics); Paris Pidduck (canoe polo); Monique Francois, Andrew Ridden (football); James Bennett, Ollie Hopkinson, Francesca Rowley, Richard Storey, Jaime Wiles (field hockey); Louise Daley (underwater hockey); Melissa Lee Morris (ice figure skating); Storm Purvis (netball); Lauren Elizabeth Clark, Laura Georgina Louise Tester, Heather Scott, Andrew Annear, Scott Roy Barnsdale (rowing); Florence Van Dyke, Tess Molloy (triathlon); Hugh Blake (rugby); Carina Doyle, Sophie Robb (surf life saving); Carina Doyle, Kate Godfrey (swimming).
Outstanding contribution to sports award: Sam French (hockey), Sarah Laurenson (squash), Brendan O'Niell (kayak racing). Sports club of year: University of Otago Rowing Club. Golds: Alexander Michael Wilson, Grace (Eun Byeol) Park, Kawiti Jack Waeford (music, voice performance); Louis Brown (public relations). University Of Otago Graduates' Association contribution to arts and culture award: Kana Imuta (music - taiko drumming); Julien Van Mellaerts (music - singing, piano, French horn); Miriam Noonan (theatre - acting); Muhammad Zariq Farhan bin Mohd Hanif (dance, singing).
Society of year: Indian Students' Association. OUSA silver service award: Eric Lim Thiam Aik, Loh, Chuan Tuck (Otago Malaysian Students' Association); Shotaro Hattori (Otago University Japanese Association); Siti Alai Shazrinah Shazali (Brunei Students' Association); Danielle Duffield (Otago Student Animal Legal Defence Fund); Trupti Gandhi, Nehan Munasinghe, Malinda Sirisekara, Theshini Siriwardene (Sri Lankan Students' Association).