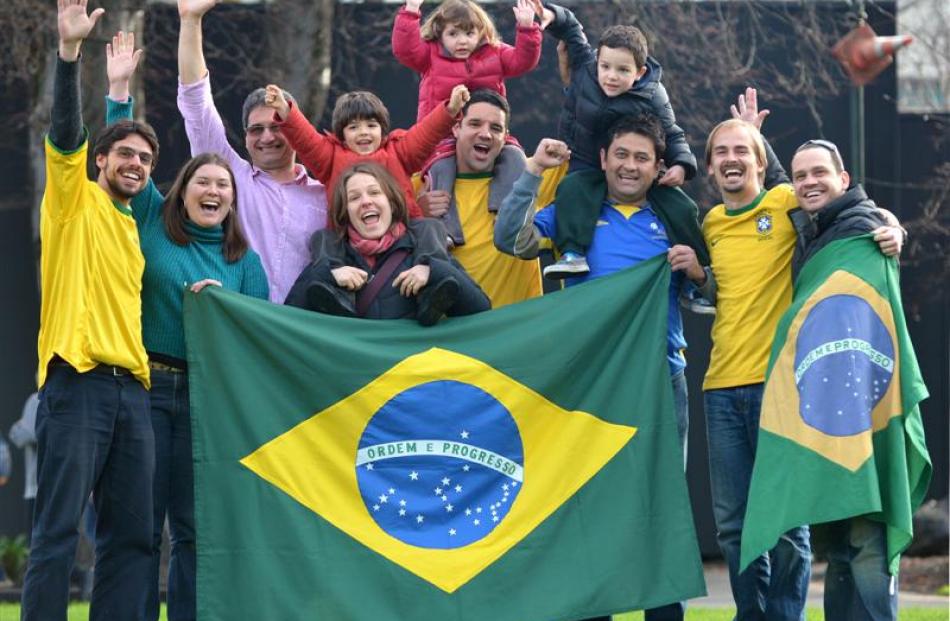 If you thought there was pressure on the All Blacks to keep winning, spare a thought for the Brazilian football team.
According to its fans, the team simply has to win this year's Fifa World Cup.
''We are going to win. It is the dream of every Brazilian to win the World Cup,'' Daniel Ribeiro, of Port Alegre, said in Dunedin yesterday.
''Brazil is like New Zealand is with the All Blacks. We always complain, but we always have a very strong team.''
A group of Brazilian expatriates has been gathering in the city to watch matches involving the Canarinho, or ''Little Canary''.
There was a Luis Suarez-esque gnashing of teeth when talismanic striker Neymar fractured his third vertebrae in Brazil's 2-1 quarterfinal victory over Colombia on Friday.
''We will miss Neymar. He brought the traditional flamboyance and flair, the 'ginga', back to Brazilian football,'' Luiz Uehara, of Sao Paulo, said.
The country was incandescent over the tackle, which looks to have ruled Neymar out of the rest of the tournament.
''People in Brazil are very upset, because it was a dirty tackle. He has been hunted in every game,'' Marcelo Castro, of Porto Alegre, said.
''For us, losing Neymar is like the All Blacks losing Richie McCaw,'' Carolina Loch, of Florianopolis, said.
''Football is massive in Brazil. It affects people's lives.''
The remainder of the tournament would either be a dream or a nightmare, the fans said.
Brazil has a semifinal date with Deutschland tomorrow, in only the second World Cup meeting between the two giants, who have won eight World Cups between them.
The previous meeting was the 2002 World Cup final, which Brazil won 2-nil.
If Brazil beats Germany and Argentina overcomes the Netherlands in the other semifinal on Thursday, the two bitter South American rivals will vie for football's biggest prize in the final next Monday.
''The dream, for us, would be to play Argentina in the final. But, only if we win. If we lost to Argentina, it would be a nightmare,'' Mr Castro said.
''The worst thing about watching the World Cup in New Zealand is the television commentator. There is no emotion or passion. He doesn't scream 'Gooooooallllllllllll', when a goal is scored,'' Bruno Santos, of Sao Paulo, said.
''In Brazil, we show passion. It's a cultural thing,'' Mr Uehara said yesterday.
---
Run-up to final
Semifinals
• Brazil v Germany, 8am Wednesday, Estadio Mineirao, Belo Horizonte.
• Argentina v Netherlands, 8am Thursday, Arena de Sao Paulo, Third and fourth play-off: 8am Sunday, Estadio Nacional, Brasilia.
Final
• 7am Monday, Estadio do Maracana, Rio De Janeiro.
All matches live on TV1 and Sky Sport 5.
---