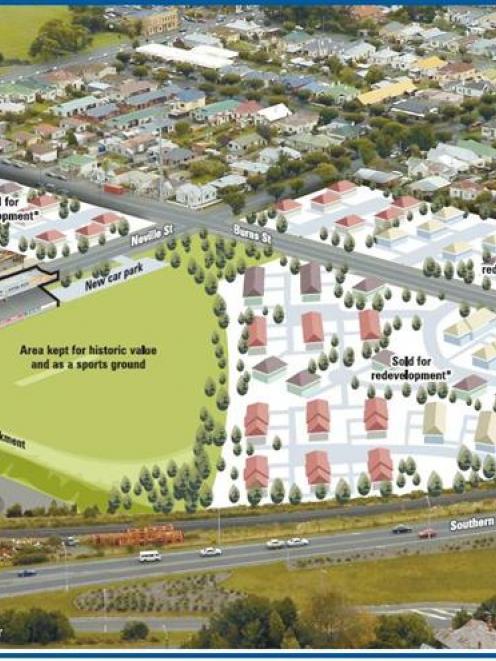 The House of Pain could provide pleasure for generations to come, says the New Zealand Historic Places Trust, which is calling for a debate on the future of Carisbrook.
With the new stadium seemingly a fait accompli, subject to conditions, and the Otago Rugby Football Union indicating it would sell the ground to the Dunedin City Council, it was time for a public discussion on the ground's fate, NZHPT Otago-Southland manager Owen Graham said.
"Ultimately, any decision is up to the council, but we have put forward an example we hope will spark debate."
One possible idea from the trust would include a housing development on a section of the existing stadium land, a reduced sports field incorporating part of the ground, and the retention of the terrace turnstile buildings in Neville St.
The northern end could include a grassy embankment, similar to the original terraces, and enable spectators to watch the sporting action on the playing field, which would be suitable for junior rugby and cricket, he said.
The redevelopment of the ground and the retention of its historic sites and green spaces could lead to a "revitalisation of South Dunedin", he said.
The proposal had met with a "neutral" response from Dunedin Mayor Peter Chin and Cr Dave Cull, he said.
South Dunedin ward councillors welcomed any debate on the future of Carisbrook, assuming the Otago Stadium went ahead, but were divided on the best way to use the site.
Cr Cull said while he supported retaining Carisbrook over the new stadium, he would support a recreational area on the site if the new stadium went ahead.
"I welcome any debate. We have to look at every option."
Cr Bill Acklin favoured it remaining a sports facility and "the options for council are still wide open".
Cr John Bezett said an industrial use was his preferred option, as jobs needed to be created.
Cr Neil Collins said he would support a combination of recreational, industrial, or a possible low-cost housing area.
"I spoke to Helen Clark when she was prime minister and she thought that Carisbrook would be an ideal area for low-cost housing. With government assistance, that could be an option."
ORFU chief executive Richard Reid said he was not in a position to comment until the future of the Otago Stadium was confirmed.