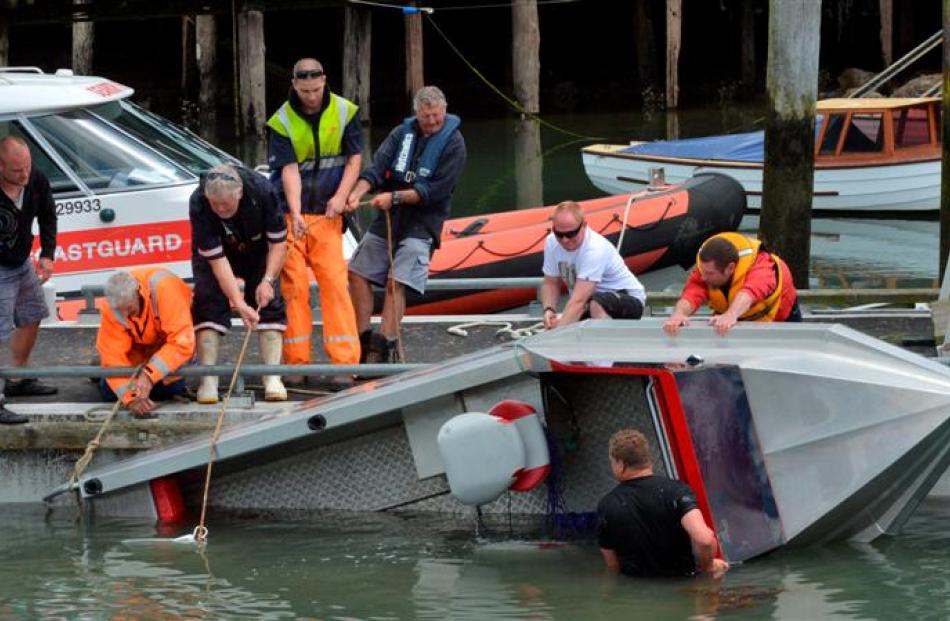 Three men rescued from the sea off Otago Peninsula yesterday are lucky to be alive.
While searchers scoured the wrong side of Otago Peninsula, a passing vessel noticed them and their capsized boat. The trio were fishing from a 5.5m aluminium pontoon boat off Cape Saunders about 9.30am in calm weather when two ''freak'' waves swamped the boat, capsizing it.
Search and rescue co-ordinator Senior Sergeant Brian Benn said the outcome could have been much worse for the trio - who were wet, shaken, but otherwise all right - had they not been noticed and rescued by a passing boat crew.
''They were in the water for about 30 minutes. Now that's getting to the stage where hypothermia is going to start taking lives,'' Snr Sgt Benn said.
''A couple of things saved their lives. One, they were wearing life jackets and two, the passing boat that picked them up.''
One of the passengers, Markus (who declined to give his surname), from Austria, but who has lived in Dunedin since 2008, said he was relieved to be alive after fearing he would die.
''[I] just [feel] good to be alive to be honest, because we obviously thought for a while it's not going to work out.''
One of the scariest moments was when fellow passenger Markus Hofer, visiting from Austria, went missing under the boat.
''We couldn't find him, and luckily he started yelling out for us and he was under the boat.''
Fortunately, he managed to dive out from under the boat. The skipper and owner of the capsized boat, John King, said the incident showed no matter how prepared you were, things could go wrong on the water.
''No-one is allowed on this boat without a life jacket. I am more safety-conscious than anyone else I know and then this happens,'' Mr King said.
He wanted to thank those who plucked the trio from the water, the coastguard for towing his boat to Back Beach, Port Chalmers, and everyone who then helped right the boat.
''It's definitely a freaky feeling being out in the middle of the ocean with an upside-down boat. We tried righting it when we were out there, but we couldn't.''
Mr King's wife, Anne-Marie King, who greeted her husband when he came ashore, said he would be ''grounded''.
''He is not allowed to be on the boat for a long time. I am just so glad everybody is all right, because it could have been so much the other way,'' she said.
The skipper of the boat that came across the three in the water, Rob Crawford, said he just happened to be heading to Cape Saunders to fish when they saw the upturned hull.
''They are just lucky, that's all.''
Snr Sgt Benn said a search was sparked before the three were rescued, after two fishermen who witnessed the capsize from the shore raised the alarm.
However, language difficulties meant search and rescue personnel had difficulty pinpointing the location, which meant initially they were searching on the harbour side of Otago Peninsula.
One message other boat users could take from the incident was: ''If you are not wearing it, you haven't got it.''
''They were wearing their life jackets, so they survived. They weren't wearing their communications equipment ... so when the incident happened in a flash they lost their ability to communicate,'' Snr Sgt Benn said.
There were some radio black-spots in the area close to the coast near Cape Saunders and funds were being sought for a new radio repeater to improve communications along that section of coast, he said.