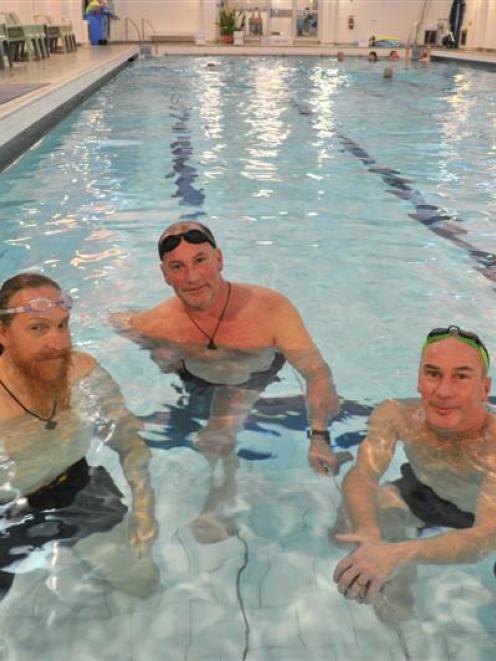 For Dunedin twins Stephen and Allan Facer, the Otago Therapeutic Pool is about more than injury recovery.
It's a place to heal and keep fit, but also to socialise as part of a keen group of regulars hitting the water at the pool.
The 49-year-olds - who together own Gordon Crichton Lighting in Dunedin - have been visiting the pool most days for decades.
Stephen Facer first visited the pool 20 years ago, while recovering from knee surgery, but had continued since realising it was open to the public, and not just for patients.
He swam for the health benefits, but also enjoyed the social banter between pool regulars.
Allan Facer followed his brother's lead 10 years ago, and on the advice of his surgeon, as he faced the prospect of knee surgery after years of rugby and running.
That was an example of the pressure being taken off the health service by the pool's continued existence, he said.
''My knee has been fine since then, so it's saved an operation - so far.''
But he was also drawn to the pool by the mixture of people using it, and the chance to socialise with regulars like Mark Baxter.
Mr Baxter said he began using the pool for fitness last decade, only to stop a few years later. He was convinced to start again after surviving a ''massive heart attack'' a few years ago, but said the social side of the experience made the fitness work ''easier''.
''I bump into people here I haven't seen for many years ... then there's the bunch of regulars who I wouldn't probably recognise if they had clothes on,'' he said.
The group's glowing endorsement came as Otago Therapeutic Pool Trust secretary-treasurer Neville Martin said fundraising to save the pool now stood at more than $711,000, after a $10,000 grant from the Southern Trust.
''I understand that this figure is a sizeable grant for the Southern Trust to make and that it is very supportive of the project to keep the pool open.''
The grant meant the pool trust was now nearly halfway towards its goal of $1.5 million to save the pool.