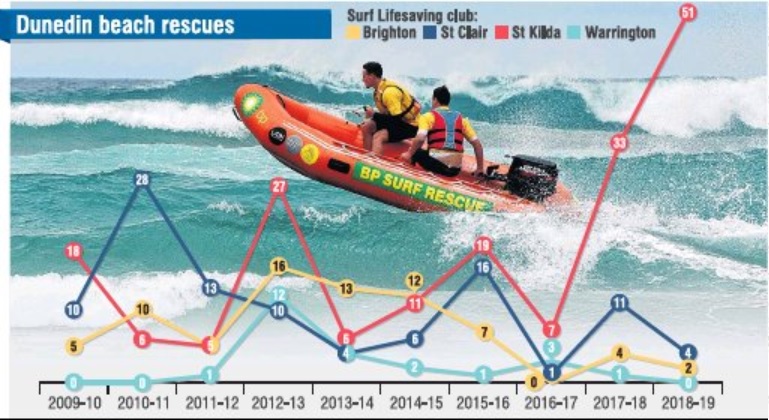 A tsunami of water rescues at St Kilda Beach over the past two years is worrying Surf Life Saving New Zealand.
Statistics show the number of rescues completed by lifeguards at Brighton, St Clair and Warrington Surf Life Saving Clubs have decreased over the past five years.
However, the number of rescues at St Kilda Beach bucked the trend, going from seven rescues in 2016-17 to 33 in 2017-18, and the number skyrocketed to 51 this year.
St Kilda Surf Life Saving Club president Peter Gibbons said the St Kilda statistics could be partly attributed to the past two summers being the hottest on record for Dunedin, which had encouraged larger crowds to go to the beach.
Other reasons were St Clair Beach was no longer "particularly swimmable" and the Dunedin City Council had removed significant parking from St Clair, which had pushed crowds further down the beach to St Kilda.
He said the major issue was people were swimming outside the flags, or after lifeguard patrols had finished for the day.
"We cannot control the time of day when people swim and we cannot control where they swim. It's the general public's personal decision-making and then they get themselves into trouble.
"It's merely a matter of good fortune on their part that our people have been there.
"We've had some significant rescues where people have had to have treatment past just being treated on the beach - in other words, from ambulances and so forth.
"The general public need to realise that they put themselves in danger and the surf life-saving fraternity is limited to certain beaches and certain times of the day.
"If you get a combination of beautiful days and an outgoing tide with a rip at 9pm at night, and people who don't know there's a rip there, you have a recipe for instant problems."
Surf Life Saving New Zealand southern region manager Stu Bryce described the situation as a "two-edged sword".
"It's great to have people out and enjoying the coastline and the number of people participating and engaging with the water is brilliant.
"But the other side is we have a significant number of rescues when people are swimming outside of the flagged zones or times. The amount of out-of-hours callouts has increased significantly."
More people were accessing the beaches late in the evening, and there had been several after-hours rescues there in the past week alone.
Non-patrolled beaches such as Tomahawk Beach, Smaills Beach and Lawyers Head were also an issue.
Mr Bryce said education was a major factor.
"We need as a community to look at how we get the message across to all sectors of society - be that through schools, through Dunedin City Council water education, print media, social media ..."
The TSB rip awareness campaign and the Swim Reaper had been useful media tools which had helped get water safety messages out, he said.