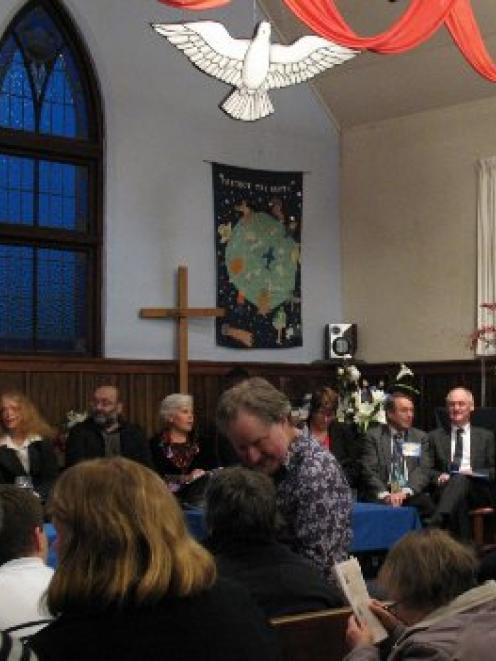 There was heckling and applause as Dunedin City Council candidates were divided over oil and gas exploration at the first of a two-night election forum in Opoho last night.
The reactions came as 13 of the city's Central Ward council candidates set out their election stalls in front of about 120 people at the Opoho Presbyterian Church.
The two-hour forum was a largely restrained affair, as candidates - including mayoral candidates also running for council seats - were given 90 seconds each to pitch to the audience before answering a series of curly questions.
However, the polite applause dried up as candidates pledged to support or oppose oil and gas exploration off the Dunedin coast, and council investment in a service base in the city.
Dunedin businessman Doug Hall's description of a world running on oil drew cries of ''climate change'' while shouts of ''no'' followed Pete George's claim most drilling was ''quite safe''.
However, there was applause as incumbent Mayor Dave Cull said it was time to stop looking in risky places for fossil fuels, while also suggesting the city should share any royalties if extraction proceeded.
Hilary Calvert insisted life was full of managed risk, and the industry should be welcomed as long as it was safe, but Aaron Hawkins described the idea of safe oil and gas as ''something of an oxymoron''.
Lindsay Harrison said those like him who drove cars should be prepared to accept the risks that came with the industry.
The talking points didn't get easier as questions turned to the waterfront hotel, Forsyth Barr Stadium and water fluoridation.
Most candidates supported continued fluoridation of the city's drinking water, citing scientific evidence, although John Evans worried the practice threatened babies' development and Cr Paul Hudson said a public referendum ''has to happen at some stage''.
Candidates were also almost in agreement over the stadium, with most wanting to make it work, Ali Copeman describing it as an ''asset'' and Kevin Dwyer insisting it should be sold.
Rachel Elder supported a five-star hotel, but not at 27 storeys, while Christine Garey hoped for a compromise on the ''inappropriate'' height and location.
Concerns were also expressed about the safety of cyclists mixing with heavy vehicles while using on-road cycling lanes, which Malcolm Dixon described as a ''recipe for disaster''.