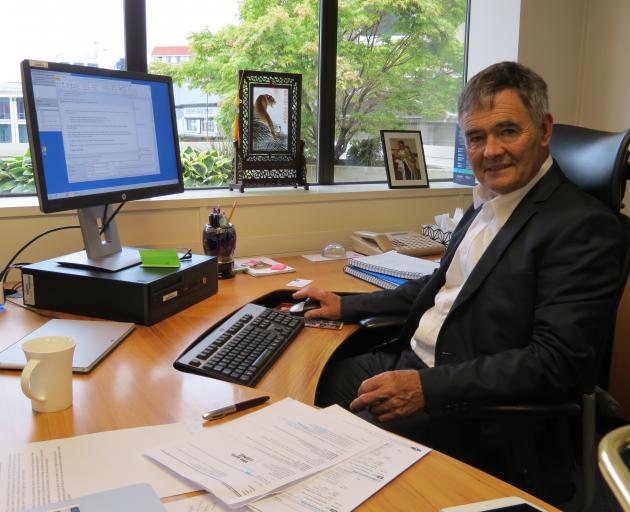 Looking at the big picture, Dunedin Mayor Dave Cull sees a "positive, confident, outward-looking Dunedin'' as the city moves into 2017.
The Dunedin City Council had consolidated an array of strategies during the past three years as it worked towards the overarching vision of Dunedin as"one of the world's great small cities'', Mr Cull said.
These included the economic development, transport, environment, 3 Waters, social wellbeing and arts and culture strategies, as well as the spatial plan. The parks and recreation strategy is to be completed this year.
"These strategies are very important. They provide a vision of what our city needs to be in the future,'' Mr Cull said.
"They are about our aspirations, and they provide a road map for us to get there.''
Creating the vision of becoming one of the great small cities of the world had been a catalyst for Dunedin people and businesses to lift their heads and look "offshore''.
"We don't earn our way in our own backyard; we earn our way by exporting,'' Mr Cull said.
Exports included intellectual property, design and biomedical research.
"I think the whole suite of strategies highlighted that we need to be more out[ward]-looking, more future-focused and confident, and I think we are succeeding in that.''
The city's crowded events calendar for 2017, which included festivals, concerts and sporting events, was an ongoing trend and there was a greater need for "visitor infrastructure'' such as accommodation and visitor experiences as a result.
"Accommodation-wise, we need to be offering a variety of options - not everyone will stay in a five-star hotel, but there are enough people who will.''
The central city would be a major item on the council's agenda over the next three years, Mr Cull said.
"Everything down the main street needs to be replaced - pavers, pipes, wire, you name it. Everything is up for renewal,'' he said.
This needed to be done carefully, to ensure the infrastructure was"fit for purpose'' for the next several decades.
Mr Cull said he was pleased by the planned development of a new bus hub in the central city, the university reviewing its campus plan and the New Zealand Transport Agency's work on cycleways, and he looked forward to the Dunedin Hospital rebuild.
These would also enhance the heart of the city.
"All of them have to work together, and it is a fantastic opportunity to completely renew the centre of our city and make it really work for the next 30 or 40 years.
"We need to make it a much more people-oriented place, so that people will be encouraged to come in and support retailers,'' he said.
There was no doubt that South Dunedin would continue to be a challenge in terms of rising groundwater, and it was clear that there was not one simple response, Mr Cull said.
"We are certainly not going to vacate South Dunedin, or lift it by two metres, or put in a completely new complex of pipes, but the solution will be a complex combination of things,'' he said.
"But we have to deal with it.''
As Dunedin continued to try to encourage people to live here, the city would have to look hard at housing quality.
"Eventually, we are going to hit the problem of quality housing availability, so that is something we need to get ahead of.''
BRENDA.HARWOOD @thestar.co.nz