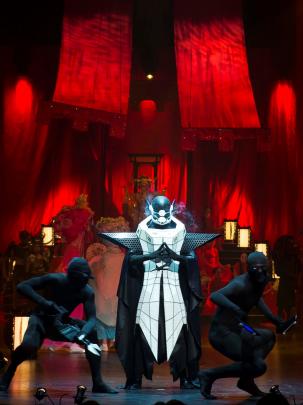 Industrial designer Dylan Mulder's entries in the World of Wearable Art were so mesmerising they caught the eyes of Cirque Du Soleil organisers who offered him an internship. Margot Taylor caught up with the former Dunedin man to find out how a career in industrial design led to a job offer with the world's most famous circus.
Dylan Mulder's  winning World of Wearable Art (WOW) costumes look like characters from another planet.
Clad in storm trooper-like masks and metal studs, made from materials which change colour in the sunlight and with names  such as  "Digital Stealth Gods" and "Samurai Silent Dragon", they are a long way from his first entry in the competition.
His first foray into WOW in 2012, a bra made from leather,  did not win anything, he says.
"I didn't know anything about bras. I just sort of winged it.
"It [WOW] was a big scary process to be a part of.
"I remember I sat next to this guy and I was so nervous I knocked over my wine glass on to his jacket," Mr Mulder (30) said.
The next year he was a finalist for his otherworldly Samurai Silent Dragon costume which he designed solely from his laptop.
"At this point in my career I was working from my laptop so I wanted to demonstrate I could design an entire costume from my laptop.
"I did all the 3-D files and outsourced them to different companies to produce parts and got it back and assembled it together.
"I was able to do that in three weeks, so that said a lot about the design process."
In 2014, the Wellington-based designer challenged the ''hype'' around 3-D printing by serving up a 4-D costume.
"You can 3-D-print a product but there is one more dimension of existence.
"I wanted my costume to interact with the judges so it had a photo-chromatic paint job which meant it would change from clear to blue in five seconds in sunlight."
After placing as a finalist again in 2014, Mr Mulder was so overwhelmed by offers of work he was unable to enter WOW  the following year.
At last year's awards his entry of two Egyptian Digital Stealth Gods won him an internship with Cirque Du Soleil, an experience which would change the course of his life.
"For me, I see the process of formulating a design like releasing a product, so I wanted to treat my costumes as a product release.
"The concept behind them was they were the latest product release for a company called StealthTech.
"The story was the company won a contract to create the latest costumes for these Egyptian gods."
In March, Mr Mulder embarked on a month-long internship at the Cirque Du Soleil headquarters in Montreal, Canada.After two weeks, his story-telling ability had won them over, too.
"After two weeks I'd had certain conversations with Cirque Du Soleil and they found the way that I saw the costume design process very unique and different.
"They wanted to know more and I ended up doing some presentations to share my process, both how I do my costumes directly for WOW, and how I apply that in industry."
A month later he was offered an extension of stay  in which the circus suggested ongoing work opportunities. While he is unable to say yet what the position involves, he says it is a combination of both costume design and production workflow.
His move to Montreal will be a big one from Wellington, but even bigger from Dunedin, a place he says he misses a lot.
"I distinctly remember back to primary school in Abbotsford, I did notice I was a little different to other kids because I was really creative.
"When we did projects that involved a bit of creativity I'd ramp it up like crazy.
"I'd do 80% creative and 20% actual work."
After moving to  the Netherlands for his intermediate schooling, Mr Mulder returned to Kavanagh College for his first part of high school with his creativity firmly intact.
He says stints living in Australia and Switzerland only strengthened his passion.
Most recently Mr Mulder worked with Air New Zealand  which asked him to create a garment which  celebrated the  airline's partnership with WOW.
He says all of these experiences will help him in his role at Cirque Du Soleil, but his mechanical employees will help the most.
"The rate of design pace that I can iterate and develop at with 3-D printers is huge.
"I love the idea that I can do design on one thing while another machine is working for me at the same time.
"They are the best employees.
"They don't complain, they don't moan and they can work all through the night."
Mr Mulder and his "employees" expect to be in Montreal by the end of the year.