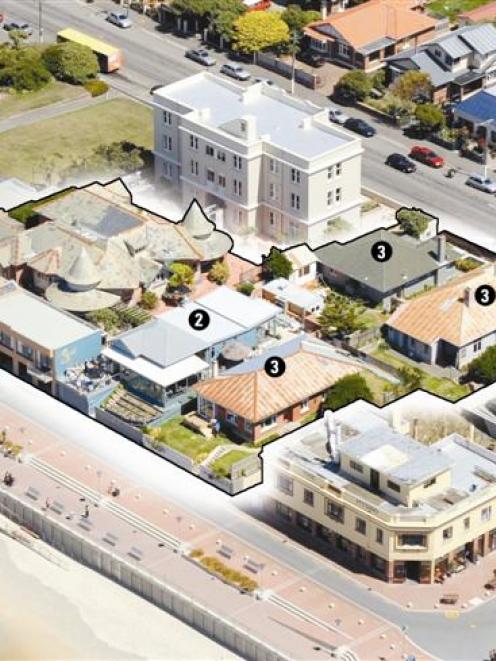 Developer Stephen Chittock's remaining St Clair Esplanade precinct properties - two commercial operations and three residences - go on sale next week.
Mr Chittock has been involved in projects within the precinct for more than a decade.
Collectively, the five adjacent properties cover a total 2739sq m and have a capital value of $4.4 million.
They can be purchased in whole or part by deadline treaty by the end of June.
Formally going on sale through Colliers International next week are Mr Chittock's beachfront seven-unit Esplanade Motels and Apartments complex, Swell restaurant and three residences.
He will retain interests in one other Bedford St property.
"We've been out here for about 14 years and have achieved a lot in that time. Here's an opportunity for others to come in for what is a great piece of Dunedin real estate," Mr Chittock said when contacted yesterday.
Mr Chittock drove a resource consent change for the area several years ago, which now allows "as of right" small commercial developments in the seaside suburb which hosts five separate licensed restaurants, a florist, design store, motels and hotel.
Having refurbished the Mansions apartment block, established a luxury hotel and a separate cafe, Mr Chittock said commercial or private interests had a number of options to consider for any or all of the adjoining properties.
Colliers commercial and industrial sales and leasing broker Bill Brown noted there had recently been several "significant residential" redevelopments and demolitions on nearby sections.
Mr Chittock said, depending on the needs of purchasers, he could stay on and lease the restaurant or run the motels, but otherwise he had other small residential property projects to work on.
Mr Chittock and 50:50 co-developer Calder Stewart Property announced at the end of March they had parted company over the St Clair Beach Resort development, with Mr Chittock's stake bought by Calders for an undisclosed sum.
The 26-room boutique resort had an estimated value of up to $14 million.
Swell, originally a modest beachside home purchased for $1.3 million, was developed at an estimated $400,000 conversion cost.
From the early 2000s, companies of Mr Chittock's purchased or held interests in up to nine of 16 properties (five commercial and 11 residential) within the Esplanade block.
After redeveloping the 12-apartment Majestic Mansions block in Bedford St, he sold the complex in March last year for an undisclosed sum.