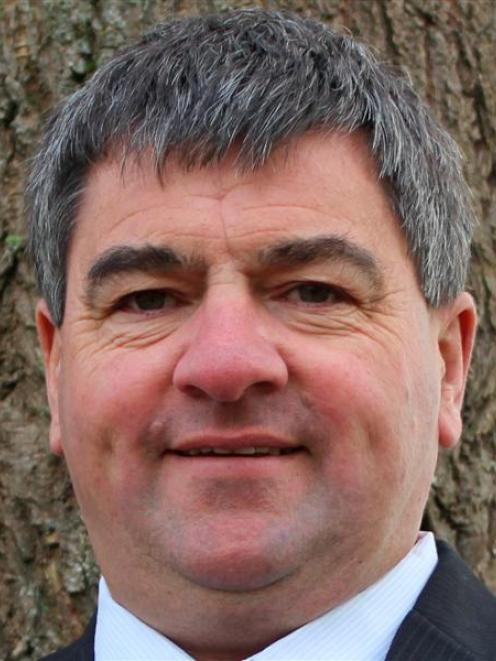 Dunedin city councillor Syd Brown faces a political pincer move after Greater Dunedin named a new candidate to contest the Mosgiel-Taieri ward.
Taieri farmer Mike Lord (48), the former Federated Farmers Otago president, was yesterday named as Greater Dunedin's newest candidate in October's local body elections.
He will stand in the Mosgiel-Taieri ward, alongside fellow Greater Dunedin member Cr Kate Wilson, lining up against Cr Brown and any other candidates who emerge.
Cr Brown, a former deputy mayor and current chairman of the council's finance, strategy and development committee, has so far declined to declare his intentions, and did not return Otago Daily Times calls yesterday.
Greater Dunedin group chairman Cr Richard Thomson said yesterday Mr Lord's selection was not aimed at unseating Cr Brown.
''He [Mr Lord] happens to be in that ward and so that's why he will be standing in that ward, but it's not a case of going out and saying who do we want to unseat. It's just not the way we are operating really.
''But, clearly, we want him to be elected and we want Kate to be elected. If that means, as it will, that everybody else who's standing out there doesn't get elected, then that's the way it is. There's only two seats.''
Mr Lord said yesterday he had decided to ''have a crack'' in a bid to reduce red tape and compliance costs for businesses.
Asked if he aimed to unseat Cr Brown, Mr Lord said he was focused on his own plans.
''My wife could decide to stand tomorrow and then it's even trickier.
''The bottom line is I'm announcing. It's my democratic right. If Syd decides to re-stand, well, obviously I'm out to win.
''I voted for Syd at the last election. I'll be voting for myself at the next election.''
Electoral success could provide another boost for Greater Dunedin, which already had a strong council presence headed by Mayor Dave Cull and his deputy, Chris Staynes.
The group's membership also includes Crs Wilson, Thomson and Jinty MacTavish, although Cr Thomson stressed yesterday they did not caucus or vote as a block.
Mr Cull and Crs Staynes and Wilson have already confirmed they will stand again, while Crs Thomson and MacTavish have yet to do so.
Cr Thomson said yesterday he was now ''likely'' to run again, but was not ready to confirm that.
The group planned to announce at least three more candidates soon, Cr Thomson said.