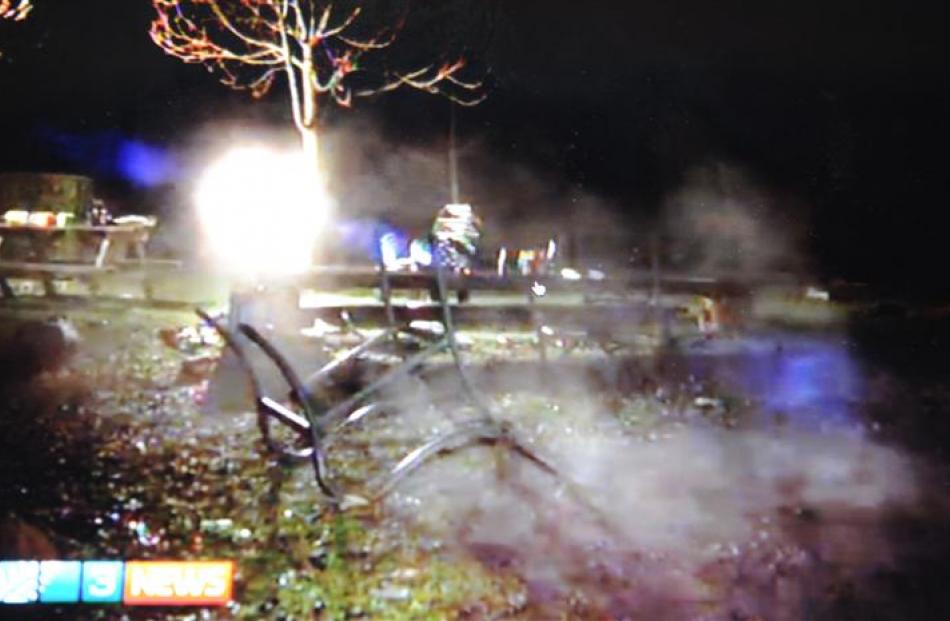 Revellers jumped into a pond to douse their burning clothing after a bonfire exploded in Mosgiel early yesterday.
Mosgiel Volunteer Fire Brigade senior station officer Paul Falconer said fire crews from Mosgiel and Lookout Point stations were called to an explosion at a ''family gathering'' at a house in Dukes Rd North about 1.30am.
A steel grass roller containing water had been placed on the bonfire and exploded when it heated up, he said.
''It got to a point where the water got hot, and expanded, and blew the side out of the roller.''
The explosion spread the bonfire ''everywhere'' and a hedge caught fire, he said.
Fire crews extinguished the flames in about five minutes.
St John southern region operations manager Doug Third said six people with burns to their face, neck, legs and arms were taken to Dunedin Hospital in two ambulances.
A female had moderate to serious burns and five people were ''stable'' with minor to moderate injuries.
A fire crew member drove an ambulance, so ambulance staff could work on the patients, he said.
The Otago Daily Times understands five people were discharged from Dunedin Hospital by 6am yesterday. The female admitted to a ward was discharged by mid-afternoon yesterday.
A St John spokesman said after the explosion, people's clothing caught fire and they jumped into a pond to stop the burning.
A resident at the house, Vivienne Patrick, said yesterday the explosion was minor.
''We're all fine. It was a non-event, it just looked really spectacular with lots of flashing lights.''
However, the explosion killed a chicken on the property, she said.
''There was one fatality: it was the chicken, Mabel. It got a fright,'' she said.
''They're having a wake for it, now she's on the menu for tea tonight.''
Other reports said the gathering was a 21st birthday party.
Additional reporting by APNZ.