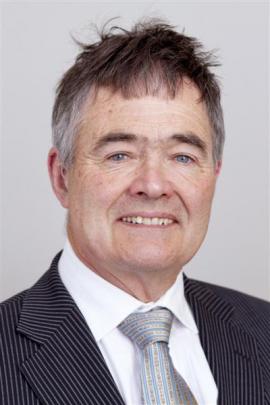 The Dunedin City Council has agreed to reach into its pocket one last time for Basketball Otago, but other community groups have not been so lucky.
Councillors deliberating on the 2014-15 annual plan yesterday completed their allocation of civic grants for the coming year before signing off a 3% rates rise.
And, after last-minute arguments from Cr Richard Thomson, councillors agreed to grant Basketball Otago another $15,000 - half what it had asked for - as a final payment.
Cr Thomson said the council could not keep giving Basketball Otago grants, and needed to encourage it to support itself.
However, a ''final transition payment'' would do that while giving Basketball Otago time to adjust, and while acknowledging its good work in rescuing the organisation, he believed.
Councillors agreed to the move, and also to contribute an extra $15,000 to the Southern Sinfonia on top of its 2013-14 budget of $80,000.
The increase was not quite half of the $31,700 extra the sinfonia had sought, but at least recognised it was ''working right on the extremes of survival'', Cr Thomson said.
''I think it delivers a lot for the city that would not be there if it were unable to continue,'' he said.
Councillors also agreed to contribute $15,000 to the Methodist Mission, which had asked for $40,000 for an independent advocacy service to help beneficiaries access their entitlements.
However, that decision came with a verbal blast yesterday, following claims Ministry of Social Development staff were no longer informing beneficiaries of their entitlements unless specifically asked about each available benefit.
Cr David Benson-Pope said, if true, that would be ''an outrage'', while Cr Lee Vandervis questioned why ratepayers should be left to pick up the bill.
In other areas, Mayor Dave Cull backed a decision to grant the University of Otago start-up Ignite Consulting $10,000 to help cover operating costs, citing the work it did providing services for not-for-profit groups.
''Giving Ignite our support will have the multiplier effect, helping groups we can't fund ourselves,'' he said.
The Dunedin Youth Orchestra was another winner, receiving a $10,000 grant after Mr Cull said it was important for the future.
The Brockville Community Support Trust was also offered a $10,000 lifeline after its Department of Internal Affairs funding was cut.
Cr Kate Wilson said while the funding was a token amount, it might be able to keep a co-ordination role going to enable the trust's projects to continue.
''This won't do the job but it's seed funding to go to other funders with.''
Mountain Biking Otago was also allocated $10,000, despite some councillors arguing it was ready to support itself.
Cr Andrew Whiley said the group had put Dunedin on the map and created great community assets for cyclists and walkers.
It was good news and bad for surf life-saving, which had asked for a $26,492 increase to its previous council allocation of $87,600.
Councillors agreed to $13,000 and also recommended a report be brought to next year's long-term plan hearing on the demand and service offered from the life-saving group.
The Regent Theatre Trust's request for an extra $13,000 would be covered by a new service level agreement with the council, being worked on by council staff, councillors were also told.
However, Olveston (seeking a $27,000 increase in council funding, from $42,700 to $69,700) and Blue Oyster Arts Trust ($1680 increase, from $8320 to $10,000) were among applicants to miss out.