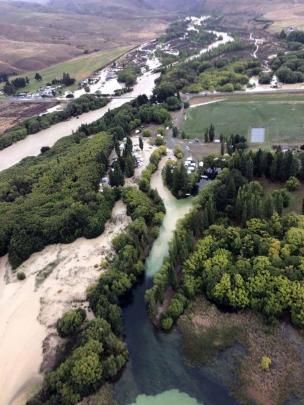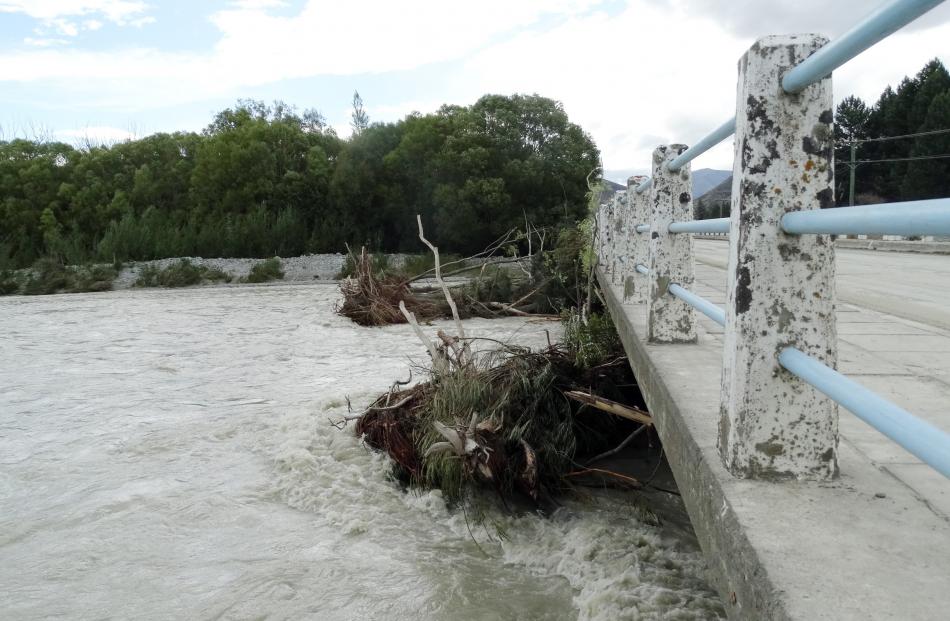 Heavy rain doused Otago over the weekend, causing flooding and other problems in centres ranging from Dunedin to Middlemarch and Otematata.
State highways closed because of flooding, residents in some towns were asked to boil their water while others can now resume flushing their toilets.
Dunedin City Council staff remained on standby last night, but it was believed the worst of the weather had passed.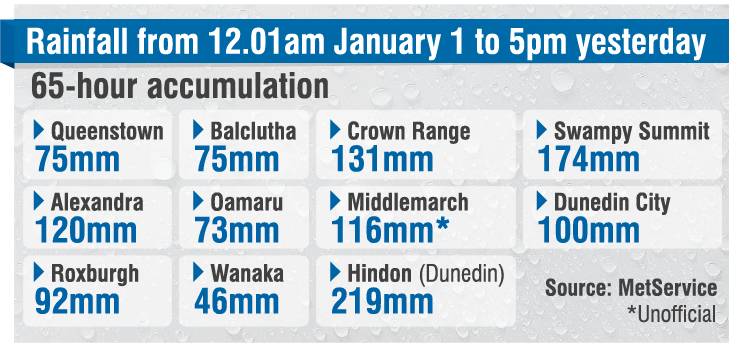 In Dunedin, volunteers were stood down from sandbagging stations last night.
Contractors were busy yesterday clearing flood debris throughout the city. Clean-up efforts will continue today.
The city council asked motorists to continue to take care and drive to conditions.
Four houses in Brighton Rd at Ocean View were sandbagged by 30 people from the community last night.
In inland Otago, Patearoa and Naseby boil-water notices remained in place last night and Naseby residents could expect to have water to flush toilets this morning.
In Earnscleugh, near Clyde, floodwaters receded yesterday morning after the Fraser River breached its banks, inundating orchards and vineyards.
The Glenorchy Races in the Queenstown-Lakes district were cancelled for the first time in their history.
South of Dunedin, water rose over roads and railway tracks at Henley and Allanton on the Taieri Plains.
Trampers who went missing in the Silver Peaks area northwest of the city were found about 4am yesterday. The pair had been reported missing at 3.30pm on Saturday.
In North Otago, a man was rescued by Weston's fire brigade after driving into a flooded road at 10.20pm on Saturday.
Firefighters found the man, who was in his 60s, waiting on top of his submerged vehicle by Five Forks bridge outside of Oamaru.
Several highways in the region were closed.
State Highway 1 was closed for a time on Saturday between Reidston and Maheno, south of Oamaru, and later between Waikouaiti and Hawksbury.
The NZ Transport Agency advised that SH83 between Otematata and Aviemore, SH87 between Kyeburn and Outram, and SH90 between Waikoikoi and Tapanui were closed following the heavy rain.
SH82 between Ikawai and Kurow was also closed after flooding caused a section of the road to collapse.
Parsons Rock Creek bridge, 4km east of Otematata on SH83, partly collapsed due to flood damage.
The Dunedin City Council reported last night that 14 local roads were closed.
The closure on SH83 is expected to remain in place for the next week, and the closure on SH87, where a bridge has been washed out, until further notice.
The Patearoa township bridge approach was damaged.
Otago Regional Council duty flood officer Sharon Hornblow said council staff contacted some landowners in the Taieri flood protection scheme late on Saturday, before the Riverside spillway was opened overnight.
Flood protection systems had performed well, she said.
The Clutha District Council said there was flooding in West Otago in the vicinity of the Pomahaka River.
Between 150 and 200 holidaymakers were plucked from the Otematata Boat Harbour campsite after the Otematata River burst its banks on Saturday.
Some moved to higher ground at the Otematata Domain.