Accomplished Dunedin nature photographer Jack Aubin gained further success yesterday, winning the Dunedin Town Belt Kaitiaki Photography Competition.
"I'm quite excited - I wasn't expecting that," he said of his success.
He said he took the winning photo during a visit to the Dunedin Botanic Garden early this year.
Jack (12), a year 8 pupil at Dunedin North Intermediate, is also a past winner of the Otago Wildlife Photography Competition's jury prize.
In July, Jack and his father, Chris Aubin, successfully searched for a rare South Island robin at the Ross Creek Reserve, and Jack took photos and some video of the bird, also as entries for the next Otago wildlife competition.
Jack could not attend yesterday's Dunedin prizegiving, at the Otago Museum, because he was in Timaru playing as an Otago age-group representative in a hockey mini-tournament, building up to a later national event.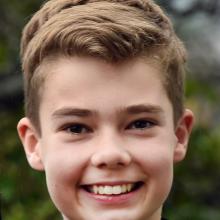 His grandmother, Marie Aubin, attended the ceremony in his place.
His overall winning entry, titled Pair of Kingfishers, also won the year 9 to 13 section, and another of his works, Blue Damselfly, claimed second place in this section.
The competition attracted 274 entries.
Stephanie Post, one of the team of school pupils who organised the event, said the annual contest and prizegiving had been a "huge success", and the second year had attracted about 25 more entries.
Other winners: Up to 8 years, Enzo Cannarozzo (7), Kaikorai Primary School; 14-18 years, David Cannon (18), John McGlashan College.