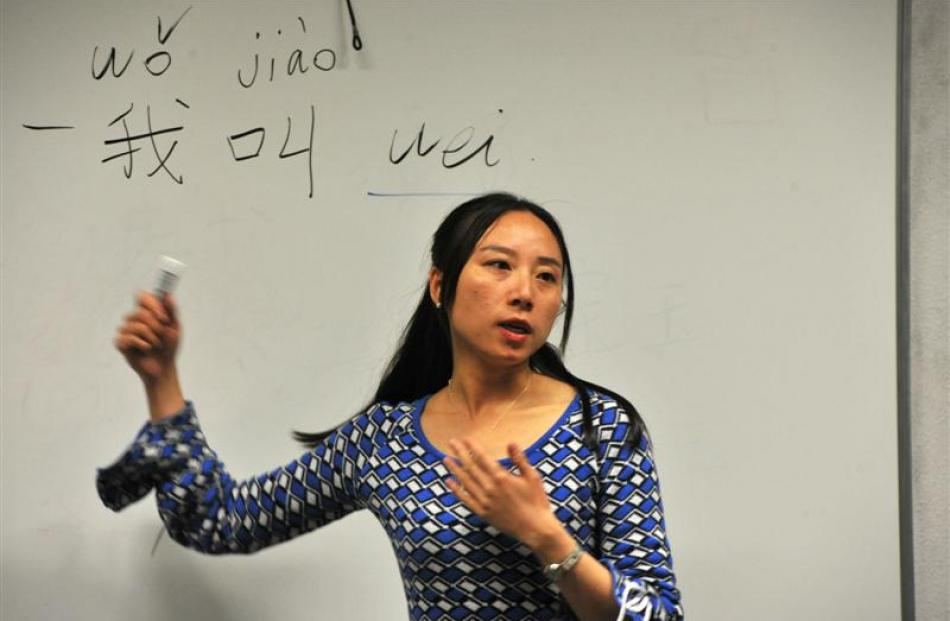 It's every traveller's worst nightmare - arriving in a foreign land, phrase book in hand, and accidentally professing your love of fine pigs rather than love of the host's beautiful city.
But when you're Mayor Dave Cull, and you're representing Dunedin in Shanghai, such subtle distinctions of language can carry quite a bit of significance.
It's one of the reasons Mr Cull, his deputy, Chris Staynes, and Dunedin City Council chief executive Dr Sue Bidrose were busy practising pronunciation of their ''ni haos'', ''xie xies'' and other phrases in Dunedin last night.
The Dunedin City Council trio were among students taking part at the start of a three-day crash course in basic Mandarin, organised by the new Otago branch of the Confucius Institute, at the University of Otago.
The classes were aimed at a business and tourism industry audience and had proved popular since being launched earlier this year.
Mr Cull told the Otago Daily Times the latest $20 classes were ideally timed, just two weeks before his next trip to Shanghai, which would mark the 20th anniversary of the signing of the sister city agreement between the two centres.
He hoped to add a ''smattering'' to his small vocabulary of ''one or two'' Mandarin phrases, but said the effort was more a ''matter of respect''.
''We constantly go on about how good it is when people learn English. Well, the boot's on the other foot. It would be a good thing for us to learn our sister city's tongue,'' Mr Cull said.
Dr Bidrose said her Mandarin was also limited to ''the very basics'', but she hoped to avoid any confusing exchanges in future.
''The stories of people saying things like: 'I am in love with your fine pig' instead of ;your fine city' ... I'd like to not do that.
''One of the things I've noticed is whenever we have Chinese delegations here, if you introduce yourself in Mandarin ... their faces really light up.
''It's symbolic. It just means you've made an effort.''
Cr Staynes said he had visited China about 10 times in a variety of roles over the years, and added to his vocabulary each time, but remained ''a mere beginner''.
The trio were joined by Otago Chamber of Commerce president Ali Copeman and outgoing chief executive John Christie at last night's two-hour class, which continues for the next two nights.