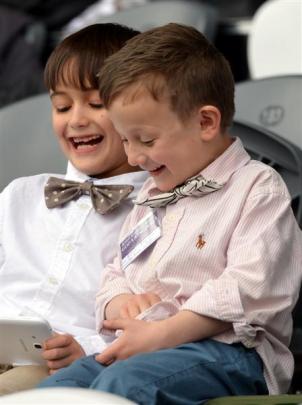 An influx of 6500 Jehovah's Witnesses to Dunedin has packed city accommodation, bringing a mini economic boom to the city.
The south stand of Forsyth Barr Stadium was filled yesterday as adherents from across the South and lower North Islands gathered for the first day of their regional convention.
And the atmosphere was like that at, dare we say, a really friendly rugby match.
The visit to the stadium was the first for the convention, which has been held in Christchurch for the past two decades, and organisers said the venue had ''certainly proved itself''.
About 91,000 people have gathered across Australasia for the event, with Melbourne hosting 66,000 people. There are events in Auckland and Hamilton, as well as Dunedin.
The Dunedin City Council yesterday estimated the event here could be worth more than $2 million to the city.
Otago Motel Association president Chris Roy said most city motels filled within days of the venue announcement.
Convention spokesman Lane Vermaas, of Queenstown, said delegates had booked out most motels and rental homes within about a 100km radius of Dunedin.
''Without doubt it's a huge economic boom for the city,'' Mr Roy said.
Manager of the i-Site visitor centre Louise van de Vlierd said the city was full, and ''it's fantastic''.
People had arrived before the conference, and had been taking city tours and filling art galleries and museums.
Mr Vermaas said that the influx of adherents to Australia and New Zealand resulted in 170 Americans taking the opportunity to take a bus tour in Otago beforehand, and about 95 more would arrive in Dunedin on a cruise ship after the event.
Convention-goers in Dunedin came from 74 congregations in the South and lower North Island.
The convention was titled ''Keep Seeking First God's Kingdom''.
Organising committee member Peter Cheyne said a successful conference would mean people left feeling ''spiritually up-built.''
The world was ''negative'', he said.
''For people to go away feeling encouraged by the programme, that itself would be success.''
The conference was being held 100 years after what believers say was the start of Jesus Christ's rule as the king of God's Kingdom, which began in 1914.
''That will bring about solutions on this earth,'' Mr Vermaas said.
The programme yesterday included live video from Melbourne, a costume drama entitled Do Not Give the Devil an Opportunity, song and prayer.
Today will include a baptism.
Mr Vermaas said adherents put effort into their dress, as they believed that was an important part of representing Jehovah, and Jesus Christ.
The convention ends tomorrow.