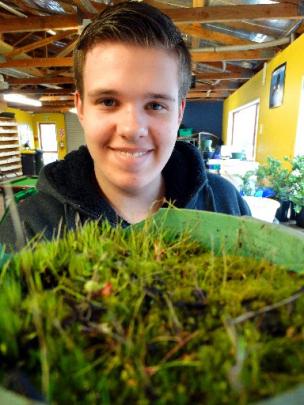 YouthGrow has been producing vegetables, flower plants and well-grounded human beings for 13 years.
DAN HUTCHINSON talks to the people behind the plants.
There are good things growing at the end of Northeast Valley, where a social venture has merged with hothouses and a retail nursery.
YouthGrow programme manager Stephen Dewdney is full of enthusiasm for the educational programmes, the plants and the 30 or so young people who work there.
The retail outlet was purchased in 2001 by Presbyterian Support and turned into a training centre, where young people could learn some valuable, practical skills.
Mr Dewdney said the nursery provides life skills and work skills to those who did not fit too well in the normal school system.
Those at YouthGrow are taught literacy and numeracy as well as practical and theoretical aspects of horticulture.
''We help them into work, get them used to turning up on time, use of safety gear, help with CVs ... ,'' Mr Dewdney said.
The day is split into a routine, with plenty of fun activities, practical and adventure-based tasks and a group lunch on Fridays where they have a budget with which to go out and buy ingredients and create a meal.
Presbyterian Support social worker Mrs Amelia Rivers has been involved with the centre for about seven years.
Over the past year and a-half she has interviewed 25 people who have been involved in the scheme since its inception, as part of a research project looking at how successful the programme has been at making people ''life ready and work ready''.
''I am doing a lot of conversations about how they have achieved these things. Some went into the horticulture environment others have talked about the life skills and self confidence.''
One of those who is heading for a career in horticulture is YouthGrow worker Andrew McBeath (20), who will shortly be heading off to study the subject at Otago Polytechnic in Cromwell.
He said the course had given him general plant maintenance and growing techniques and it had been a good learning environment for him.
The innovation at YouthGrow does not end with the youth programmes and canny Dunedin gardeners know all about the benefits of a trip up to the north end of the city.
Murray Young - youth worker and shop manager - said the huge range of vegetable and ornamental plants available would suit most gardeners and they were all grown in Dunedin conditions.
''They are not going to fall over as soon as you put them in the garden.''
Mr Dewdney has a background and degrees in plant physiology and likes nothing better than playing around with new plants or variations of old ones.
''The range has grown since I have been here because I like fun things.''
One of his latest projects has been to try grafting fruit trees on to new root stocks to create different plants. He hopes to get four different fruits growing on one root stock.
He said they were in competition with much larger garden centres, so they tried to emphasise their points of difference - the social aspect, the hardiness of the plants and the range of plants people could not find elsewhere.
He is hoping to source more interesting plants from around the Dunedin area and would love people to bring in any heritage varieties or other plants they think would be popular.
''It seems there is a move back into old-fashioned cottage garden plants and perennials.''
Trends play a big part in gardening - even when it comes to vegetables. YouthGrow's latest offering - an American cabbage-like plant called a collard - has been very popular.