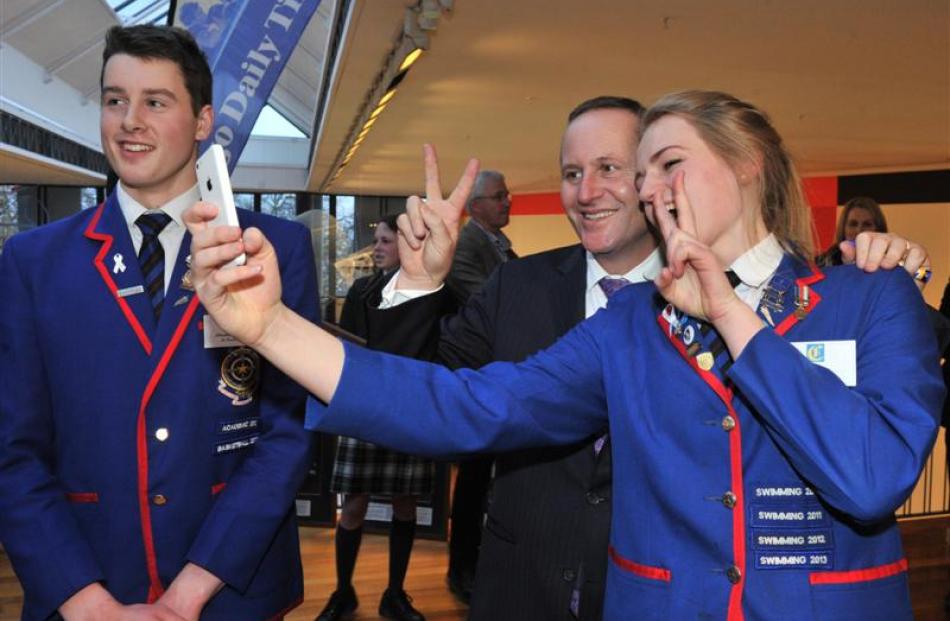 In a day fraught with political controversy, Prime Minister John Key appeared to be at relative ease during yesterday's 2014 Otago Daily Times Class Act awards, basking in the glow of Otago's top secondary school achievers.
He told the 58 outstanding pupils from 29 secondary schools it was the sixth time he had attended the Class Act ceremony at the Dunedin Public Art Gallery, and he looked forward to it each year because it was an opportunity to celebrate each new generation of New Zealanders coming through.
''They will be great leaders for our nation in the years ahead.''
Mr Key praised this year's award recipients and gave credit to their parents and teachers for guiding them in the right direction.
He also shared some sage words of advice: ''Have really big dreams and big ambitions.''
''My big thing for you would be for you to go on and become a great leader in New Zealand.
''There's lots and lots of potential that you have and we have a great need for what you're doing.''
Otago Daily Times editor Murray Kirkness said events such as Class Act provided a ray of light in a world where more newspapers were sold if they were filled with trauma and tragedy, tears and fears.
''So, to our Class Act 2014 recipients I say: You may not realise it, but you already inspire and encourage those of us around you.
''The world is yours for the taking. Grasp your opportunities. Continue to strive to achieve.
''Refuse to yield. Be humble. But most of all, keep the sun shining.''
Class Act was established in 2000 by former Otago Daily Times editor Robin Charteris because the newspaper felt, and continues to feel, excellence should be encouraged.
As such, the criterion given to schools when nominating Class Act recipients is simply, excellence.
Academic, sporting, social, artistic or cultural excellence, leadership qualities, or a combination of those, was the standard by which pupils were nominated.
The 2014 award winners now join the ranks of the 837 other Otago school pupils who have won Class Act awards since they were established in 2000.
Class Act recipient Kasper Humphrey, of Mount Aspiring College, in Wanaka, said the ceremony was an ''incredible acknowledgement'' of the hard work and dedication he had given in recent years.
''It's been really humbling. It's just awesome.''
Bart Lind, of Taieri College, was also delighted by the recognition and said it had provided a ''unique experience''.
''It's a great way to reflect on what's happened, and what's going to happen in the future.''