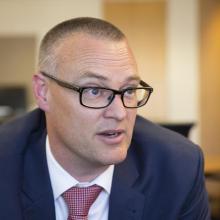 Nurses and district health boards yesterday abided by Health Minister David Clark's advice to take time for "pause and reflection" over their employment contract, but the rancorous dispute is set to resume next week.
Both sides said yesterday they were taking time to consider the recommendations from the facilitator of Employment Relations Authority (ERA) talks.
Eleventh-hour efforts failed before this week's 24-hour strike by nurses and healthcare workers.
Facilitation is a confidential legal process, so neither nurses nor DHBs would comment on the recommendations.
Dr Clark offered little hope for an early settlement to the long-running dispute, saying the Government would offer no more money towards pay rises for nurses.
Extra money had been made available earlier in negotiations but "our ability to do that has come to an end," the minister said.
"Each side has to go away and reflect on the ERA recommendations and then come back to the table," Dr Clark said.
"It has been an incredibly demanding period for all parties, who have been working incredibly hard to ensure we have safe staffing, both before and during the strike."
The Southern District Health Board reported no serious issues because of the strike.
Dr Clark was overseas shortly before the start of the strike on a planned family holiday.
He had flown out with his family and stayed overnight before  returning  to New Zealand.
"I think that the record will show I have been involved at every point, that my colleagues were entirely briefed on it and that there was no need for any comment but that I was in touch the whole time I was away."
— Additional reporting NZME