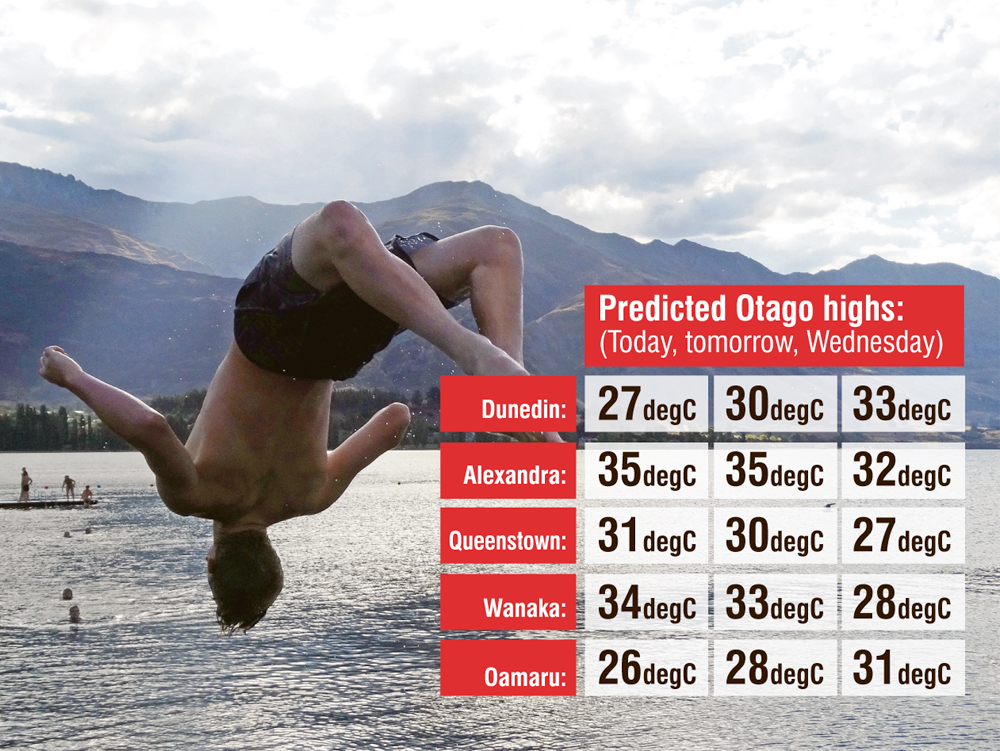 Scorching southern heat will continue this week with the potential for a 35degC day in Dunedin and another Wanaka record-breaker.
The shores of Lake Wanaka were packed at the weekend as the sun sizzled, leading to the town reaching its highest recorded temperature of 35.2degC on Saturday.
The previous record was 34.5degC, measured in February 2005.
Records began in 1973.
MetService meteorologist Brian Mercer said the town could break that record again today as dry nor-westerlies made the mercury creep up.
Wanaka was expected to get to 34degC or higher today and about 33degC tomorrow.
It would also be stifling in Dunedin early this week with expected highs of 27degC today, 30degC tomorrow and 33degC on Wednesday.
The high temperatures were exacerbated by a "very warm, moist tropical air mass" which had been sitting over the country for a while, Mr Mercer said.
"Because it's quite moist we have cloud forming and keeping the heat in overnight."
Predicted Otago highs for the next few days mainly ranged from the high 20s to mid 30s.
Central Otago was expected to be the hottest area of the country again today.
Alexandra reached 33degC on Saturday and had predicted highs of 35degC today and tomorrow and 32degC on Wednesday.
A change in air mass was expected to cool the region down later in the week, Mr Mercer said.
"Thursday, Friday onwards we're expecting quite a refreshing change, but there's quite a lot of uncertainty."