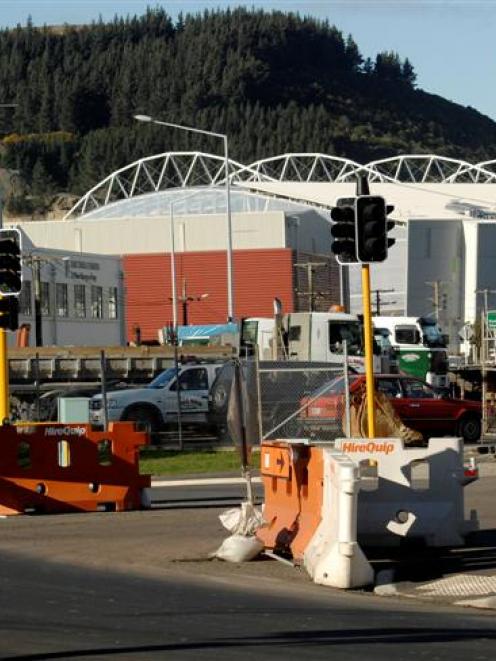 A High Court injunction obtained by an Anzac Ave landowner will not allow the Dunedin City Council to operate traffic lights at the Frederick St intersection with State Highway 88 near Forsyth Barr Stadium.
The roads around Dunedin's new stadium have been subject to traffic congestion after major events at the indoor facility, although the council says the non-operational lights are not to blame for any delays.
City environment manager Tony Avery confirmed yesterday there was an injunction obtained against the council by an Anzac Ave landowner, which prohibited the use of the traffic lights.
The council was in discussions with the landowner, and because the matter was subject to a High Court order, Mr Avery said he was unable to comment.
"We can't turn the lights on until we have resolved these issues," Mr Avery said.
The directors of two companies, which are listed as ratepayers on Anzac Ave, sharing an access opposite the Frederick St intersection, Hall Bros Transport and A.J. Allen Ltd, declined to comment about the traffic lights.
Council transportation operations programme engineer Mike Harrison said the lights were unlikely to be operational until after the four Rugby World Cup games at the stadium.
A traffic management plan for the Phoenix football game played at the stadium on Saturday evening would be reviewed at a meeting today between representatives from the council, Dunedin Venues Management Ltd and police, Mr Harrison said.
"Collectively, we'll put our heads together to discuss whether there are ways we can improve [traffic management]," he said.
Mr Harrison acknowledged there had been some traffic delays for motorists after Saturday's match, but he said the congestion could not be solely attributed to the non-operational lights.
Otago road policing manager Senior Sergeant Phil McDoull said Dunedin residents had to adapt to change when driving to watch events at the stadium.
"The stadium brings an absolutely, totally new aspect to Dunedin.
"People have got to work out for themselves about where they should park to avoid being stuck in traffic after a game," he said.
A traffic management plan was in place for the Rugby World Cup games and the lead-in events at the stadium would enable any transport issues to be highlighted and addressed, he said.