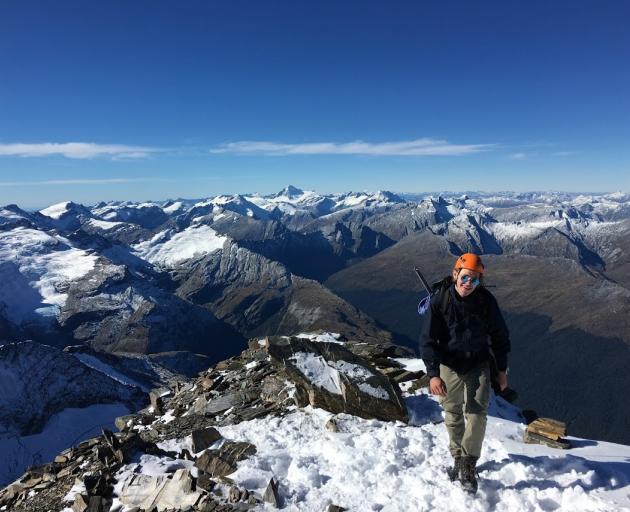 A University of Otago student will spend the summer tramping from peak to peak.
Luca Karjalainen (24) won the Simon Bell Memorial Expedition Scholarship from the Federated Mountain Clubs of New Zealand (FMC) for an upcoming trip to the Olivine Ice Plateau.
The scholarship is given out annually in memory of Simon Bell, who died on a solo climb of Mt Pikirakatahi/Earnslaw in 2015.
Karjalainen, an international student from Europe, heard about the scholarship through the Otago University Tramping Club, and saw that many previous scholarship winners were members of the club.
"They were all the legends and I'd looked up to them.''
Karjalainen said he was pleased to win the scholarship and although he did not know why he had been selected, he thought it was because he had climbed Mt Earnslaw in March.
"It was amazing.''
He applied for the scholarship to help improve his skills and teach other keen trampers.
In his application, he outlined his plan to tackle the Olivine Ice Plateau (Fiordland) with six others.
He detailed who was going, the route they planned to take, alternative route options and a personal safety plan.
The group planned to go over "thunder glacier'', something he had been told was only traversed every 10 or so years, he said.
"It's going to be very exciting.''
In total, the tramp will take about 10 days and they will be walking for 15-plus hours each day.
It had always been a "dream'' to go to the Olivines, and it was a legendary location in the tramping club.
"It's one of those esteemed places.''
After he completed the trek, he would spend the rest of the summer tramping around New Zealand before heading to Canada in March.
"I want to be able to leave this country fully feeling like I know it.
"Whenever I see a Kiwi on my travels ... I'd like to be able to say that I've been to all of it and done as much as I can.''
JESSICA.WILSON @thestar.co.nz