This week the Royal Commission of Inquiry into Abuse in Care released a damning report outlining how generations of children suffered extreme abuse. Daisy Hudson takes a look at how we got to this point, and what comes next.
They were our most vulnerable.
Children, many from marginalised or disadvantaged backgrounds, disproportionately Maori and Pasifika, taken into what can now only ironically be called "care".
As wards of the State, or under the care of faith-based institutions, potentially hundreds of thousands of young New Zealanders were horrifically abused for decades in ways too awful to describe in print.
The sexual, physical, emotional and spiritual abuse has impacted generations of Kiwis, and caused untold harm for survivors and their whanau.
The South was one of the epicentres of that harm, with systemic abuse reported at boys' homes, schools and psychiatric facilities around the region.
Survivors' trauma was compounded by a system that protected abusers, was sceptical of survivors, and did little to prevent further abuse from occurring.
After years of hard work and advocacy from survivors, in 2018 the Government announced a royal commission of inquiry.
But it too has had its issues, with survivors critical of delays and the centralising of public hearings.
After more than three years, the commission this week publicly released He Purapura Ora, he Mara Tipu — From Redress to Puretumu.
It provides a guide for a new redress system that would put the wellbeing of survivors front and centre.
It makes for harrowing reading. But to truly understand the recommendations and what comes next, it is important to understand how we got here.
How did the inquiry come to be?
In February 2018, Prime Minister Jacinda Ardern stood at a podium in the Beehive and uttered the words many survivors were desperate to hear.
There would be a royal commission into abuse in state care between 1950 and 1999.
Later that year, after much lobbying, its scope was expanded to include faith-based institutions.
There were some notorious facilities that had entered the country's collective consciousness.
Lake Alice, Epuni, Seacliff.
But the full scope, scale, and systemic nature of the abuse was not widely appreciated.
In 2017, the United Nations recommended that New Zealand hold an independent inquiry into the systemic abuse of children and disabled adults. A petition calling for the same garnered almost 12,000 signatures.
Former Governor-General Sir Anand Satyanand was initially appointed to chair the royal commission but later left for another role, and was replaced by retired Judge Coral Shaw.
Survivors were cautiously optimistic. On the one hand, an independent inquiry was something many had been battling for for years.
They wanted the country to face up to its dark past, for perpetrators to be held accountable, and for systems to be changed to stop it from ever happening again.
However, most survivors who have attempted to engage with authorities about their experiences had hit road block after road block, and they were wary of engaging with another bureaucratic system.
The redress report outlines precisely why survivors were sceptical.
"Despite harrowing accounts and often obvious signs of physical, emotional or psychological damage, many survivors found their efforts to obtain redress from state and faith-based institutions rejected time and again," it states.
Their claims sat in in-trays for months or years. They struggled to get their personal records, and when they did, some were so heavily redacted they could barely make sense of them.
A determined few continued their struggle in the courts, only to run into legal brick walls.
The Crown's approach was starkly summed up as this: "It lost sight of the people behind the claims who had been abused while in the State's care".
What has it been doing?
The key task for the royal commission to date has been collecting the accounts of survivors, and examining the way the claims were handled at a systemic level.
Investigators interviewed survivors and held weeks of public hearings. More than 900 survivors have engaged with the inquiry to date.
There are currently nine investigations under way into specific institutions or themes: the experiences of Maori, Pasifika, and disabled people; state and faith-based disability care settings; redress, children's state residential care; state psychiatric care; the Anglican Church; and the Catholic Church.
But there has been frustration at the lengthy timeline for the royal commission's work, and budget blowouts.
There have also been questions about the centralisation of public hearings.
In September, survivor advocate Dr Murray Heasley said it was "astonishing" Dunedin would not host hearings.
"It is a massive dereliction of duty and a repulsive slap in the face for all of the victims/survivors who reported thinking they would be listened to, validated and respected," he told the Otago Daily Times.
"It seems the victims of the South are not considered as worthy of healing and redress as their brothers and sisters in the North."
Judge Shaw said public hearings were held in Auckland to manage livestream requirements, evidential documentation processes, the anonymity of witnesses as required, translation services, security, the ability to consistently provide safe areas at hearings for survivors, and the ability to have remote witnesses give evidence.
"Survivors from across the country can give evidence at public hearings; the inquiry funds flights and accommodation for them and a support person, and provides financial assistance to survivors required to attend the hearing."
What has it recommended?
Essentially, the royal commission has found an entirely new, independent system is required to overhaul how claims of abuse are handled.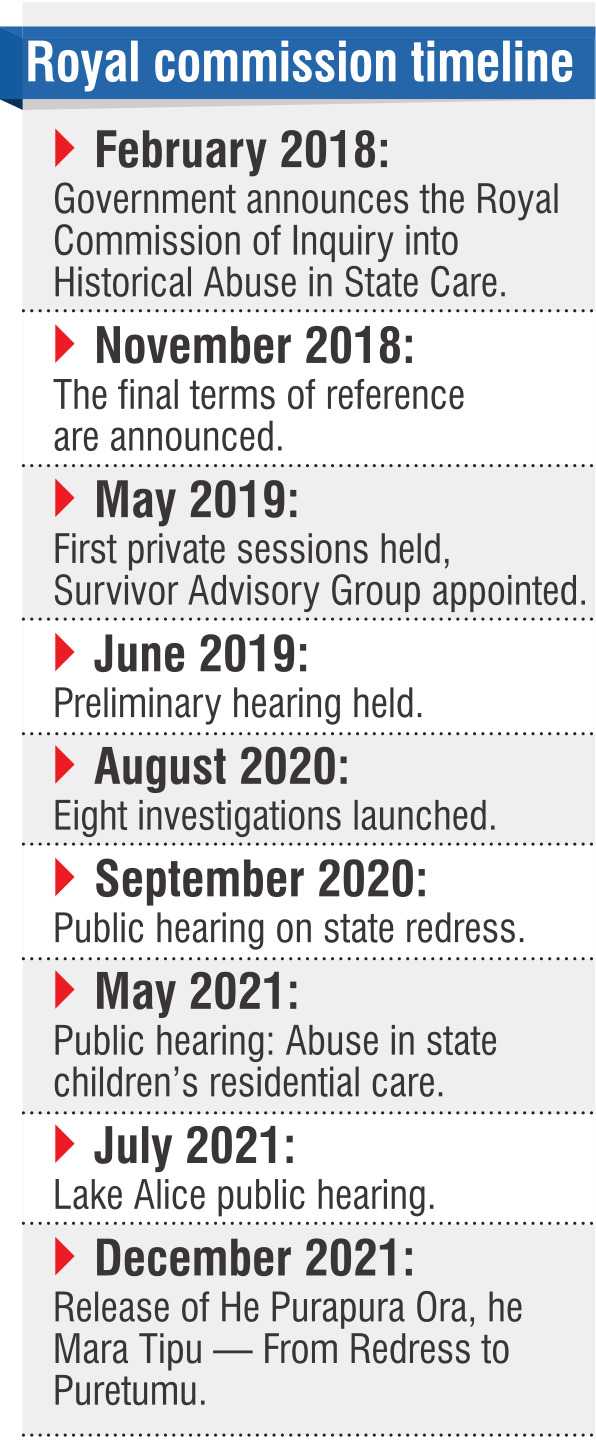 It found the current practices were "completely inadequate".
As part of the new system it wants better support for survivors and their whanau, increased financial payments for survivors, training for those working with survivors, and the development of processes for referring allegations of abuse to other agencies.
It also wants better monitoring and reporting, memorials and other projects to honour survivors and remember abuse, and improvements to the handling of survivors' requests for records.
And, importantly for many survivors, it calls on the Governor-General, prime minister, and relevant faith-based institutions to apologise.
It found faith-based institutions considered people in religious ministry as "close to God and not able to do wrong".
"A culture of secrecy in some churches has been a barrier to disclosure of abuse. It has undermined survivors' understanding of what was done to them, and confidence that any disclosure would lead to accountability, let alone effective redress.
"We heard from several survivors that churches had responded to disclosures of abuse by moving the abuser to another school or institution, or moving them overseas, or encouraging them to retire or resign without facing any accountability for their actions."
What happens next?
The Government has committed to establishing a new system.
On Wednesday this week, Public Service Minister Chris Hipkins said it was a national disgrace that it had taken as long as it had to get to this point.
The commission had flagged areas where urgent action was needed before a new system was in place, such as advance payments for older or terminally ill survivors.
Those would be prioritised, Mr Hipkins said.
Discussions about how the design process could work would begin early next year and more detail will be shared from that point.
Final decisions about how the new system would work would likely be made in mid-2023.
"Today it is important to signal this Government's intention to introduce a new, independent system, so that survivors can have confidence that their concerns expressed to the royal commission have been heard and will be acted on."
The Government also needed to work with survivors to determine what a public apology could look like and what form it should take, he said.
"It's not just about me standing here and saying 'I'm sorry' on behalf of the Government — I could do that right now and in fact I would do that right now, but actually it needs to be something that's bigger than that, so we need to work with them about what's going to best deliver a meaningful apology for them."
In the meantime, the royal commission's work is far from over.
There are more hearings scheduled for the start of next year including one into abuse in the care of the Hospitaller Order of St John of God brothers (Marylands School), and another abuse of Maori in care.
The commission is expected to deliver its final report in June 2023.