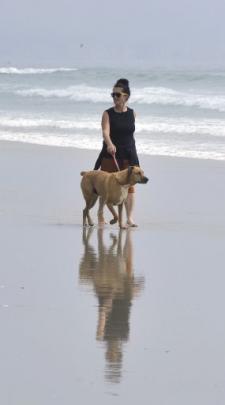 A change of scenery makes for a good holiday, writes Chris Morris.
The O'Brien family from Alexandra have for years been squeezing into a small home they consider paradise in the Dunedin settlement of Long Beach.
It is a tradition that has been repeated a couple of times a year for the past six years, whenever the eight-member family decide it's time to get away.
Then they swap Alexandra's rugged landscape of rock and orchards for a small holiday home nestled amid the Dunedin seaside settlement's dramatic cliffs, fresh sea air and unblemished beach.
This summer was no different, with husband Alister, wife Carolyn and their six children - John (23), Eve (22), Ollie (20), Elza (19), Jude (12) and Timmy (7) - cramming into the three-bedroom, two-storey home for six days.
The home is owned by Mr O'Brien's brother and his wife, but also used by their wider family and friends throughout the year.
Mrs O'Brien - who insisted it was a "bach", not a crib, in line with her North Island upbringing - said she had fallen in love with Long Beach, its strip of sand, cliffs, wildlife and sea views.
Not even a premium on space inside their rented home was a deterrent - instead, it was just part of the charm.
"We've got to squish in. It's quite little, so there's always a few people on the floor.
"We just enjoy it. Part of the bach thing is squashing into the place. We've got couches and extra mattresses and things that we use."
Modern conveniences were limited - there was no landline phone, and limited cellphone reception, while a television inside was not often used.
Instead, the family spent time together walking on the beach or in the hills, swimming, watching ships and wildlife pass by - including the occasional seal encounter - or engrossed in games of cards, she said.
"It's just such a lovely spot because it's quite isolated, even though you're so close to Dunedin it's quite a private spot, and just the cliffs are so beautiful and rugged.
"It's just such a change from Central Otago. I'm a sea-loving person, so just the smell of the sea and ... I just love the cliffs."
The O'Brien family were among up to 200 holidaymakers who stayed in the settlement at peak times during the summer holidays, Long Beach Amenities Society president Edna Wheeler estimated.
She had been holidaying in her Long Beach crib for 30 years, and living permanently in it for the past 20 years.
The settlement boasted a mix of about 100 residents, together with regular holidaymakers, day-trippers and first-time visitors renting or borrowing cribs, including some escaping the Christchurch earthquakes.
"They've all been amazed by what a lovely community we've got," she said.
Mrs Wheeler had noticed visitor behaviour changing, with more people taking shorter breaks rather than longer uninterrupted stays.
However, the annual influx of summer holidaymakers continued to have a "wonderful impact" on the settlement and its permanent population.
"People come together and mix and catch up. It's a wonderful time to catch up with the community.
"Everyone's in festive spirits, of course, and it's wonderful to see the children having fun.
"Once they're having fun the adults are having a whale of a time, too."
The society's "wonderful" holiday programme committee volunteers organised a list of activities each summer, which this year included a sand castle competition, quiz and housie nights, New Year's Eve celebrations and a bonfire, and live music this weekend, she said.
That helped boost the society's coffers and pay for the upkeep of the hall, but also helped bring the community together, she said.
However, Mrs O'Brien said her family's visits were not restricted to summer months. They also stayed during winter.
"When you get that wind blowing in and it's a bit cold, I always just love it there as well, just to go for a walk on the beach. We all do."
The time spent together was nothing new for the family, with the couple's children having been home-schooled.
However, their latest trip was a chance to catch up, with their four oldest children now living - or about to move - away from home.
"We just like the togetherness of being down there together.
"It's a good wee spot - a lovely wee spot."
Long Beach
- 15km northeast of Dunedin city centre, between Blueskin Bay and the Otago Harbour mouth.
- Features include a 2.4km-long sandy beach, dramatic cliffs, a large cave at the beach's western end, and a large public domain.
- Home to about 100 permanent residents and up to 200 holidaymakers at peak summer times.
- Also a home for blue penguins, seals and other wildlife.

---