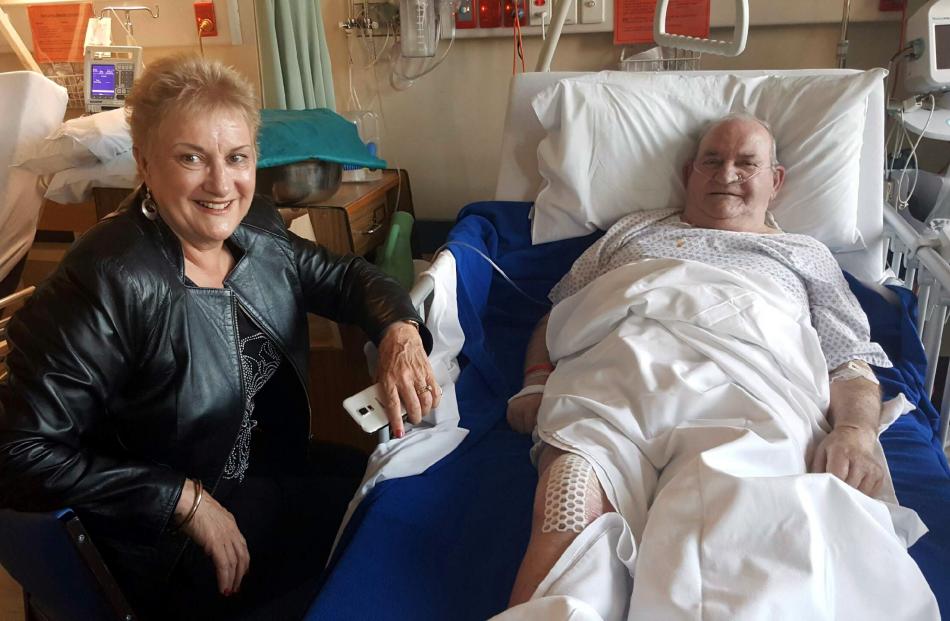 Labour MPs have rubbished the claims of Health Minister Jonathan Coleman that the food served in Dunedin Hospital is "10 out of 10''.
Dunedin South MP Clare Curran and health spokeswoman Annette King visited patient Alec Cleghorn in Dunedin Hospital yesterday.
Ms Curran tasted some of the fare offered for dinner.
She tried a bean and cheese casserole and said it was bland.
"It was spicy and it didn't really taste of anything else,'' she said.
However, more important than her own thoughts were those of Mr Cleghorn, she said.
"He's from Hampden and he's come from Oamaru Hospital and come down for his knee operation and he said the food there was 200% better and this was pretty disappointing,'' she said.
"He gave it a four out of 10.''
Another patient in the room had a chicken casserole for their meal.
It contained little chicken and was also rated four out of 10, Ms Curran said.
The Labour MP sampled the food in response to Dr Coleman's taste test - which was conducted away from the eyes of media - earlier this month.
Dr Coleman, who ate pasta bolognese, a sandwich and soup, said, at the time, the offerings were "10 out of 10''.
"It was very tasty,'' he said.
Ms King described the taste test as "a sham''.
His comments were patronising to those who had complained of the quality of food since Compass Group was contracted to provide meals to the hospital and Meals on Wheels, she said.
"What he was saying was the patients were all idiots,'' Ms King said.
"Nobody is asking for five-star food. They are asking for fresh, wholesome, nutritious food.''
The campaign to improve the quality of the fare offered under the 15-year contract would continue, she said.
"I believe this DHB had no choice but to go in [to the contract] because of the so-called savings that would be made,'' Ms King said.
A Southern District Health Board spokeswoman confirmed last night food offered at Oamaru Hospital, like other rural health providers in the district, was not provided by Compass Group.
SDHB chief executive Carole Heatly told the Otago Daily Times late last week that the board had received 20 formal complaints about the meals between February 10 and April 6.
A Compass Group spokeswoman said the provider had made changes in improve the meals.
The temperature control of the heated trolleys used to transport the meals to wards were causing some food to dry out and the "issue has now been rectified'', she said.
"Since the new menu was implemented, the team have reviewed on a daily basis the presentation of each of the menu items,'' she said.
"Some changes have been made, including the team now using bowls rather than flat plates for some menu items, in order to improve presentation.
"We are certainly looking at ways to improve presentation but these need to take into account any dietary restrictions, as well as how these can limit use of most garnishes.''
She also rebuffed claims that Dr Coleman was served a special meal during his visit to the hospital.
"I can categorically confirm that the food Dr Coleman ate was the same food prepared in the kitchen for the patient meal service and was plated ... just as patient meals were,'' she said.
"I have no idea why someone would suggest otherwise.''