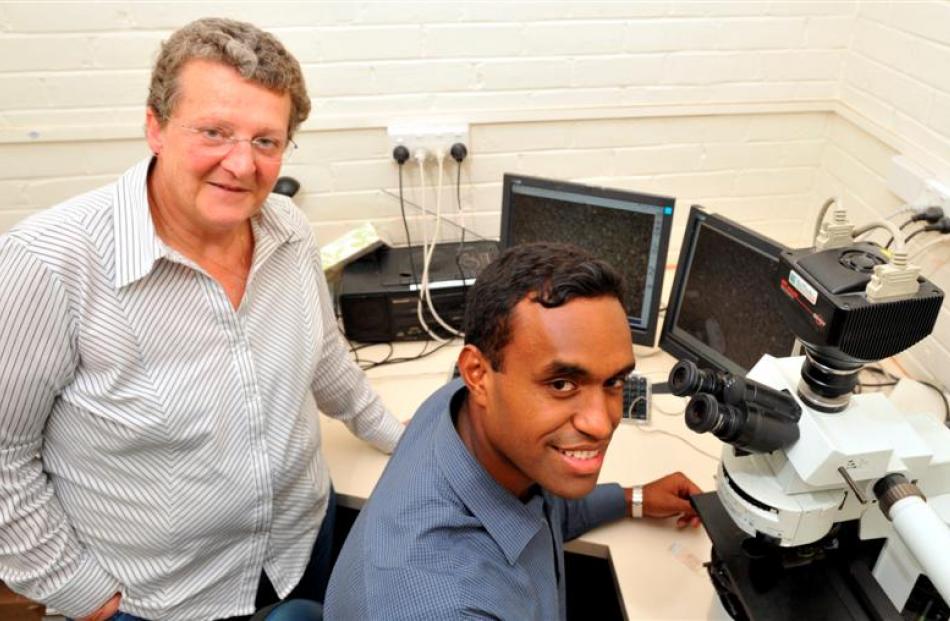 Powerful new diagnostic tests for early identification of prostate cancer will be available within three to four years, University of Otago researcher Dr Elspeth Gold predicts.
Dr Gold is a lecturer in the Otago anatomy department and heads a laboratory that is investigating new biomarkers and treatments for ''high grade prostate cancer''.
''There is an urgent need for prostate cancer specific markers and for new treatments for men with high grade prostate cancer,'' Dr Gold said.
And she noted that the ''current marker''- prostate specific antigen (PSA) - was not ''cancer specific'' and could not discriminate between benign diseases and prostate cancers that would remain in the prostate, ''versus those that would spread''.
Current treatments could have ''severe side-effects''.
Prostate cancer is the most common cancer in New Zealand men, resulting in 600 deaths a year, with about 2500 new cases being diagnosed.
Nemani Delaibatiki, a medical student, spent the summer in the Gold Lab working on developing a ''biomarker panel'' in prostate biopsies.
He was supported by a $5000 summer studentship co-ordinated by the Otago Medical Research Foundation and funded by the Maurice and Phyllis Paykel Trust.
Dr Gold said Mr Delaibatiki had produced ''some encouraging results''.
A New Zealander with Fijian ancestry, Mr Delaibatiki said his research had been ''very exciting'' and ''very rewarding'' in terms of potential health benefits.
Dr Gold said Mr Delaibatiki had initially analysed prostate biopsy slides using a ''basket'' of 11 markers, with a view to improving diagnostic accuracy.
The focus had since been narrowed to four diagnostic markers, and the work would enter a new phase in about two months, with testing to take place on human archival biopsy material previously gathered in Otago-Southland.
Existing biopsy tests clearly identified some cases where medical intervention was needed and others cases which were of no immediate cause for concern.
But in about 30% of tests, it was hard to be certain about the prognosis.
An ''early proof of concept'' had been shown by Otago researchers.
The results were ''exciting enough to want to do further work over the next six to nine months in the Otago-Southland community''.
''If it still looks promising, then we would like to undertake larger national studies maybe even international studies,'' she said.
The laboratory was also making promising progress in its search for a ''prostate cancer specific marker in blood or urine''.