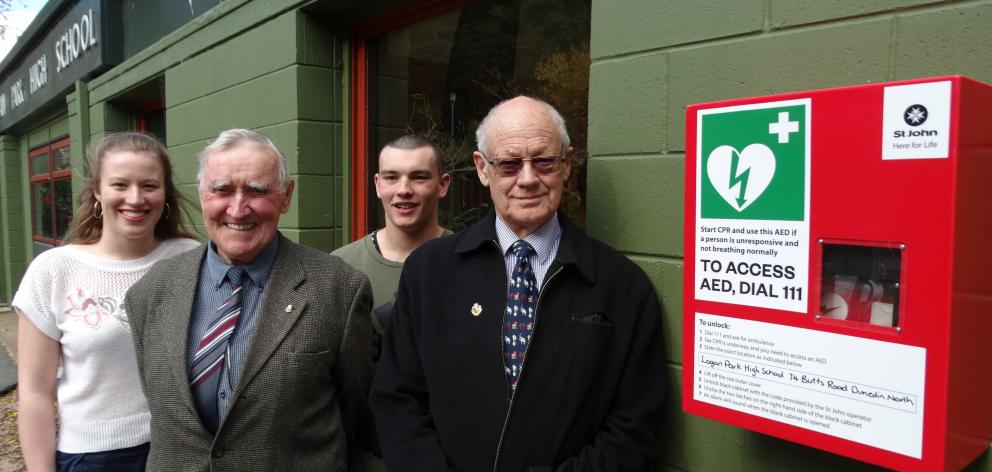 A two-year project by the Balmacewen Lions Club has led to the placement of 24/7 accessible defibrillators at 10 high schools in Dunedin, Milton and Palmerston.
In Dunedin, the Balmacewen Lions have provided AED defibrillators to Bayfield High School, Kaikorai Valley High School, John McGlashan College, Taieri College, and Queens High School.
Training packages have also been provided by St John.
Defibrillator project convener Brian Tegg said the defibrillators had also been placed in secure cabinets, to ensure they were available for the public to use in an emergency 24/7.
The cabinets could be opened with an entry code, obtained by calling 111.
Mr Tegg said the club had wanted the defibrillators to be placed at local schools, because of their position at the heart of the community.
"Schools are centres of cultural and sporting activities, so they ideal places for these lifesaving pieces of equipment,'' Mr Tegg said.
During a visit to Logan Park High School to inspect the new 24/7 cabinet and defibrillator, Mr Tegg and Balmacewen Lions president Ian Coleman were congratulated by head boy Finn Lillis.
"Our school is very busy, with people coming to use our facilities and the gym, as well as being close to the public access for the mountain biking tracks,'' Finn said.
The $45,000 cost of the 10 AEDs and 12 secure cabinets was raised by the club and also through grants from the Callis Trust, Lloyd Morgan Lions Clubs Charitable Trust, the Sargood Bequest, DCC Community Grants, Otago Community Trust, Foodstuffs South Island Community Trust and Wenita Forests.
BRENDA.HARWOOD @thestar.co.nz