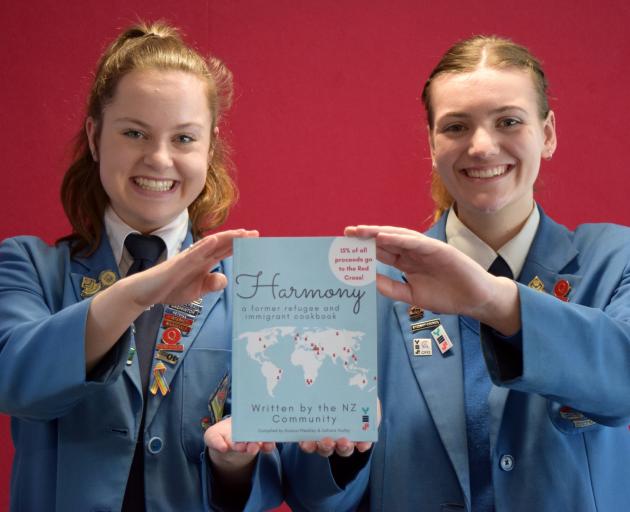 A cookbook created by two Dunedin girls celebrates the melting pot of different cultures in the city.
Queen's High School pupils Sahara Hurley and Acacia Weekley (both 17) are selling Harmony - A former refugee and immigrant cookbook, a book they compiled as part of the Young Enterprise Scheme programme.
The programme allows pupils across New Zealand to set up a company, create a product and sell it.
Sahara, of Green Island, said the book included nearly 40 family recipes of former refugees and immigrants and was designed to showcase the diverse cultures of Dunedin.
The year 13 pupils started the project before the Christchurch mosque shootings on March 15.
After the attacks, some contributors withdrew from the project due to safety concerns, "Which we respected.''
Each of the recipes was paired with a story on the family who had supplied it.
The stories detailed why the family moved to New Zealand and "fun facts'' about their culture and the countries they had migrated from.
Most of the holiday at the end of term 2 was spent designing the book.
"We had a lot of consecutive sleepovers.''
Acacia, of St Clair, said she recommended the book's recipe for Brazilian chocolate caramel truffle-like sweet brigadeiro.
"It's my favourite.''
The aim of the book was to use the universal nature of food to broaden New Zealanders' understanding of immigrants and their cultures.
New Zealand Red Cross helped them make contact with most of the former refugees in the book, so they decided to give 15% of all proceeds to the charity to help it continue its work supporting refugees.
School business and economics teacher Joanna Bishop-Cherry said the girls interviewed the immigrants to discover the challenges they faced.
The book included a section of advice about how the immigrants wanted to be treated.
Once the programme finished, the girls intended to continue selling the books to raise more money for a good cause.
"They are doing it to benefit the community, and not just for the money, which is really cool.''
The top 10 teams in the programme in Otago would be selected to compete in the regional finals in Dunedin at the end of next month.
Startup Dunedin audacious student programme manager Rachel Butler has been mentoring the pupils for the programme.
• To buy a cookbook email acacia.weekley1@gmail.com.
SHAWN.MCAVINUE @thestar.co.nz