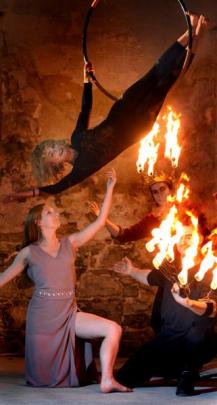 Transformation and change - and some outlandish imagery - lit up Dunedin's Athenaeum Underground last night, as a multi-disciplinary fire theatre event told tales from Metamorphosis.
Performers were getting ready yesterday for an event the audience would follow through the concrete and stone basement of the historic theatre.
Director Jonathan Cweorth said the show was mainly based on the Metamorphosis, a Latin narrative poem by Roman poet Ovid.
Five myths from the work had been chosen, and five groups that came together for the performance did one each.
The groups would also work together, Mr Cweorth said.
The groups were: Lizzie Hewitt Dance; the FireBugs; Brophy's Aerialists; Hot Dog Hot Rod and the High Twitch Athletic Club.
Most were from Dunedin, backed by a contortionist from Christchurch.
The performance told ''ancient stories with contemporary dynamism and flair'', Mr Cweorth said.
Some of the performers had collaborated before, and had been talking about a new show for this year's festival.
''Someone said `metamorphosis' in early discussions,'' and the idea took off.
Lizzie Hewitt said the unusual space for the performance meant some innovative footwear - a pad for the front of the foot covered by a sock - was required, as concrete ''destroyed ballet shoes''.
The basement setting was not too unusual, however, as spaces like factories were regularly used overseas for contemporary dance.