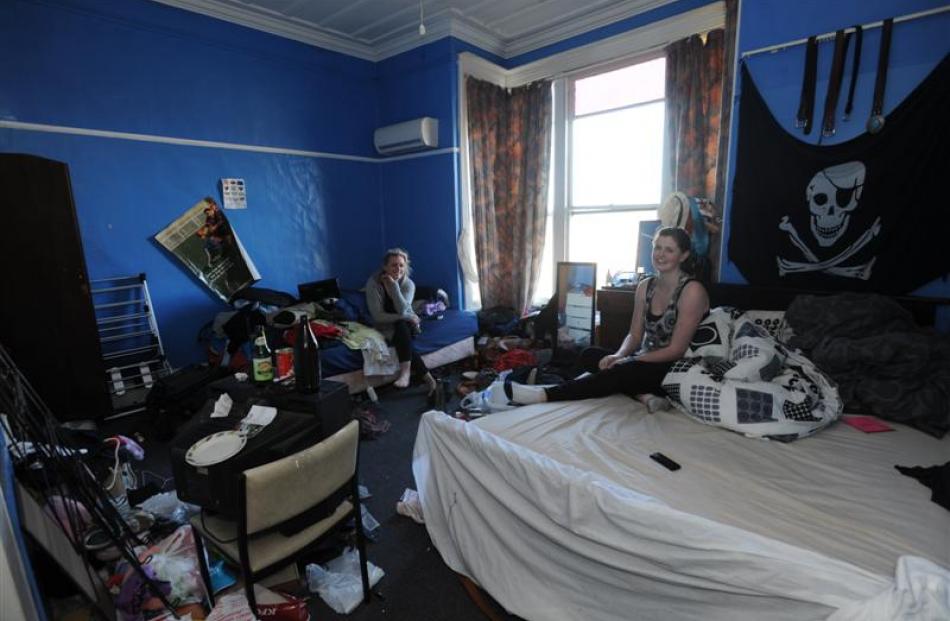 The best and worst sides of student flatting were contrasted in Dunedin yesterday, when several scarfie properties went up against each other to determine which will be the winner - and biggest loser - in the Next Top Flat competition.
There was plenty of obligatory offensive detritus on display at some of the worst flats when the judges visited.
Smashed doors, lopsided floors, broken glass, food scraps, empty booze bottles, animal carcasses and hides, and tales of rats and squalor were in stark contrast to the orderly neatness and clean quarters at the homes of those in the running for the title of top tidy flat.
A George St residence, which is home to second-year students Zoe Jacques, Anna Small, Danielle McRae, Chantelle Jackson, and third-year Brad Brosnan, is a competition favourite.
The flatmates said organisation was the key to success for keeping their home spick-and-span. Cooking and cleaning rosters, regular tidying sessions, and a supportive attitude towards each other were reasons why they should win the top flat title.
"Basically, we're a tight-knit unit who love to flat together," they said.
Vying for underdog status in the competition are three student flats littered with filth and rubbish.
It was hard to say which home was cleaner at a Leith St property, nicknamed the Penguin - the flat of the five fourth-year males who live there, or the outside pigsty of their pet kunekune, Chomper.
Penguin residents Jimmy Stewart and Andy Little said they had been plagued by "big fat" water rats, which made their way into the flat from the Water of Leith, which runs behind the property.
The pair were apathetic about whether the leftover carcass of a rotisseried animal lying in their backyard, the hides of several bush pigs hanging over a fence, and Chomper's pig pen, might attract the the rodents.
Mr Stewart took great delight in recounting to judges how the flatmates used gin traps to catch rats inside their house.
"One of the boys had left his jersey in the hall and he noticed it was rustling. When he picked it up, four rats fell out from it and two ran down the stairs into my bedroom.
"We set gin traps up and later that night one went off in my room, then a moment later another snapped shut in the lounge. We caught some big fat rats."
Third-year students Natasha Hollows and Louise Amey said they did not bother with cleaning rosters at their flat.
"We live with three boys and have a lot of parties. We've cleaned the place about twice this year, but have got a flat inspection on Thursday. So, I guess we'll all have to pitch in at some stage," Miss Hollows said.
OUSA welfare officer Shonelle Eastwood said students did not have to put up with substandard flats, given the surplus of accommodation in the university quarter and around Dunedin.
Judges still had to view other residences before winners were picked in the OUSA Next Top Flat competition, she said.