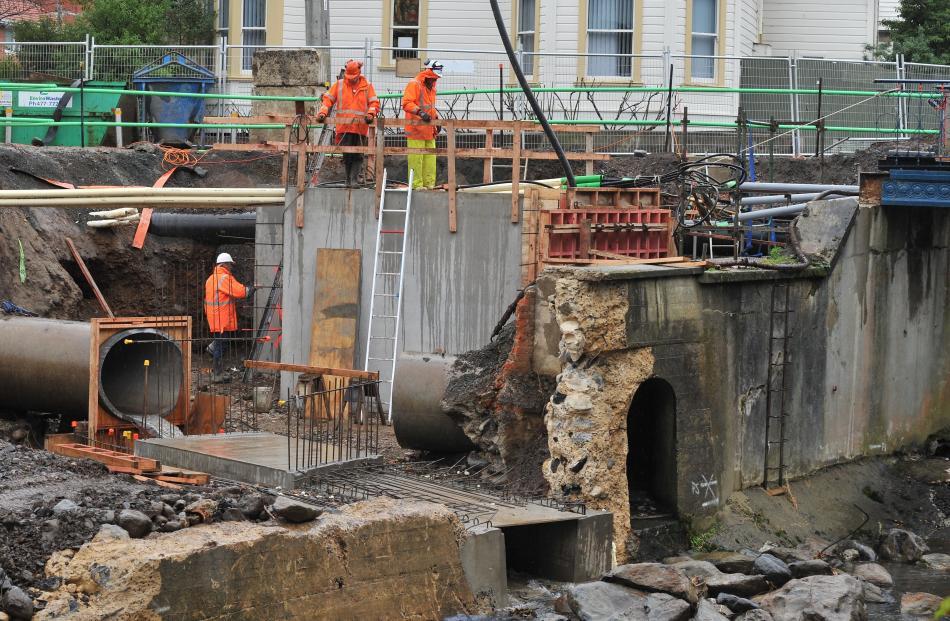 Concrete was poured yesterday as work to extend the St David St footbridge continued as part of flood protection works on the Water of Leith.
The new stormwater outlet pipe is pictured at left and workmen (top centre) stand on the new concrete panel, which will form the downstream abutment of the new bridge extension.
Wet weather in recent weeks had delayed some of the work, but contractors were working as fast as possible, the Otago Regional Council said.
The delays were the result of the University of Otago's request for a temporary footbridge to be installed across the Leith before the St David St bridge was decommissioned to allow for its extension, council science, natural hazards and engineering director Gavin Palmer said.
''It shifted the programme into a less favourable timeframe where the days are shorter and the weather more adverse.''
Contractors were doing a lot of work off-site, such as pre-casting concrete, to help the timeframe.
''They are progressing as fast as practicable.''
The university had asked for the council to finish the works by June 2 so the semester's exams were not interrupted, but Dr Palmer said that was not realistic given the bridge delay.
Contractors were considering moving some of the ''noisy'' work forward so as to not interrupt exams, he said.
The council and university were regularly liaising about the work and its impact, he said.